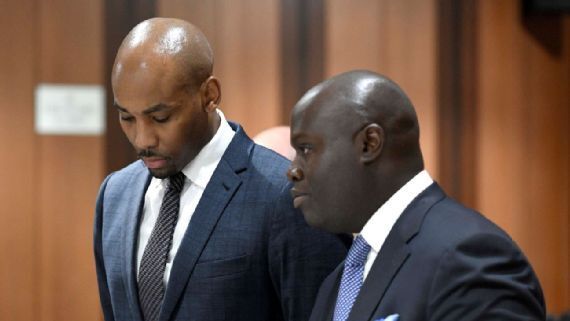 A judge in New York City placed Jamill Jones, a former assistant basketball coach at Wake Forest University, on three years of probation for his role in the death of a New York tourist in August 2018.
Judge Joanne Watters of Queens Criminal Court also gave Jones 1,500 hours of community service and fined him $1,000 and to pay a $200 surcharge. 
If Jones fails to meet those conditions, he will serve one year in prison, Watters said.
Before she sentenced Jones, Watters said that the former Wake coach was repentant for the actions that led to the Aug. 7, 2018, death of Sandor Szabo. Watters also said that Jones' actions aren't a reflection of his character but that but he must live with the consequences.
Watters presided over Jones' virtual sentencing hearing, which lasted about 2 1/2 hours Thursday.
Following a jury trial in February, Jones, 37, was convicted of misdemeanor third-degree assault  in connection with Szabo's death.
According to trial testimony, Jones was driving with a companion shortly after 1:40 a.m. on Aug. 5, 2018, toward their hotel in Long Island City.
Szabo, 35, of Boca Raton, Fla., attended his stepsister's wedding earlier in the day. Video footage shows that Szabo, who was also staying in a nearby hotel, approached a vehicle that Jones was driving. Szabo is then seen walking back toward a corner. 
Moments later, Jones ran from the car and confronted Szabo. Jones then punched Szabo in the face, walked back to his vehicle and eventually left the area.
Szabo was taken to a nearby hospital. His injuries included a cut to his chin, a skull fracture and other traumatic brain injuries. Two days later, on Aug. 7, 2018, Szabo died as a result of those injuries.
During the hearing, Jones apologized to Szabo's family for his actions, and he said he never intended to cause pain and grief to Szabo's family.
John Hinton is a reporter for the Winston-Salem Journal
Be the first to know
Get local news delivered to your inbox!