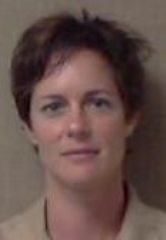 A woman who pleaded guilty to setting an apartment fire that killed four people in 2002 could be eligible for parole in 12 years.
Janet Danahey pleaded guilty in July 2002 to four counts of first-degree murder and one count of first-degree arson in Guilford County Superior Court and was sentenced to life in prison without the possibility of parole.
As one of former Gov. Pat. McCrory's last acts, he signed a commutation order for the 38-year-old Danahey on Dec. 30, making her eligible for parole on Jan. 1, 2029, according to Howard Neumann, chief prosecutor for the Guilford County District Attorney's Office.
There was nothing in the paperwork the district attorney's office received that explained why McCrory granted Danahey's request for commutation, Neumann said.
For years, the question of whether Danahey should go free has been a divisive one. There are those who think the punishment doesn't fit the crime. And there are those who think she can't be punished enough for taking four lives.
Danahey, then 23, started the fire at the Campus Walk Apartments on Howard Street near UNC-Greensboro. She's always maintained she did it as a prank on her ex-boyfriend, using lighter fluid to set fire to a box of Christmas decorations and a futon at 2 a.m.
However, winds quickly spread the fire throughout the complex. Many escaped by jumping from windows.
Four people lost their lives that February night: sisters Rachel and Donna Llewellyn, 21 and 24; Elizabeth "Beth" Harris, 20; and Ryan Bek, 25.
At the time, it was the deadliest fire in the city in nearly four decades.
Harris' father, Bob Harris of Lewisville, forgave Danahey not long afterward. He said the Bible taught him that. Harris said he is disappointed Danahey was not immediately paroled in December.
"I would have preferred she'd received time served," he said.
Beth would be 36 this year. Harris said he still misses his daughter and wonders what her life might have been like, citing milestones that have been missed such as marriage and starting a family.
"I still have a big, empty hole in my heart," he said. "So often, something out of the clear blue can trigger my thoughts. I do think of her quite often.
"But (forgiving Danahey) was one of the easiest things to do. I had no choice but to do it."
The clemency request was filed in June 2012 during former Gov. Bev Perdue's tenure — and subsequently sparked an outpouring of emotion in the community, ranging from sympathy to outrage.
Former Greensboro mayor Jim Melvin wrote a letter of support for the clemency petition. Although he didn't know Danahey or her family before the fire, Melvin started visiting her in prison.
Others would follow suit.
Some family members of the victims, however, were adamantly opposed to clemency.
Perdue left office without acting on it, leaving the request in a state of suspension for the next governor: McCrory.
"Around Dec. 9 (2016), we got word from the clemency office the request was reopened," said Neumann, adding that the victims' families were aware it was being considered.
Locke Clifford, one of Danahey's attorneys, said he was glad McCrory "had the integrity to do what is right."
He explained that Danahey "found out that the building had caught fire only after it was too late for her to do anything to help. Janet has been a model prisoner since that day."
Still, Clifford took issue with Danahey having to wait another 12 years before being considered for parole.
"Twelve more years is a long time for her," he said.
Contact Sarah Newell Williamson at (336) 373-7076 and follow @snewell_NR on Twitter.