GREENSBORO — They stood in eye's view as a shackled DeCarlo Rayshaun Bennett got out of the police car and — just inside the fence to a home his mother once owned — pointed to the patch of ground where he had buried Sherri Denese Jackson, who was trying to break up with him when she disappeared.
Sherri's parents were in the crowd that was growing under the scorching sun that June 2008 along with the number of TV cameras. So was Portia Shipman, who had worked for the same health care company as their daughter.
As others began booing Bennett, Sherri's mother, Clara, and Shipman, who she had just met an hour earlier, locked eyes through tears.
As part of a controversial plea deal earlier that morning in which Bennett admitted strangling Jackson, in exchange for a minimum 13 years in prison, he was required to tell police — who had previously searched a nearby area with a dog — where he had put the body.
Jackson, born in Morganton, was just 27 when she disappeared Nov. 29, 2006.
The honor student, cheerleader and homecoming queen had moved here to attend UNC-Greensboro. She later worked at Shipman Family Care in Greensboro as a family and health care coordinator.
The way she died, the sentence, the shovels tossing the red dirt before their eyes — there were so many swirling emotions for Jackson's parents and friends when police found her remains.
"I'm not going to leave this like this," Shipman vowed.
"Please don't," Clara responded.
"There's something to be done to help others," Shipman said.
"Please do that," Clara implored.
Shipman walks through the purple front door — the color for domestic violence awareness — at 2901 E. Market St. to a room where she envisions survivors stopping by to tap into the free WiFi or meet up with the sisterhood of others trying to move on with their lives.
Photos of Jackson, whose memory drives the work to be done here, lean against kitchen cabinets in a nearby room waiting to be hung.
Soon, the building will house the Sherri Denese Jackson Foundation for the Prevention of Domestic Violence.
Shipman and her then-20-year-old twin daughters Terri and Torri Johnson started the advocacy group with the help of the slain woman's family and friends the day Jackson's body was found — and haven't stopped telling the young woman's story as part of a continuing education and awareness campaign.
"Domestic violence is all around us," Shipman said. "We cannot close our eyes to it."
While housed in various locations over the years, the foundation has held domestic violence workshops, provided referrals for abused women and organized vigils in remembrance of other victims. Shipman, 56, is the unpaid executive director — and the driving force.
"It's not uncommon for families and friends after such a tragedy to say: 'I want to keep this person's memory alive,'" said Guilford County Assistant District Attorney Howard Neumann, who prosecuted the case. 
But the most successful groups often can't keep it going beyond a few years, he said.
Twelve years after her death, the Sherri Denese Jackson Foundation is still going strong — a testament to Shipman's dedication.
"They are visible in the community and they continue to promote things that keep the dialogue about domestic violence going," Neumann said.
The so-named "A Purple Door House" that now commands Shipman's attention is the foundation's latest outreach effort to empower women surviving abusive relationships and the first property the group has owned. A 10th anniversary open-house fundraiser is planned later this month.
Jackson's story touched people who didn't know her but knew other victims. There were those who just wanted to help.
And then there was the couple who told Shipman they wanted to donate their spacious house in hopes of helping the foundation reach more people and provide survivors with a place to go for support. The couple, who wanted to remain anonymous, would also renovate it.
That was about two years ago during a low point for Shipman. Her daughters, concerned about the toll running the foundation was taking on their mother, had finally convinced her to shut it down. The nonprofit run with volunteers, which was renting an office on Martin Luther King Drive at the time, also had to raise its budget every year. The group accepted every invitation to speak and often met with families even late into the night. Often, it was Shipman who showed up.
A bigger player also was now working in domestic violence. The Guilford County Family Justice Center had opened as a "one-stop shop" for victims.
Shipman saw the donation of the house as a nudge to keep moving forward, maybe from Jackson.
She had never forgotten the moment when her oldest son, who had dated Jackson before Bennett, burst through the door in a panic: Jackson had not been to work.
"'Something is wrong,'" Shipman recalled him sobbing.
To Shipman, Jackson was a lot of things. Friend. Co-worker. Smart. Sweet. Caring. The kind of person who often volunteered at the club for teenagers that Shipman sponsored to keep them out of trouble.
And she was dependable. To a fault. She wouldn't miss work without letting someone know.
"When he got himself together," Shipman said of her son, "he said, 'Ma, he did something to her. I know he did.'"
Shipman had never met Bennett, but her son knew him by reputation. As they searched for her, stories began circulating how once in a fit of rage, Bennett had to be pulled off of her.
It was Bennett who had called Jackson's parents, asking if they knew where she was that last week in November 2006 when everyone was looking for her.
After Jackson's parents filed a missing persons report, police found her apartment in disarray — as if a struggle had taken place. Police applied luminol, which detects the presence of blood.
"It lit up more than I've ever seen a crime scene light up," Neumann said.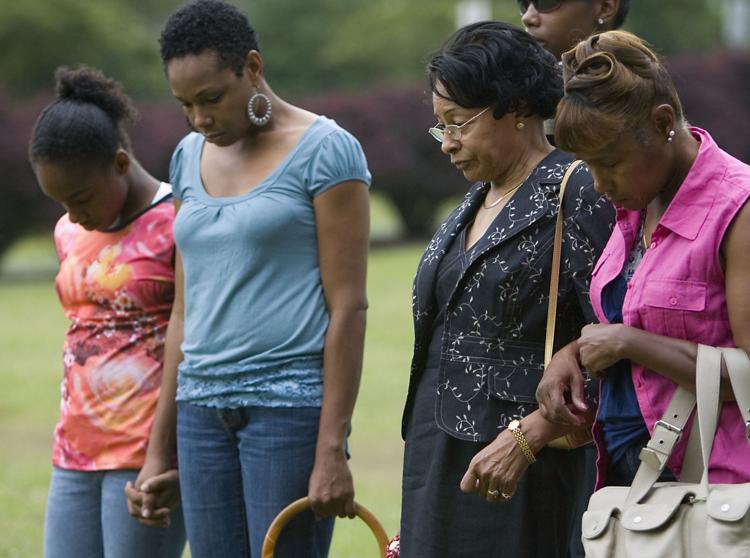 Neighbors told investigators they heard loud voices the night before she missed work.
One admitted turning up the volume on their TV to drown out the noise.
"Not one person called the police," Neumann said.
Early in the investigation, police interviewed Bennett. Using a dog, police searched open spaces behind the fence to his mother's property in a new subdivision off Pine Meadows Court in the southeastern part of the county. But no trace of Jackson was found. 
Authorities also searched wooded lots and lakes in the area, but again found nothing. 
Jackson's father told investigators that his daughter had brought Bennett home for Thanksgiving, a week earlier. Her parents didn't find out until later that Bennett wouldn't let her go without him.
McArthur Jackson also remembered receiving a curious call from his daughter in the middle of the night a month earlier. She wanted him to tell a man who was at her house to leave.
McArthur Jackson said he heard the man say he was leaving, and his daughter hung up without telling him who he was.
Only the man didn't leave.  
Bennett was arrested that night after police saw scratches on Jackson's face and neck.
"She never told us she was being abused," her father said.
The one person who had witnessed Bennett abuse Jackson up close was longtime friend Kai Felder Moumouni. The girls met in sixth grade when their families both lived in Asheville, where Jackson's father was then an associate superintendent of Asheville City Schools. Later, Moumouni was accepted at N.C. A&T, while Jackson chose UNCG.
Jackson met Bennett in high school while both were living in Durham and Bennett's brother was dating her older sister. Years later while both were in Greensboro, they ran into each other at a nightclub. 
Soon, they were dating. And then he began trying to control her — sometimes driving her to work and waiting outside for hours, Moumouni said.
"DeCarlo got her some clothes made with his name on it," Moumouni said, "so that everybody would know she was with him."
The two had dated for months when Moumouni saw him grab her for the first time. Moumouni called the police.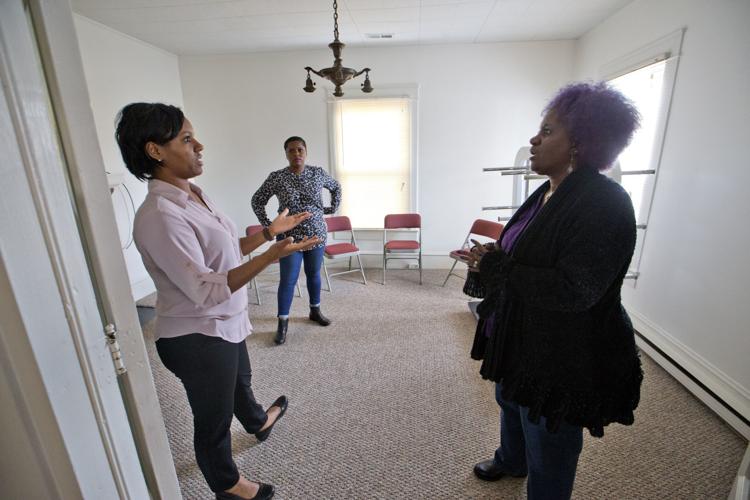 Jackson, who had never been in a violent relationship before, knew she had to get away from him.
"She was planning to move to Atlanta where her sister lived," Moumouni said.
But she didn't get the chance.
Jackson went missing the same day Bennett went to court to face those October assault charges.
A few weeks after Jackson's disappearance, police found blood in the trunk of Bennett's car. Bennett said it was from his dog. Police matched it to Jackson. He was arrested and charged with first-degree murder.
Bennett's mother, who moved into her house just prior to Jackson's disappearance, eventually put the place up for sale and moved back to Durham.
Months would pass before the trial. That June, Shipman had just returned from a trip to Disney World and was watching the late TV news when she heard a reporter say police had gotten a tip that a missing woman's body might be in a backyard off Pine Meadows Court. Shipman knew they had to be talking about Jackson.
Earlier that afternoon, Bennett's lawyer had approached Neumann with a hand-drawn map of where to find the missing woman's body, in exchange for dropping first-degree murder charges.
Jackson's parents were in court the next morning when Neumann outlined the plea deal before a judge.
Shipman, there as well, had settled into a seat in the back of the courtroom and heard Bennett confess to strangling Jackson and claim it was an accident.
Under the deal, the 29-year-old Bennett would plead guilty to second-degree murder in exchange for telling police where he buried Jackson. Doing that would get him out of prison in his early 40s.
McArthur Jackson today says it was complicated — they did want to find their daughter but they also wanted a trial.
"If he had gotten 100 years I don't think we would have felt any better or any worse," McArthur Jackson said this past week. "We don't have to wonder where she might be."
Neumann says he acted on the family's desire to locate the remains because Bennett was the "only one" who knew where Jackson was.
The Jacksons walking out of the courtroom that day, with Clara clutching a picture of her daughter, reminded Shipman of a funeral procession.
Shipman later asked Clara if she wanted to go to the house on Pine Meadows Court while police looked for Jackson's body.
When they pulled into the neighborhood, the section of the street nearest the house had been cordoned off by yellow tape. An officer recognized the Jackson family and allowed them — with Clara grabbing Shipman's hand — to cross the police tape.
The officer began telling them it could take a few days before a body was found.
"You go get him, bring him down here so this family can get some rest," Shipman fumed.
Later, a police car with Bennett inside pulled up. His map hadn't led them to anything.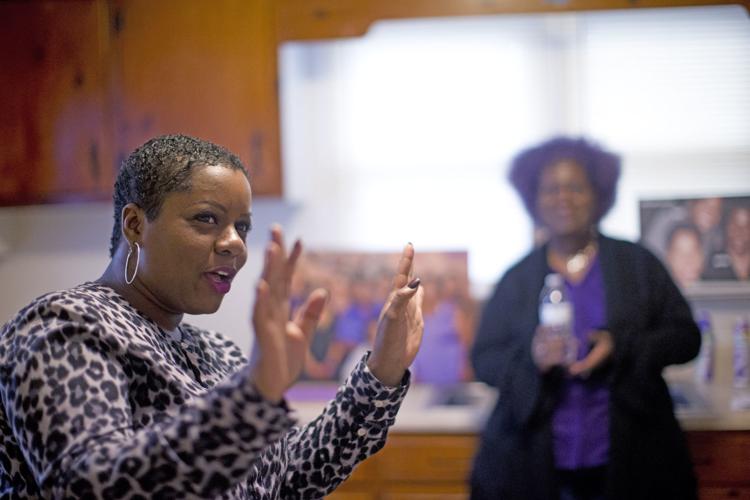 "He pointed down right there at the opening of the gate," Shipman said.
Within the hour, the dirt yielded human remains in a makeshift grave.
After screams of anguish, Shipman, the Jacksons, Moumouni and others gathered for prayer. They had waited for 17 months to find out what happened to their Sherri.
Her remains were positively identified the next day by a state medical examiner.
A week later, Shipman was back in front of the house leading a candlelight vigil for victims, survivors — and anyone emotionally impacted by domestic violence.
"The system failed another domestic violence victim and it happened to be somebody I knew," Shipman said. "I had to do something."
She was also gathering names on a petition to overturn Bennett's sentence.
"It's like sending a message to all abusers — you might get away with it," Shipman said.
The sentence wouldn't be overturned, but the candlelight vigil caught the attention of people willing to help her set up a nonprofit in Jackson's name.
Others helped send her to a domestic violence conference in Washington, D.C. The statistics and voices of victims touched her in a way she hadn't expected.
"I didn't realize I was a survivor until I heard those stories," Shipman said. "I kept seeing myself in some of the stories."
She joined the Guilford Nonprofit Consortium, which also provided training to her board members.
Former Mayor Yvonne Johnson got the City Council to pass a resolution naming the first Saturday in November in honor of the foundation and its work. Hers was not the only group working on the issue, but Shipman was able to put a face on it and galvanize people in the community.
"I think she really threw a lot of light on this particular case and by doing that, I think people thought about domestic violence more than perhaps they had," Johnson said.
The personable Shipman, well-known in the community, had ideas that would prevent victims from struggling alone, but she didn't have the money to implement them.
In 2010, the Women to Women Initiative, an endowment funded by a local group of women philanthropists working through the Community Foundation of Greater Greensboro, gave the advocacy group $25,000 —  Shipman's first big grant.
"Unlike a lot of grants they didn't pass us over because we were a newer organization," Shipman said. "They looked at our work and how we are really focused on helping women."
The money also kept the doors open, allowing a range of services, from referrals to helping victims paperwork for a restraining order. The group also helped one woman hide from an abusive husband who went on to kill another woman.
"You don't get over things like this, but it has made it much better knowing what is coming from it," McArthur Jackson said. "In this way, she still lives through helping other people."
Shipman says she doesn't have a college degree and didn't have experience on a professional level when she got started. Still, she knew she was helping people who might not reach out to other agencies.
People were drawn to her storytelling and straight talk.
Depending on the audience, her words might quiet a crowd, make them laugh and even drop their heads. 
Too many women, she tells them, are dangerously and routinely letting their guards down when there are signs of an unhealthy relationship: controlling behavior, anger issues and repeated apologies that the next beating won't happen again.
"If he hits you," she told one audience of college students, "he could have it in him to kill you."
She knows her words reach people because they often approach her after discussions and workshops. But it takes a lot of time and energy to keep a grassroots organization going.
By 2016, she was tired. The cost of keeping the foundation running was taking a personal and financial toll.
It was then that her daughters sat her down.
Torri was at first hesitant to have the conversation with her mother.
"I was like, who am I to take away someone's vision?" Torri said.
"But she was working around the clock," Terri added. "It was almost unhealthy."
Shipman thought there were many more women to reach for her to give up.
"We could say we made our dent," Terri urged their mother. "We could say we've taken it this far."
And eventually Shipman agreed.
Then the call came from the couple wanting to donate the house.
Going forward, Shipman would decline some invitations. While remaining passionate to the cause, she and her daughters wouldn't let the work of the foundation overtake their personal lives. But the foundation that carries their friend's name would continue the work.
Finding grants and gifts remain a struggle but there are new strategies. They are also looking for volunteers.
"We are hoping the community makes this organization theirs," Terri said of also looking to partner with more groups.
According to statistics, nearly 20 people per minute are physically abused by an intimate partner in this country. That's more than 10 million women and men per year.
And that brings us back to the entryway of "A Purple Door House," where Shipman is discussing the upcoming open-house fundraiser with her daughters, who are touring the building for the first time.
Torri, who graduates with a master's degree in clinical mental health counseling this year, is the resident expert on some issues. Terri knows how to make things happen. And other people like Moumouni, Jackson's longtime friend, remain committed.
A lot of hope lingers in the hallway.
Taped to the wall outside each of the rooms is a list of items to fulfill Shipman's vision. One room in need of toys has been set aside as a play area for children. There is a serenity room, where women can have time to themselves. The kitchen is ready for wellness classes. The couple donating the house at first suggested a shelter. But Shipman knew she didn't have the staff and funding that would be necessary to run it.
Shipman plans to rent portions of the building out for events as a way of sustaining the nonprofit's work.
Earlier this year, the TV One cable network debuted "Fatal Attraction," a re-enactment of the crime. It features interviews with Shipman, Neumann and half a dozen others, and has helped the foundation reach a national audience. The episode will be screened again in Greensboro once the house opens this summer.
And the work is getting other attention. Actor Julian Brittano, known for his role on the Oprah Winfrey show, "Greenleaf," reached out to Shipman on social media to propose a partnership. Brittano is the founder of "Save Our Women," an organization of men fighting domestic violence and they now do joint events.
This past March, Congressman Mark Walker honored her work. Walker and Mayor Nancy Vaughan, among others, are expected to attend the open house.
The outreach of the foundation continues to give her pause. She says Jackson would be humbled.
"We are still really trying," Shipman said, "to make this organization work."