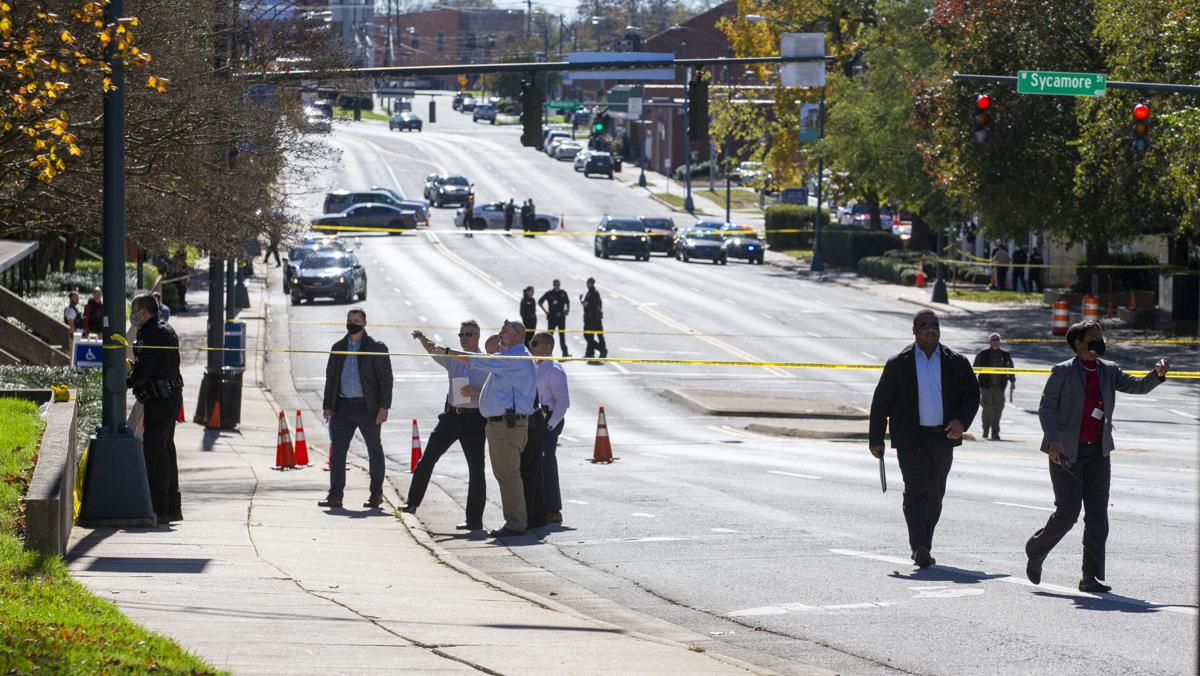 GREENSBORO — New details have come to light in the shooting outside of the Guilford County Courthouse on Monday that left one man dead and injured two others.
Avion Imeen McLean, 20, died at the hospital from his injuries, Greensboro police said in a news release. Another victim remains in critical condition and a third man suffered injuries not considered life-threatening.
The shooting, which happened around 11:30 a.m., involved exchanges of gunfire between multiple people and sent the courthouse into a lockdown.
Guilford County sheriff's deputies pulled a person injured in the shooting into the downtown sheriff's office as gunfire struck the building, according to a news release from the sheriff's office. Deputies cared for him until EMS arrived.
The shots being fired were generally in a "westerly direction" at "an intended victim," the sheriff's office said.  
At least four shots struck the sheriff's building. One of those bullets hit an exterior wall, while the other three struck windows and entered staff offices, the sheriff's office said. 
No one was injured, but one of the bullets entered a window and hit a computer monitor on an employee's desk. That employee was not at his desk at the time of the shooting, the sheriff's office said. 
McLean was from Laurinburg and made the news in December 2017 when he and another man were involved in a shooting that injured a 22-year-old man in High Point.
McLean received several charges in the 2017 incident, including assault with a deadly with intent to kill inflicting serious injury. Shakur T. McCoy, 19, of High Point, was arrested alongside McLean. At the time, police said McCoy was involved in a gang-related shooting in 2013.
Greensboro police have yet to say whether the incident outside of the courthouse in Greensboro was gang-related, but Chief Brian James did say he believes it was a targeted shooting. 
"But we are following up on information to confirm that," James said during a press conference Monday. "It certainly would be unusual for a random act like this to occur in broad daylight."
Police confirmed Monday evening that a company police officer working as a security guard at the courthouse witnessed the shooting and discharged his weapon at an armed person. 
The company that employed the officer, North State Security Group, released a statement Tuesday regarding the officer's involvement in the shooting, noting that the officer is on paid administrative leave while the investigation into the incident is ongoing. 
Bullet holes from the incident marred in the glass of the handicapped door to the courthouse. It isn't clear whether the shots were fired from inside or outside of the courthouse.