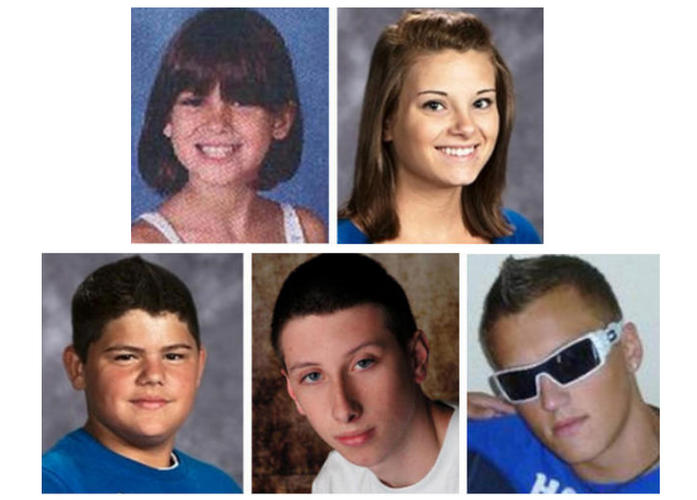 PLEASANT GARDEN — Raul Gonzalez moved into the neat, three-bedroom suburban ranch on Cocoa Drive not long after four kids were shot fatally there by Mary Ann Holder one year ago today.
Inside, the tragedy left no visible reminder of the bullets fired or blood spilled in three of its rooms, and Gonzelez says living in a space where such inexplicable violence occurred so recently doesn't make him uncomfortable.
"Everything's normal, nothing out of the ordinary," he said. "My girlfriend did mention to me that the year anniversary was coming up, and she said that might pique the curiosity of whatever it is that piques people's curiosity."
But those touched most by Holder killing four kids inside the house and another in her car last Nov. 20 only wish scars on the human heart would heal so readily.
The Sunday morning tragedy continues to gnaw at them. In recent interviews, several described one of the symptoms as a new wariness about accepting other people at face value.
Before the murders and Holder's suicide, they knew her as a law-abiding, fun-loving and conscientious mom, always ready to volunteer her time and energy to a good cause. Yet the evidence is indisputable that in the span of a few hours, she took the lives of her sons Dylan and Zack Smith, 17 and 14, respectively; her nephew Ricky Suttles, 17; her niece Hanaleigh Suttles, 8, and her stepniece Makayla Woods, 15.
"Unfortunately, there's a distrust" resulting from the tragedy, said Mark Couch, whose wife was one of Holder's close friends and whose sons were buddies with Dylan and Zack. "Are people really who you think they are, when you really think you know someone?"
Couch's son, Nick, hosted Zack in a sleepover at their house the night before the murders.
Couch's wife, Stacy, spoke with Holder by phone that next morning as she came to pick up Zack, hardly a half-hour before shooting him on Remora Road.
Nick's first response to the tragedy was a completely unwarranted feeling of responsibility because he had not protested Zack's decision not to go to church that morning with the Couch family, Stacy Couch said.
"He just said, 'Mom, I should have made him go to church,' " Stacy said. "And I had to say 'Nick, she wouldn't have let him' ... She couldn't at that point; it was too far gone."
The Couches also struggle with the knowledge that before a last-minute change in plans, Nick and Zack's sleepover was supposed to be at Holder's house that night — meaning that Nick might have been the sixth person to die at Holder's hands that day.
Now 16, Nick said he and his friends at Southeast High School do not dwell on the what ifs or the riddle of what caused the violent outburst from a woman they simply knew as Dylan and Zack's mom.
"I try not to," Nick said. "The more I think about it, the more it disturbs me and makes me want to be mad and I don't want to be mad."
Instead, he and his friends try to remember the good times.
"Every once in a while, we'll say something like, 'Do you remember the time that Zack ... ?' And we'll sometimes share a story about that."
Holder's relatives mourn both her and her victims, some known to them as nephews and nieces since birth. They remain haunted by the mystery of what snapped inside her that morning.
"There's still a question in our minds, because the person we know and loved could not have done that," said Cliff Holder, Mary Ann Holder's older brother who lives in Reidsville. "I'm not saying the sheriff's department did a bad job or anything like that. I'm just saying there's so many unanswered questions."
The town of Pleasant Garden reeled in the aftermath of the horrible crimes last year at Thanksgiving, as one by one that week, four of Holder's young victims — who survived the initial assaults — died of their wounds. Dylan had died at the scene.
The next week, hundreds flocked to emotional church services, visitations and funerals.
The friendly small-town atmosphere disappeared in some quarters as people expressed anger that any mother could inflict this horror on five innocent kids with so much life to live.
The town's character remains what it was before the murders briefly gave it the sort of notoriety that no community wants, Mayor Carla Strickland said.
"I can't think of it as something that changed the town itself in any particular way," she said. "But you can say it affected each and every one of us in some way. And I think it did because those children were involved in so many different things, so many different aspects of our community life. School, church, sports."
Southeast High's principal, Charles Blanchard, said he hopes never to experience another event so traumatic to the kids in his care. But he saw a bit of a silver lining in the way grief-stricken students reacted.
"I was really proud of our kids the way they came together," Blanchard said. "Over the course of the next couple months, they served as a great resource for each other as they went through the ups and downs you naturally go through as you grieve."
Zack and Dylan's father, Robert "Rocky" Smith, also celebrates that some good came out of those awful days, though he is quick to say it doesn't even come close to making up for the loss of life.
Still, dozens of other lives were changed for the better by the organs and tissue donated from the victims, everything from eyes to hearts, he said.
Smith, Holder's ex-husband, started a ministry in the wake of the killings to help others understand and cope with tragedy.
"I had to forgive not just Mary Ann, but I had to forgive the whole situation," said Smith, who remarried after splitting with Holder 15 years ago.
"We could say if this person had done this or if the other person did something else, but then you just get into the blame game."
Smith and Holder's only surviving child, Christina Key, lives every day with another of the few good things linked to last year's events: 20-month old Shianne Suttles, sister of Ricky and Hanaleigh.
Christina and her husband, Jason Key, have formal custody of Shianne in a court-approved agreement with the girl's biological father.
One of Mary Ann Holder's childhood friends gave birth to Shianne in February 2011, about a month before dying of respiratory failure — after entrusting Holder with the responsibility of caring for Ricky, Hanaleigh and the newborn.
Shianne came into the world a day before Christina gave birth to her and Jason's son, Tristen.
The 21-year-old mother has been caring for both of them almost from day one. She and Jason hope eventually to adopt Shianne, Christina Key said.
The whole tragedy has hardened her in some ways, Christina Key said, but it also left her more understanding of others' shortcomings: "Not so quick to judge."
After the tragedy, Christina helped make final arrangements for her mother, which included a private service for Holder's close friends and immediate family. They kept it secret, she said, fearing a backlash from people angered by Holder's misdeeds.
Afterward, she discharged her final act of daughterly responsibility by spreading her mother's ashes at a favorite spot along the South Carolina coast.
"She had always said, as long as I can personally remember, that she didn't want to be buried. She wanted her children to spread her ashes at the coast," Christina said. "I was the only kid, and that's what I did.
"I just did what she'd asked me to do."
Contact Taft Wireback at (336) 373-7100, and follow @TaftWireback on Twitter.