GREENSBORO — The video is 46 seconds of a laughing, smiling and carefree Tyarra Williams.
Williams — 5-foot-5 and 120 pounds— was last seen wearing blue jeans, a black jacket, a pink shirt and a royal blue knit cap when she disappeared on Jan. 7, 2016. The then-19-year-old vanished from the Stoneybrook Apartments complex where she lived off Webster Road.
Her phone charger was still plugged into an outlet. 
The national clearinghouse for missing children and young people is trying to produce videos of as many of the people in its data bank as it can. They are eye-catching, said John Bischoff, vice president of the missing children division.
"The posters that we distribute are so important because they help to get the images out in the community," Bischoff said. "The videos really bring our reach to a new level."
Greensboro Police said they don't believe Williams, a 2014 graduate of Dudley High School, just walked away from her life. They also have no physical evidence of what took place and say the case remains active.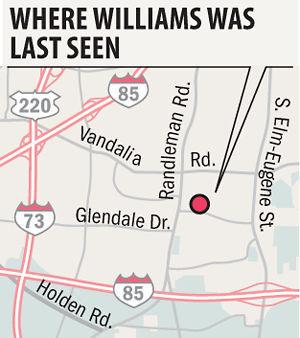 The day she went missing, Williams had registered for classes at Guilford Technical Community College and was going back with her mother the next day to pick up books. She wanted to be a teacher.
Williams' family and friends have also kept up a Facebook page that has more than 20,000 followers and recently posted the video.
"We will never give in to the despair, we will always stay in prayer and fight for what belongs to us. #findtyarra Signed a rant from a hopeful praying mother."
Danielle Williams wrote this on Jan. 7, 2020, another anniversary of her daughter's disappearance.
The case has touched people like Angel in Wisconsin.
"Watching Tyarra's episode now on Disappeared," the woman wrote on the Facebook page. "My heart breaking you and.I couldn't event imagine... I have a 19 year old daughter and I just can't. Praying your baby is found safe and healthy."
Williams, who didn't drive, had just helped her mother take down their Christmas tree and said she was going to meet a friend in the complex when she disappeared.
Through a GPS feature on Williams' cellphone, police determined that she caught up with the friend and appeared to be headed home on foot when she vanished.
Police say they have no updates in the case.
The summer after Williams vanished, investigators spent a weekend following a lead about a "missing girl" being held in a basement.
That didn't pan out. Neither did many other leads.
Williams was among three young girls missing in Greensboro that January, with people questioning whether they might be related.
Two were located days later and police determined the cases were unrelated.
But hope remains. Someone out there still may be able to help.
The video has the potential to reach millions of people globally.
"There's a chance that child comes home safe," Bischoff said of others who were found, including Jaycee Dugard, who was found 18 years after she was kidnapped. "We've seen it before."