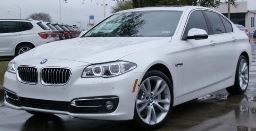 RALEIGH — Gov. Roy Cooper's office announced Monday that the state is offering a reward of up to $5,000 for information leading to the arrest and conviction of the person or persons responsible for the murder of Michael Anthony Lovett.
Lovett, 35, was found on Oct. 8, 2015, after Greensboro Police officers responded at 2:40 a.m. to a single- car accident on East Market Street near Holt's Chapel Road, where a car had crashed into a power pole.
Officers determined that Lovett was the victim of a shooting that caused the wreck of his white 2015 BMW 535i. He was transported to a hospital in critical condition and died two days later.
Police have been asking for the public's help in solving this death.
Anyone having information concerning this case should contact the Greensboro/Guilford Crime Stoppers at 336-373-1000 or text keyword badboyz and your tip to 274637, or call the State Bureau of Investigation at 919-662-4500.
Authorities said at the time that Lovett got into his car that morning either to go to the hospital or to flee. He was alone in his car when he was shot.
Police said at the time that drugs didn't appear to be a factor in the shooting, and nothing appeared to have been stolen from the vehicle.