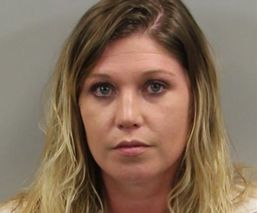 ASHEBORO — "Amy's Promise" turned out to be a lie.
And now the Randolph County woman behind the alleged fraud has been arrested after she was indicted on charges that she faked a major illness in order to receive monetary donations.
Amy Ellissa Hammer, 30, of 1540 Fork Creek Mill Road, Seagrove, said she had Chronic Lymphocytic Leukemia and accepted money through a Facebook page called "Amy's Promise", according to a news release from the sheriff's office. She allegedly told donors that the money was for cancer treatments. This turned out to be false.
A T-shirt sale had also taken place to raise funds for Hammer, and a Seagrove church was planning a fundraiser until the sheriff's office began investigating in early March and found out the truth.
The sheriff's office is still trying to recover any unaccounted-for donations from victims, as well as, identify people who may have given Hammer money directly or indirectly.
Hammer is charged with felony attempting to obtain property by false pretense and three counts of felony obtaining property by false pretense. Charges were handed down in a true bill of indictment by the Randolph County Superior Court, according to the release.
Bail was set at $2,000 and her first appearance is set for April 22 in superior court.