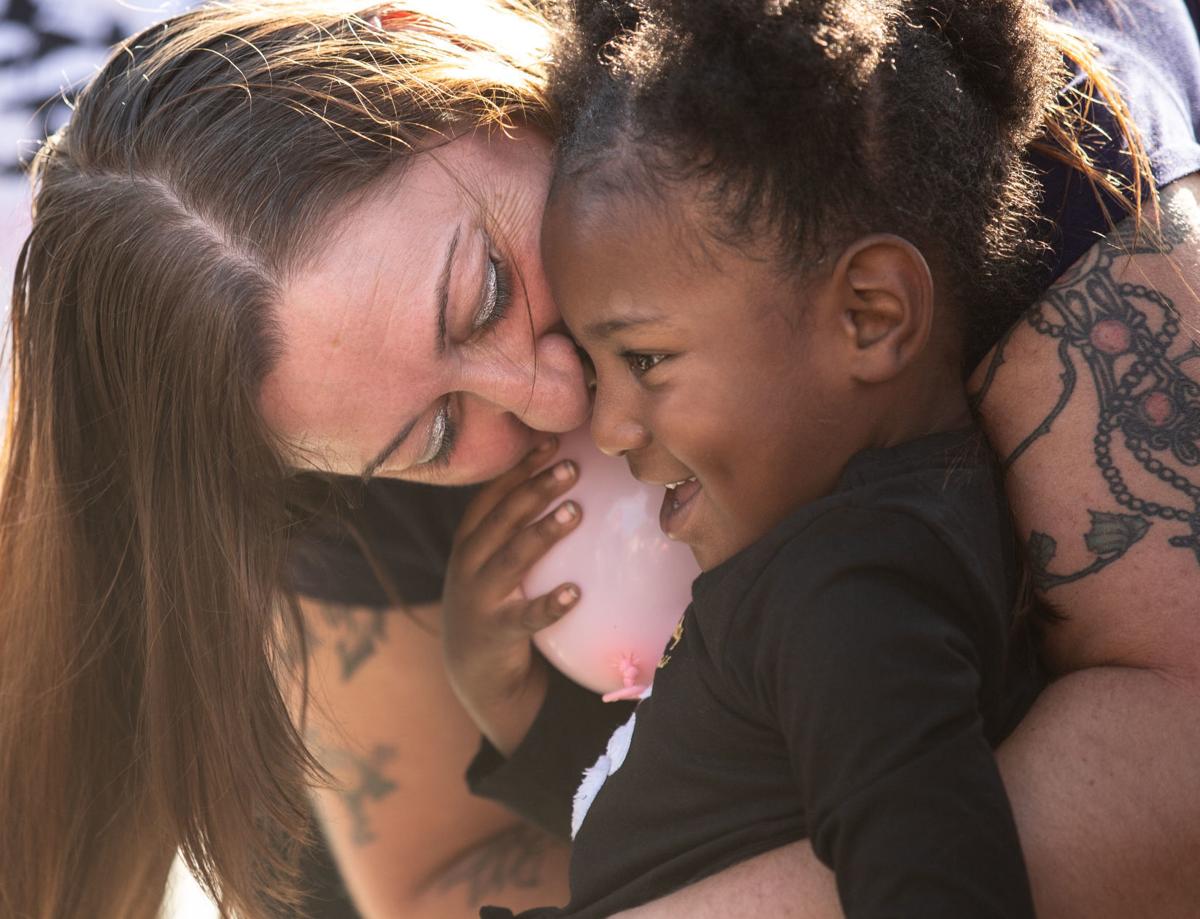 GREENSBORO — As a Greensboro family celebrated the return of an abducted 3-year-old girl, police continued their search for her kidnapper.
Ahlora Lindiment leaned into a microphone Friday afternoon to say "thank you" to the community as she sat in her stepmother's arms as several television cameras captured the moment.
Hundreds of federal, state and local officers, joined by concerned community members, spent Wednesday night and all day Thursday searching for Ahlora, who had been taken from the playground at the apartment complex where her family lives by a woman police have identified as 22-year-old N'denezsia Monique Lancaster.
Police believe Lancaster dropped Ahlora off in front of Words of Faith Christian Center six miles away only hours after surveillance photos of Lancaster were released to the public.
"I feel good," said Thomas "Tony" Blackburn, Ahlora's father. "I know my baby is back home."
Ahlora spent Friday with her stepmother, Shaye Wallace, at their house in High Point. Wallace said Ahlora doesn't seem traumatized. She said she's happy Ahlora was returned unharmed.
It's a sentiment shared by Greensboro officers.
"We're extremely elated she came home safely," said Ron Glenn, the department's spokesman. "Everyone is happy to have a happy ending."
Police said they don't feel any more children are in danger, but would not say why. However, officers are continuing to monitor schools and playgrounds.
Police have not released a motive in the kidnapping. Ahlora was with her older siblings at the playground at the Claremont Courts on Phillips Avenue on Wednesday when a woman grabbed her and walked away, police said.
Police on Thursday released surveillance video from the park and a nearby store of a woman suspected to be the kidnapper who they later identified as Lancaster. Police describe Lancaster as a 5-foot-6, 135-pound woman with short black hair in a ponytail. On Wednesday, Lancaster was wearing a crop top and pants with tiger faces and a yellow and white stripe on both legs.
Glenn said the Violent Crime Apprehension Team, which specializes in locating missing people, is looking for Lancaster.
They're following up on any verifiable tips that have come into the department's tip line.
Those tips include reports that Lancaster tried to take other children on Wednesday, Glenn said, adding that police are still working to verify those reports.
When Ahlora disappeared, police set up a special phone number for people to call with information. Glenn said officers have not yet totaled the number of tips they received. Now that Ahlora has been found, the special line is no longer being manned but police are still checking voicemails left there, Glenn said. He said Crime Stoppers is the best way to contact officers now.
Child abductions by a stranger are extremely rare, Glenn said. Most of the time a child is taken by someone the family knows.
The National Center for Missing and Exploited Children reported that of the 25,000 missing children cases they assisted with last year, less than 1% involved non-family abductions.
Blackburn said a family friend, Gregory Harris, recognized the woman in the surveillance videos as Lancaster. Police had also zeroed in on Lancaster in their own database from former cases, Glenn said.
Lancaster has no convictions on her record but a criminal background search shows she had two past charges and two infractions, all in Wake County. No details on the charges were available.
Glenn said Lancaster has lived in several cities in North Carolina, but most recently in Greensboro. He didn't know her current address.
Harris said he had met Lancaster Sunday while visiting his mother and said she told him she was living at an apartment on Utah Place.
Harris knew Blackburn's family and recognized Lancaster after seeing a photo police released of the suspect in Ahlora's abduction taken from surveillance video at a nearby store.
"He came right to me and said, 'I know where your baby is,'" Blackburn said.
The family and some friends went to where they believe Lancaster is living to search, Wallace said. The family said they feel their presence there pushed Lancaster out of hiding.
Wallace said they were handing out flyers in that neighborhood when they learned that the FBI had their daughter.
"I dropped to the ground and started screaming," Wallace said.
Wallace said she later learned that a church pastor found Ahlora walking by the church. She brought her inside and called the tip line.
"When the FBI agent picked her up from the pastor last night, she was talking his head off, just like I told him she would," Wallace said. "She was talking just like she knew everybody."
Police told the family to meet them at Moses Cone Hospital.
The family said the 20-minute wait was grueling.
Wallace said when Ahlora saw her for the first time she shouted, "Mommy!" and threw her arms around her.
"It's been an emotional roller coaster," Wallace said. "I'm glad it's over."
The family said Friday that doctors thoroughly checked Ahlora and didn't find a single injury on her.
She was released from the hospital about 1 a.m. and headed to her dad's house before going home with Wallace in High Point.
They spent Friday toy shopping at Walmart and watching cartoons before she talked about her abduction with officers trained to interview children.
From there she reunited with her neighborhood friends at Claremont Courts Apartments off Phillips Avenue.
Several of the children said they were on the playground and witnessed the kidnapping.
They cheered when Ahlora got out of her family SUV and offered hugs and balloons in celebration of her return.
The children ran around the grass together playing and laughing, while the adults said they would keep a close eye on their children.
"We're not scared," said Gary Burch, Ahlora's uncle. "(Lancaster) should be scared."
And the family is still appealing to the community to keep an eye on their own children and to call 911 if they see Lancaster.
"I'm scared she's going to do it to another family and another child and the outcome may not be as good as ours," Wallace said.
Ahlora Lindiment returns home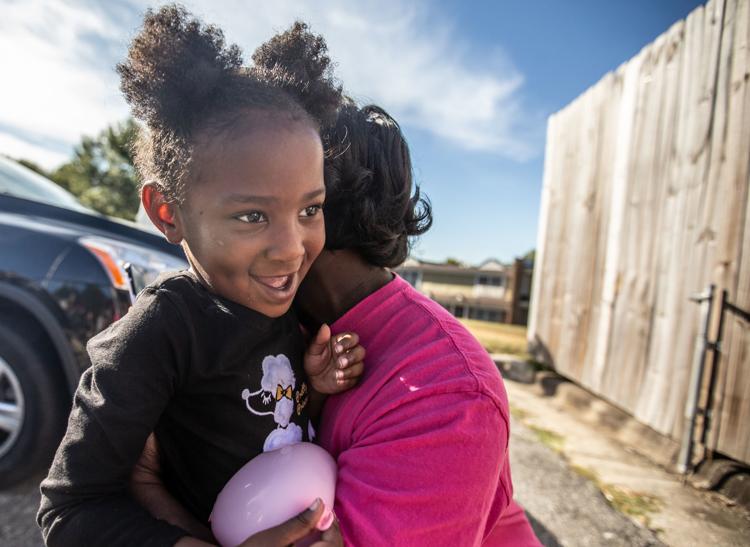 Ahlora Lindiment returns home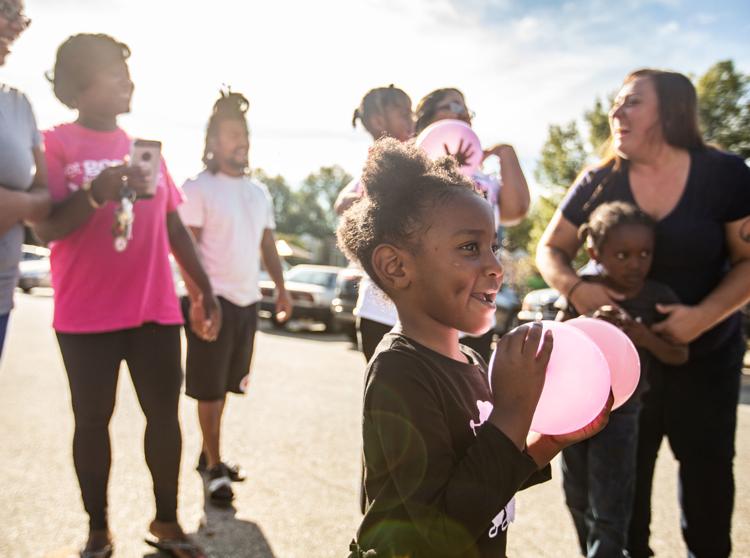 Ahlora Lindiment returns home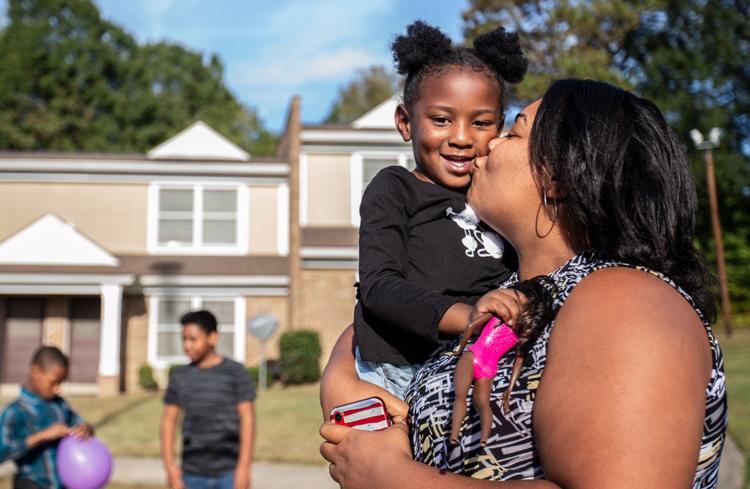 Ahlora Lindiment returns home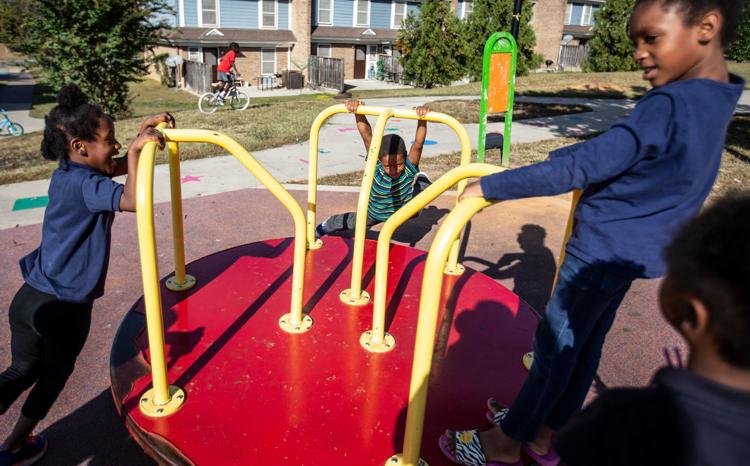 Ahlora Lindiment returns home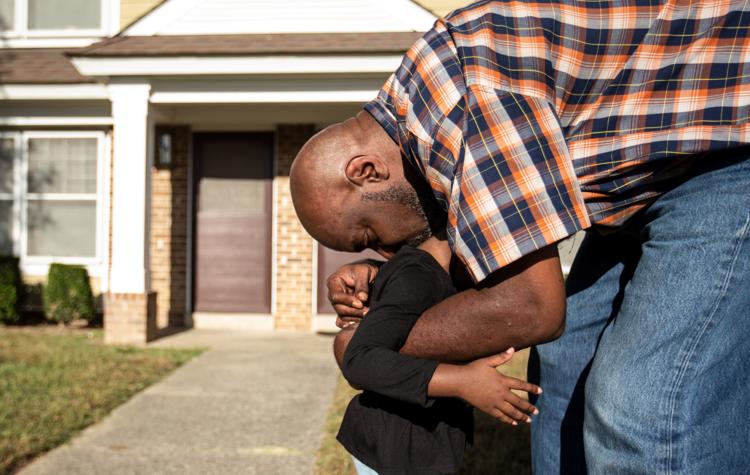 Ahlora Lindiment returns home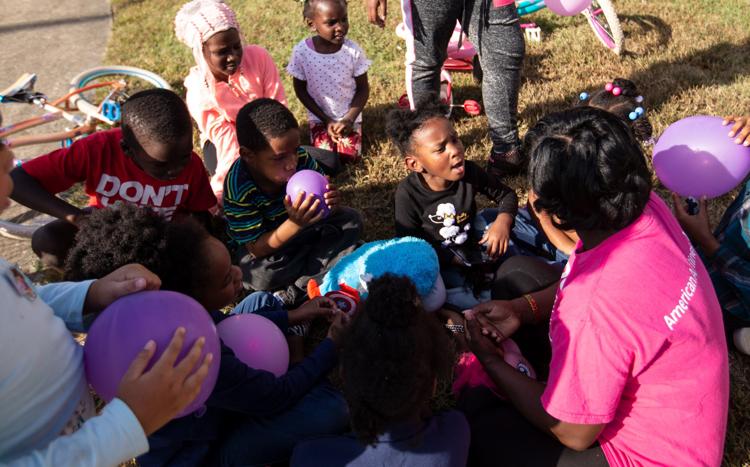 Ahlora Lindiment returns home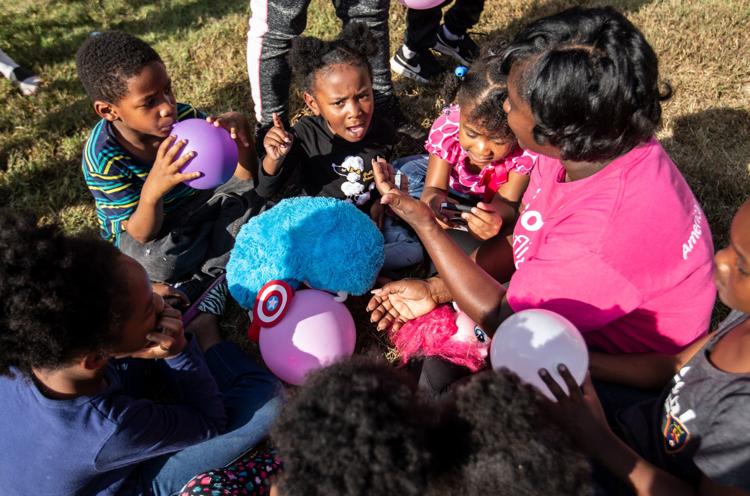 Ahlora Lindiment returns home
Ahlora Lindiment returns home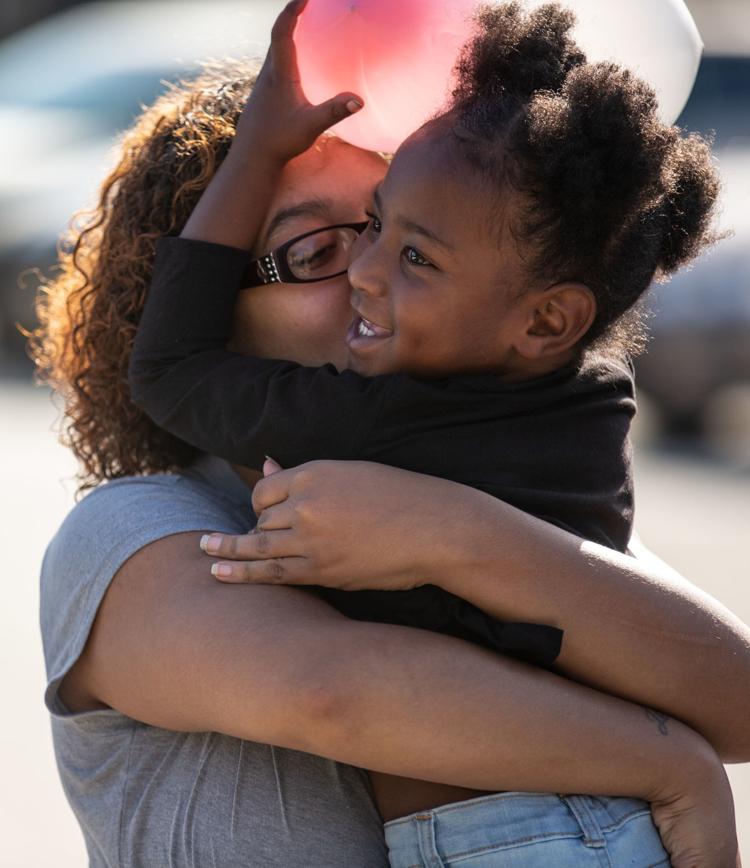 Ahlora Lindiment returns home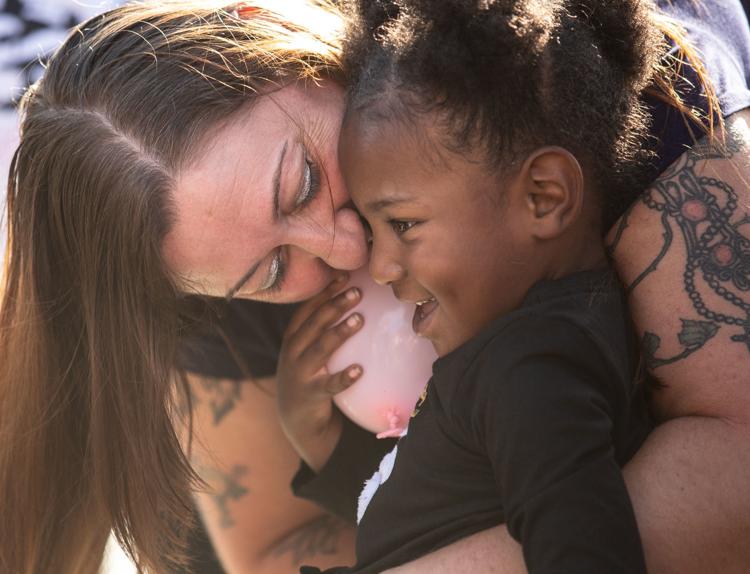 Ahlora Lindiment returns home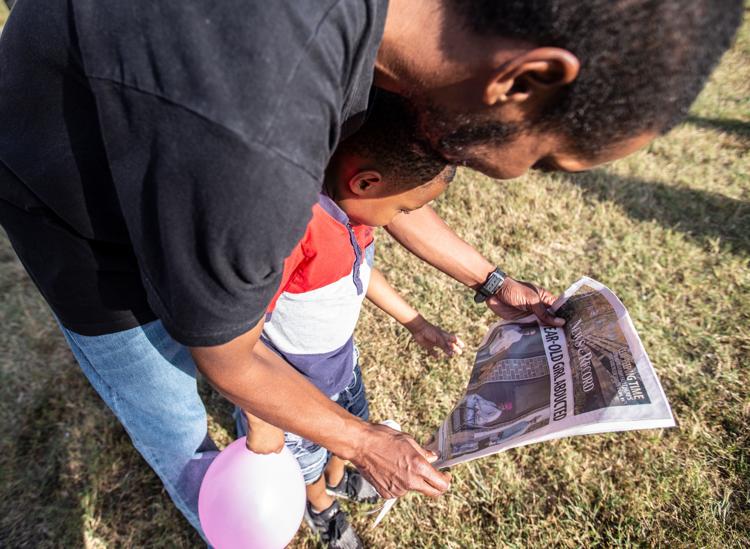 Ahlora Lindiment returns home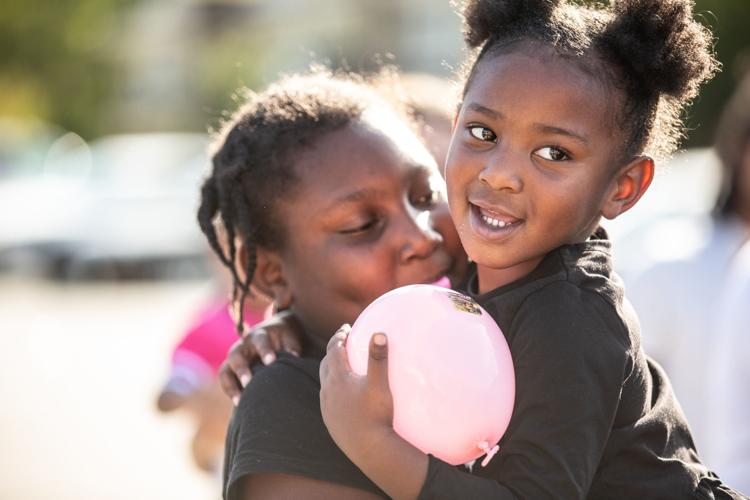 Contact Danielle Battaglia at 336-373-4476 and follow @dbattagliaNR on Twitter.
Be the first to know
Get local news delivered to your inbox!