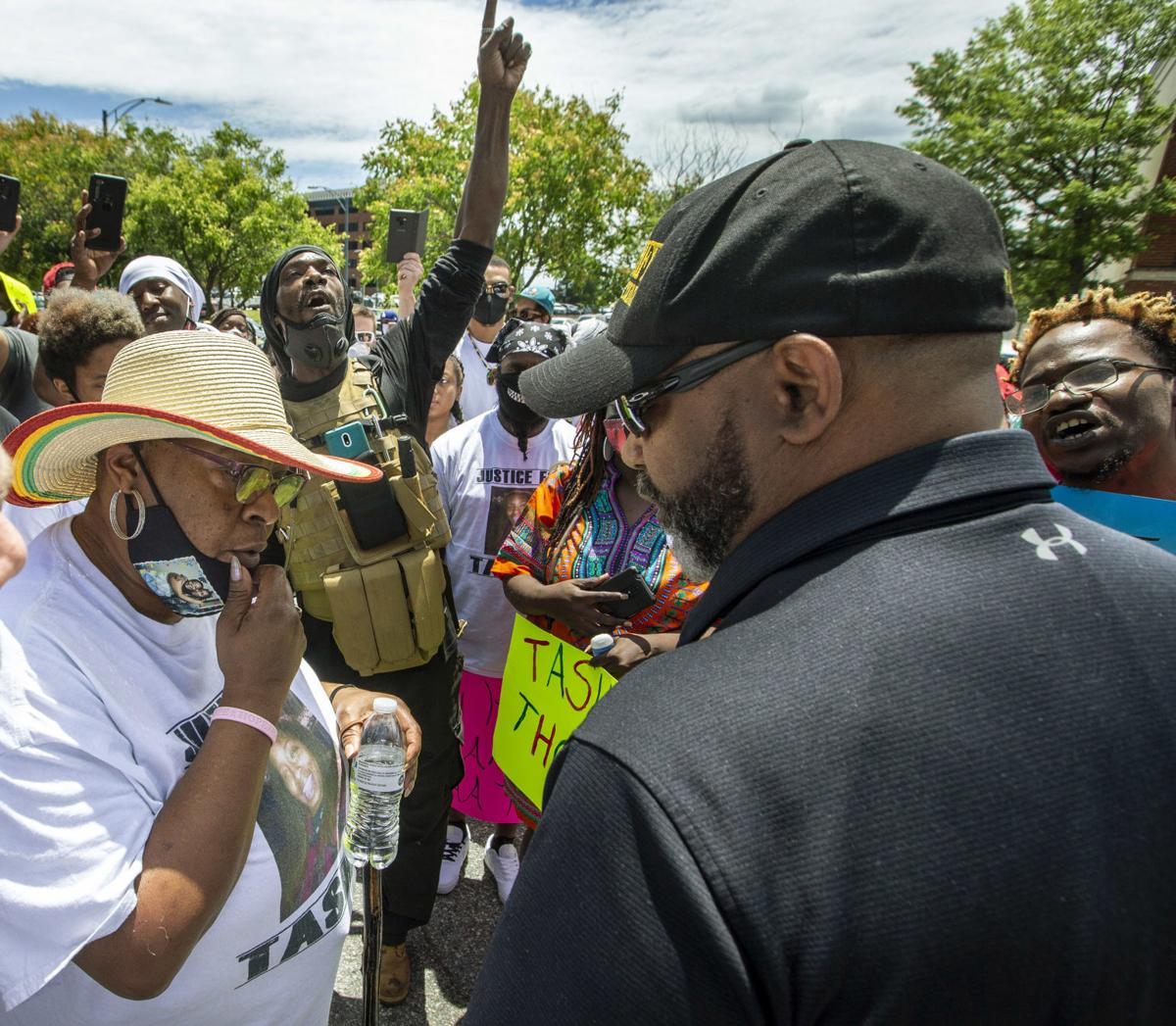 GREENSBORO — A wrongful death lawsuit filed against both the current and former Guilford County sheriffs alleges that the 2018 death of a Greensboro woman in the Guilford County Detention Center was the result of improper and cruel treatment. 
Tasha Thomas, 33, died shortly before midnight on May 2, 2018, three days after being taken into custody at the Greensboro jail. She was being held on charges of felony possession of cocaine and misdemeanor possession of drug paraphernalia. 
The medical examiner concluded Thomas died of "sepsis due to infective endocarditis" — an infection in the heart that usually affects the valves, "due to chronic injection drug use."  
However, Thomas' mother, Rochelle Thomas-Boyd, suspected foul play after not being allowed to view her daughter's body. Further investigation, according to the lawsuit, revealed Thomas' nipples had been ripped off, she appeared to have unexplained bite marks and bruises on her body, some of her hair had been ripped out and she may have suffered broken bones.
James Secor, attorney for the sheriff's office, said the law enforcement agency disputes the claims made in the lawsuit. He said the sheriff's office has not received any factual or medical evidence to that refutes the medical examiner's finding.
In June, Thomas-Boyd and a group of 30 to 40 people marched in downtown Greensboro to the sheriff's office, demanding justice for Thomas' death. While there, Sheriff Danny Rogers and Secor came out to meet with the group and Thomas-Boyd asked to see the video footage from the jail. 
An August agreement between the sheriff's office and attorney Reginald D. Alston, who represents the estate of Tasha Thomas, allowed the family see footage from Thomas' time in custody and recordings from the investigation into her death.
That video, along with discoveries made by Thomas-Boyd on her own, led to the wrongful death lawsuit filed last week. 
Thomas-Boyd, acting as the administrator of the estate of her daughter, is suing Rogers and Sheriff B.J. Barnes in both their professional and individual capacities, along with Corrective Care Solutions and Correctional Healthcare Cos., which provides medical care to jail inmates. Travelers Casualty and Surety Co. of America, which issued the surety bond against Thomas when she arrested, ensuring any injuries caused by neglect or misconduct by the sheriff's office would be covered, also is being sued.
The suit revealed the timeline of Thomas' death, as well as a number of claims that point toward improper care by the sheriff's office.
According to the suit, state law required Barnes, who was sheriff at the time of the death, and Rogers to provide "continuous custodial supervision of detainees," to "maintain safe custody and control" and "to be at all times informed of the prisoners' general health and emergency medical needs." It also imposed the duty to "secure emergency medical care from a licensed physician according to the unit's plan for medical care" in an emergency.
"Defendant Rogers and Barnes failed to meet these legal obligations," the suit alleges, leading to Thomas' death. Barnes declined to comment on the lawsuit.
Thomas was booked at the jail just before midnight on April 28, according to the suit. In an affidavit included in the lawsuit, Sharice Daughtery — who was Thomas' cellmate for periods of time — detailed her observations of Thomas' treatment in custody. 
Jail records and Daughtery's recollection paint a gruesome three days that Thomas spent in jail.
Daughtery said she observed Guilford County Detention Center staff harass Thomas on multiple occasions and said that one officer visited her in the cell they shared on a regular basis. Daughtery claims the officer bullied Thomas, making derogatory and/or threatening comments when visiting the cell. She didn't see the officer engaging the same way with other inmates, the lawsuit claimed. 
In her affidavit, Daughtery also revealed that Thomas was in fear for her safety. On at least two occasions, she claims Thomas was removed from the cell late in the evening for no apparent reason and returned despondent, quiet and crying uncontrollably, in pain and barely able to move. 
Daughtery said Thomas told her, "You don't know what they do to me."       
The lawsuit, citing jail records, indicates that Thomas had a history of substance abuse and had used 2 grams of heroin and 16 milligrams of suboxone before her arrest. Suboxone is a medication used to treat opiate addiction.
A nurse observed that she was in "severe withdrawal," according to the lawsuit.
Jail records show Thomas was not properly observed as often as required, the lawsuit said. On April 30, a nurse noted that Thomas was extremely warm to the touch with a 103-degree fever. She was given Tylenol and ice, the lawsuit said. At several other points, nurses noted Thomas' declining health and distress, but she was never hospitalized. 
Around 4 p.m. on May 2, a nurse ordered Thomas' vitals be checked once every four hours for 24 hours and that any changes in her health be reported, according to the lawsuit. That night around 9 p.m., another medical staff member provided a progress note, writing that Thomas' skin was cool to the touch and she was curled up in bed, moaning. That nurse gave her fluids, the lawsuit said. 
Forty-five minutes later, an officer conducting a security round saw Thomas on the floor.
"He nudged her repeatedly and then called for medical assistance via radio when (Thomas) did not respond," the lawsuit said.
The next morning, Daughtery noticed Thomas was not in her cell and asked an officer, who said he would follow up. When he returned, he told her that Thomas had passed away. She asked to view the body, according to the lawsuit. 
"Daughtery observed multiple bruises on every area of (Thomas') body that was visible through the tan jail uniform: her face, hands, wrists, ankles and neck. Some of her hair had also been pulled out, including her rainbow dread," the lawsuit said.
A June news release from the sheriff's office said that Thomas' infection was caused by her drug abuse prior to her arrest and not by any conditions or lack of medical attention in the jail. The release also said the medical examiner determined that there were no physical injuries which caused or contributed to Thomas' death.
When she learned of her daughter's death, Thomas-Boyd requested to view the body, but was told by the detention center that she couldn't see it, claiming it was "on restriction." The lawsuit said Thomas-Boyd also asked to see video recordings from the time of Thomas' booking up until to her death, but sheriff's officials failed to provide all of the footage, claiming they provided "what they were able to salvage."
The limited footage showed an officer roughly dragging Thomas' body across the jail cell while she was unconscious, the lawsuit said, and also revealed that a team failed to render CPR to Thomas for more than six minutes. An officer eventually attempted CPR incorrectly, according to the lawsuit.
It also noted that seven detention center employees, all of whom were on duty during Thomas' incarceration, were fired by Rogers in the months after her death.  
The jail video came as a shock to Thomas' family. 
Despite the sheriff's office refusal to allow her to view the body, Thomas-Boyd was able to secure video and pictures of her daughter's body while it was in the morgue. The lawsuit said many of the bruises and contusions on her body did not appear in the autopsy report conducted by the medical examiner. The lawsuit claims that the detention center did not use the medical examiner they typically used to conduct autopsies and instead used an examiner in another county with whom Sheriff Barnes had a close relationship.
According to the lawsuit, Thomas-Boyd saw images that revealed Thomas' nipples had been ripped off; she had what appeared to be unexplained bite marks on her body; some of her hair had been ripped out; her wrists appeared to be bruised as if she had been handcuffed; she had other bruises and contusions; and some of her bones appeared to be broken.
In a meeting with Sheriff Rogers after her daughter's death, Thomas-Boyd said Rogers called a detention center employee during their meeting for more information about the death. While in Thomas-Boyd's presence, the employee read information to Rogers from a record and told Rogers that Thomas died of a drug overdose, contradicting what she'd previously been told.
According to the lawsuit, Rogers also acknowledged that corruption was a problem at the detention center and promised Thomas-Boyd that he would see to it that she received justice for her daughter. The lawsuit did not expand on the mention of corruption.
The meeting left Thomas-Boyd with more questions than answers, according to the lawsuit.
The lawsuit seeks a jury trial and a combined minimum of $100,000 from Rogers, Barnes and the companies involved. 
Contact Jamie Biggs at 336-373-4476 and follow @JamieBiggsNR on Twitter.