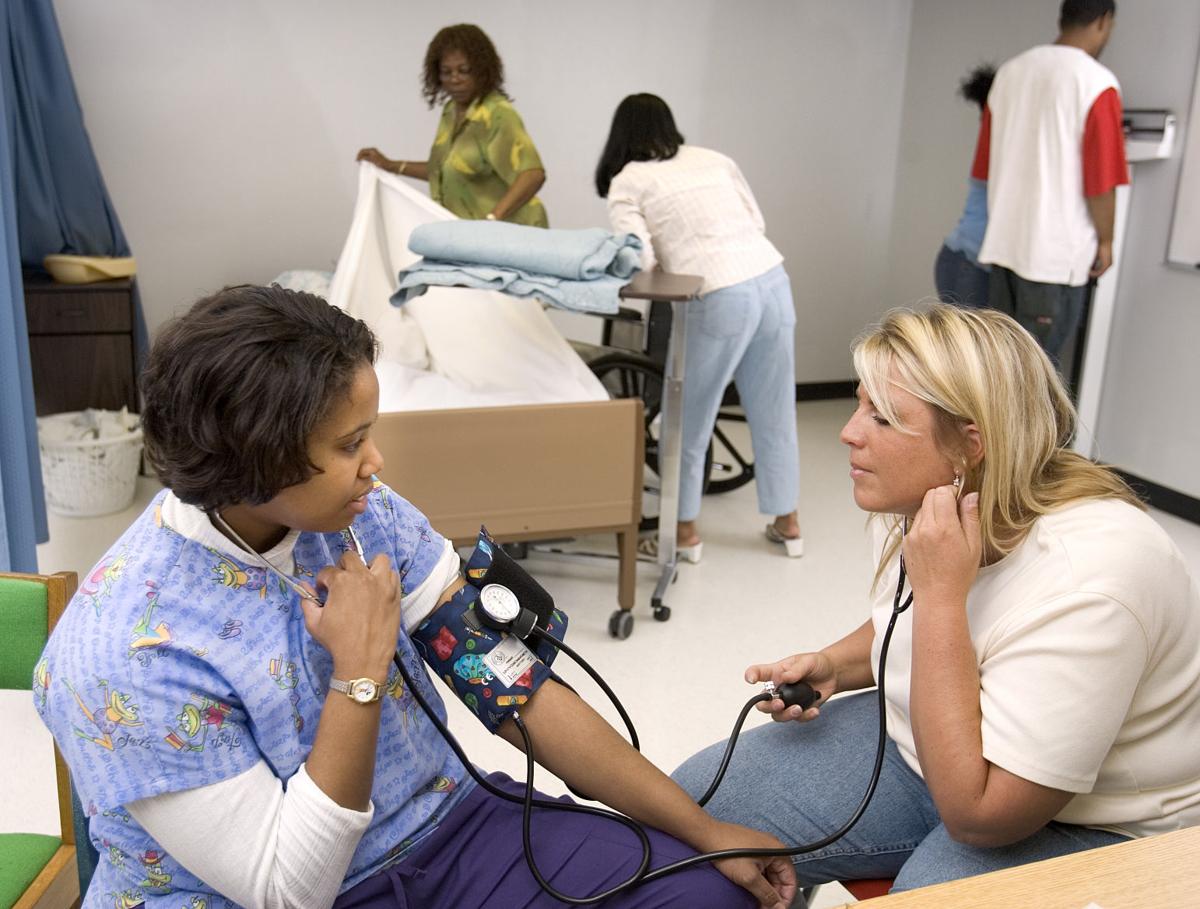 Community colleges are the Triad's secret weapon in the battle to improve wages and bring jobs to the area.
All of the region's community colleges offer programs for workers seeking to improve their job skills. In addition, the colleges work with industries to provide tailor-made training as well as retraining for workers who have lost their jobs.
For example, GTCC offers the Quick Jobs program. Aimed at the unemployed, Quick Jobs allows students to learn a specific job in 90 days or less . Some programs take as little as two weeks.
Quick Jobs, which started in 2004, has proven to be a big success. About 100 students a month inquire about Quick Jobs courses, said Philip King, dean of business and industry at GTCC.
"It used to be people would start a job and have expectations of being with that company for life," King said. "That simply isn't the case any more."
Quick Jobs began with 10 occupations; that number has grown to 26. King said GTCC officials consulted with businesses to find out which jobs are in demand. Some of the trades job-seekers can learn are bank teller, welder, certified nurse assistant and truck driver.
King said GTCC is adding night and weekend classes to give students more options. Classes are kept small — about 20 to 25 students per class — and GTCC also helps students with job search skills, such as resume writing.
Alamance Community College offers a comparable program called Work Fast.
"All of our programs have advisory committees made up of employers out in the field," said Janyth Fredrickson, the college's executive vice president.
For example, a local cement manufacturer said it needed truck drivers. So Alamance Community College set up a program to train drivers, who went straight to work after finishing.
Fredrickson said the college has begun offering some classes in Spanish as well.
GTCC has a larger program for people already employed who want to upgrade their job skills. These classes include computer training, blueprint reading, management training and foreign language for the workplace. Campus officials create the courses based on recommendations from employers.
"We ask what kinds of training needs they have," King said.
In addition, GTCC will go to industries and offer on-site training for employees, tailored to the specific needs of that business.
Some of these on-site programs have included sessions on Occupational Safety and Health Administration (OSHA) guidelines, FDA regulations, customer service and telephone etiquette.
"Just about any kind of training you can think about, we provide," King said.
In Burlington, Alamance Community College provided help when WestPoint Stevens announced it was closing its mill, laying off 560 workers .
The college set up a classroom in the plant to offer free courses in keyboarding, job seeking, resume writing and basic computer skills.
Local community college officials also said adult high school and GED programs are a big part of preparing the work force for modern industry.
Margot Lindsay, basic skills coordinator for Rockingham Community College, said the college is helping laid-off textile employees obtain a diploma.
"Most of these employees have been there a long time, and when they started they didn't need a high school diploma," Lindsay said.
GTCC also works with students right out of high school.
The college offers full two-year scholarships to Guilford County Schools graduates who have completed a tech prep course of study.
Some of the fields available to these students are electronics, carpentry, turf grass management, chemical processing, hotel/restaurant management, early childhood education, graphic design and business administration.
In four years, the scholarship program has grown from 11 students to 375 students for the fall semester.
"In the very near future, we're going to be putting some very good graduates into the work force," said Bill Eversole, GTCC's director of work force preparedness.
Eversole said the college started offering the scholarships because local employers said they needed trained, skilled workers.
"We are doing our best to attract high-quality students," he said.
Many fields require a work-study component, where students get real-life experience while taking classes. For example, an early childhood education student might work at a day care center.
"It's excellent training for what they will face in the work force," Eversole said. "Employers love that program."
Whether it's helping recent high school graduates, laid-off workers or industrial employees looking to upgrade their jobs, community college officials say their institutions can play a big role in putting the Triad to work.
"If you have economic development, you've got to have a comparable work force," said Don Childers, dean of business and industry at Randolph Community College.
Contact Bruce Buchanan at 373-7078 or bbuchanan
@news-record.comdiscovereconomydiscovereconomy
Be the first to know
Get local news delivered to your inbox!