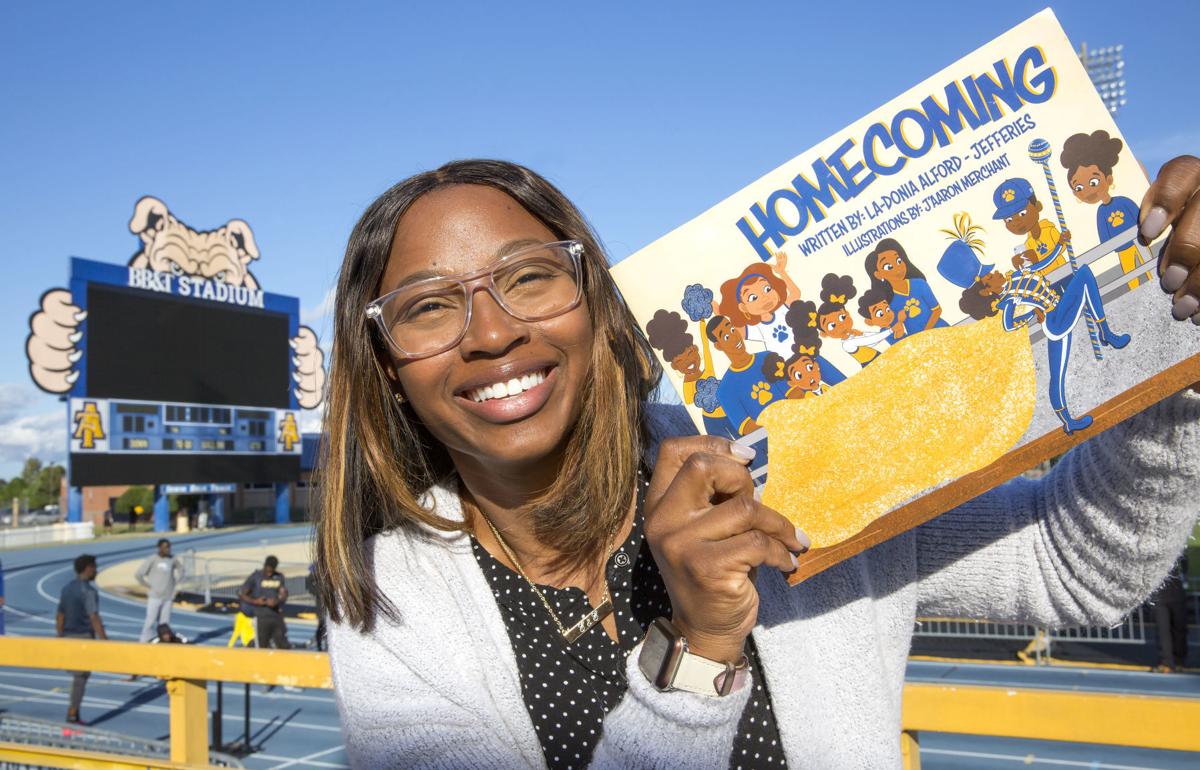 GREENSBORO — La-Donia Alford-Jefferies can still remember her first homecoming.
She's young, about 3 or 4, and she's riding on a float in N.C. A&T's homecoming parade. She's wearing an oversized A&T sweatshirt, cheering the A&T cheers she learned at A&T's preschool and waving at everyone gathered along the parade route.
Fast forward to 2015, when Alford-Jefferies was pregnant with her first child and living in Cincinnati, too far to return to Greensboro for A&T's homecoming. Was there a way to pass her homecoming memories to her own children? Could she tell other boys and girls about the sights and sounds of a black college homecoming?
Alford-Jefferies found a lot of children's books about historically black colleges and universities, or HBCUs. When she turned up no book about the HBCU homecoming experience, she wrote her own.
In April, the Greensboro resident, high school biology teacher and mother of two self-published a 26-page children's book titled simply "Homecoming." Since then Alford-Jefferies has sold 1,000 copies of her first book that's available as a paperback and in an electronic format for Amazon's Kindle e-reader. She and her illustrator have collaborated on a coloring book. This week during A&T's homecoming, Alford-Jefferies will do a pair of book signings on back-to-back nights.
"This has exploded," Alford-Jefferies said in a recent interview. "I just did not see this coming in this time frame."
"Homecoming" tells the story of two African American parents taking their three young children to their first college homecoming. The parents bring their kids to the yard, show off the fraternity and sorority plots and point out where they took classes when they were in school. The family goes to the football game, sees the drum major, hears the band and chows down on fried food at a tailgate party afterward.
Alford-Jefferies is an A&T graduate, and it's clear that she had A&T in mind as she was writing. "Homecoming" includes an allusion to the A&T Four statue on A&T's campus, and the book's primary colors are Aggie blue and gold. But "Homecoming" isn't set at any particular school by design, she said, because HBCU traditions are universal.
"This may be the teacher part of me, but I remember thinking I want young children to have a book with characters that look like them and characters that they can relate to in terms of what's happening in their community," Alford-Jefferies said.
"Homecoming reaches far past the campus. Some kids know what it's about and some kids don't," she added. "I just wanted children across the county to have a sense of what homecoming is and why it's important."
"Homecoming" draws largely from the author's own experiences.
Alford-Jefferies grew up in Greensboro and attended preschool at A&T, where her mother, Sylvia Bembry, was a business professor before moving over to Winston-Salem State. Her dad, Eli Alford, is an A&T graduate who has had football season tickets for years.
On fall Saturdays, she went to A&T football games and tailgates with her family, and she attended a lot of A&T homecomings.
After she graduated from Grimsley High School, she went to A&T — there were more homecomings, of course — and got her degree in animal science in 2010. A&T is where she met her husband, Michael Jefferies. The couple has two daughters, Eleanor and Emerson.
After A&T, Alford-Jefferies got a master's degree at Fort Valley State University, an HBCU that sits about 100 miles south of Atlanta. She now teaches biology full time at Greensboro's Page High School. Twice a week at night, she teaches an introductory course in laboratory animal science at A&T.
She got the idea for the book when she and Michael were living in Cincinnati for Michael's job. She put the project aside until 2018, until after the family had moved back to Greensboro and she had a dream about the book. She quickly knocked out a first draft, got feedback from family and friends and revised it over the next several months.
Alford-Jefferies looked online for an illustrator. She found J'Aaron Merchant, a Savannah State University graduate now living in Arkansas.
"I loved the story," said Merchant, a visual storyteller who has illustrated several other children's books. "There's nothing out there like this. It's really, really needed."
Alford-Jefferies placed her first order of 600 books in the spring. Once the 5-foot-tall author got over the shock of receiving a stack of boxes as tall as she is, she set about selling all those books.
Social media, word of mouth and some newspaper stories helped people learn about the book. "Homecoming" was available at Scuppernong Books downtown, Wonderland Bookshop on State Street, on her website and on Amazon. By the end of the summer, she had sold that first batch of books and ordered more.
As Alford-Jefferies mulls ideas for a second book, she's hoping parents will use her first book to talk to their children about going to college and all the exciting things that go on there.
"I just want kids to be excited about college," Alford-Jefferies said. "If homecoming is what does it, fine by me."
Contact John Newsom at (336) 373-7312 and follow @JohnNewsomNR on Twitter.​
Be the first to know
Get local news delivered to your inbox!