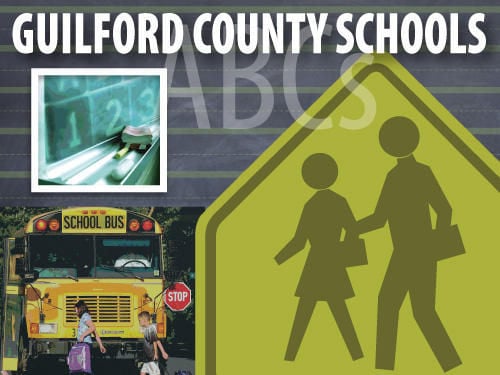 HIGH POINT — Thousands of classes at local middle and high schools have fewer than 20 students. More than 120 classes have fewer than 10 students, according to a budget analysis shared Saturday with the Guilford County Board of Education.
Reducing the number of those low enrollment classes alone might yield up to $11.4 million , according to recommendations based on that analysis. The savings could be put toward areas of needed improvement, such as marked disparities in student performance on the ACT.
In all, the budget analysis, paid for by Say Yes to Education, noted opportunities, not obligations, for Guilford County Schools leaders to make such changes as reconfiguring staff in certain departments and reallocating up to $24.6 million.
That's even though the school system's operations run lean, according to the analysis.
About 95 cents of every dollar the school system spends goes toward costs that directly affect students and teachers, the data showed.
Cost-cutting is not the point of the budget analysis, said Mark Strickland of Schoolhouse Partners, the consultant that conducted the study.
"This is about positioning and how we align our resources best with our goals and with the needs of the students we serve and with the families we serve," he said.
In other words, it's a starting point. The academic and financial analysis will inform the next steps taken to build up the local Say Yes program.
Say Yes to Education, a New York-based nonprofit organization, officially began a partnership with Guilford County last month.
One element of the partnership that has garnered much excitement is that students graduating from Guilford County Schools will be eligible for last-dollar tuition scholarships, starting with the Class of 2016.
A longer-term, broader element of the partnership is to establish a system that can drill down so far into data that officials will be able to pinpoint and respond to needs of individual students. Officials have said getting to that point will likely take several years.
When task forces are formed as part of the Guilford County's partnership with Say Yes, they can delve deeper into the data and pull additional information for analysis.
For example, a task force might want to find a way of testing kindergarten readiness that is more comparable to the standardized tests students take starting in third grade, said Dan Barcan of Schoolhouse Partners.
"I believe this is a vital, vital thing for us to be doing," Superintendent Maurice "Mo" Green said of the analysis. The school system has made progress over the past seven years, but there is much more work to do to boost the achievement of more students, he said.
The data shared Saturday will be a starting point to configure groups to start focusing on reasons why certain students fall behind.
Tackling race would be key to that effort, school board member Deena Hayes-Greene said Saturday. She pointed out that the data didn't deal with how money is allocated to tackle inequity in the school system.
"The biggest problem in this district is the underachievement of students of color," Hayes-Greene said. Reducing inequity in the district requires dealing with the issue of race, she said.
Students who are not white have made up the majority of enrollment in Guilford County schools for about 15 years. Significant gaps still remain between the achievement levels of different students, particularly black students.
As recently as last month, school officials have discussed racial disparities in discipline rates and in students' performance on state tests. Green has noted that the racial disparities persist even when data is controlled for poverty.
The Schoolhouse Partners analysis exposed not only areas where the school system excels, such as its record high graduation rate and high percentages of students completing a college preparatory curriculum. It also highlighted areas of marked disparity, such as achievement on the ACT, a common college admission exam.
By 11th grade, white students are seven times more likely than black students to score a 23 or higher on the ACT — a score officials say students would need to enter college without needing remediation. Students who do not qualify for free or reduced-price lunch, a federal poverty indicator, are 10 times more likely than lower income students to reach that benchmark, the report showed.
That matters because having to take remedial classes could be a barrier to college graduation for some students because they pay for the courses but don't receive credit.
Recommendations in the academic report include task forces focused on increasing engagement of parents and families, improving instruction in the early grades and finding strategic ways to improve student performance on college level tests.
Contact Marquita Brown at (336) 373-7002, and follow @mbrownNR on Twitter.