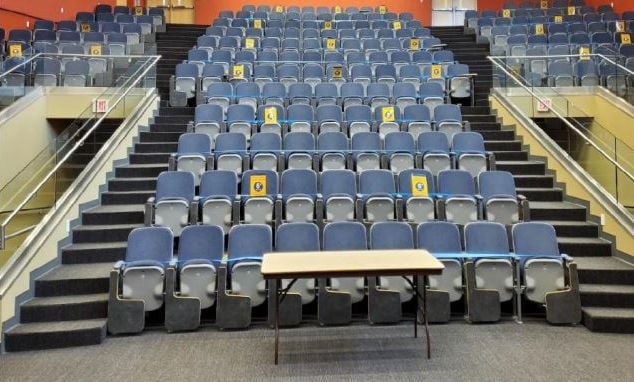 GREENSBORO — Thirty percent of N.C. A&T students will take all of their classes online this fall.
That's a record for the Greensboro university and an indication of how COVID-19 will shake up higher education this fall. 
Just 4% of A&T students are enrolled solely in on-campus face-to-face classes this fall, Chancellor Harold Martin told A&T trustees Tuesday. The vast majority — 66% as of Monday — will take a mix of online and in-person classes or hybrid courses that blend both formats.
"We expect we will have about 65% (of students) in Greensboro living in our residence halls or the community and taking classes on campus ... " Martin said. "We are pleased that this process is settling in (and that) our students are making their choices with their families as to how they see themselves continuing their education here at A&T in a safe and healthy environment."
Martin and other university leaders Tuesday covered some of the big changes to campus life expected when fall semester classes start Aug. 19. Some highlights:
• A&T is bracing for a revenue decline from previous years. Martin said A&T expects to see about the same or slightly more students this fall than the 12,556 who enrolled a year ago — that's the good news. But students who take only online classes from home pay much less in tuition and fees than on-campus students. A&T expects the move to an online-only experience will mean A&T will collect between $2 million and $3 million less in tuition and about $5 million less in student fees this fall, said Robert Pompey, A&T's vice chancellor for business and finance. Cancellation of A&T's fall sports session will cost about $350,000.
Pompey said A&T has enough financial reserves plus federal CARES Act funding to cover its losses. "Overall we are in really good shape," he said.
• Martin said four A&T employees and five student-athletes have contracted COVID-19 in recent months. All four employees had been working from home, and three have resumed their work duties. The student-athletes tested positive earlier this month after coming to campus for practice. "We can expect that there will be employees and students who will contract the virus" when campus reopens, Martin said.
• Students living on campus should expect several changes. A&T has made available nearly 4,800 dorm beds this year, or roughly 260 fewer than a year ago. To allow for more social distancing, most rooms in three traditional residence halls (Cooper, Morrow and Vanstory) will be occupied by one student instead of two. One entire dorm has been set aside if A&T needs to quarantine sick students.
Dorm visits will be curtailed. A&T previously said that non-students, including family members, won't be allowed in residence halls this fall. Melody Pierce, vice chancellor for student affairs, said additional COVID-related restrictions will be announced next week. These new rules will require all students who visit other dorms to wear masks and go no further into another residence hall than common areas or community rooms.
• Masks will be required of all students, employees and visitors in public spaces on campus. A&T has bought 30,000 blue and gold cloth masks with the university's logo and another 1 million disposable masks.
• Students won't be tested for COVID-19 before they return to campus. A&T said students will be asked if they have symptoms or if they have been exposed to anyone with the virus. A&T also will check students' temperatures when they move into the dorms starting Aug. 7.
The no-advance-testing approach isn't unique to A&T. The Centers for Disease Control and Prevention for multiple reasons does not recommend that universities conduct widespread testing of incoming students. UNC System schools aren't requiring students to be tested before they start classes this fall.
For more details about A&T's fall semester plans, visit the university's Aggie Cares website.
Contact John Newsom at (336) 373-7312 and follow @JohnNewsomNR on Twitter.​
Concerned about COVID-19?
Sign up now to get the most recent coronavirus headlines and other important local and national news sent to your email inbox daily.