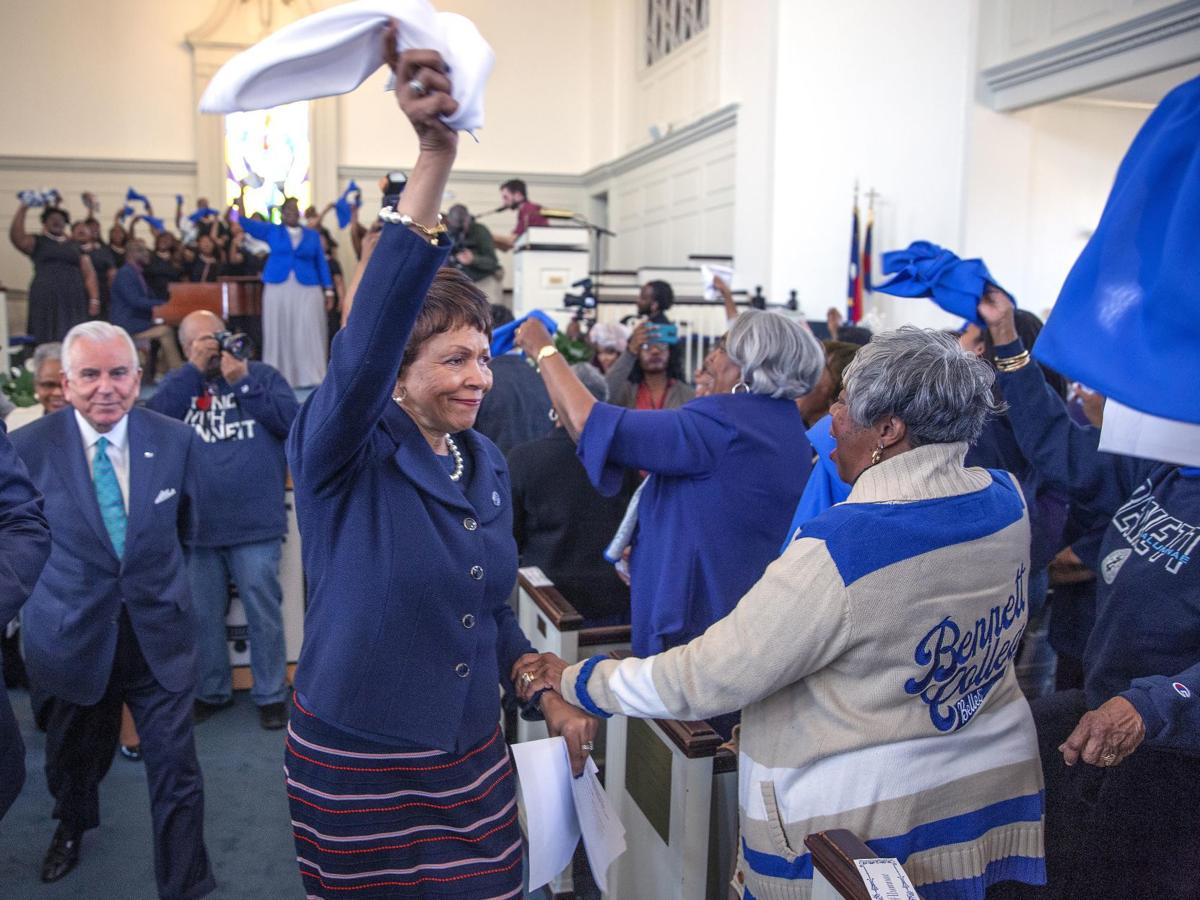 GREENSBORO — In hopes of holding onto its accreditation, the loss of which can ruin a college, Bennett College set out to raise $5 million.
Fifty-five days after one of the darkest moments in the college's 146-year-history, Bennett celebrated Monday by announcing that it had collected $8.2 million.
More than 11,000 people and groups from across the state and nation stood with Bennett College by giving small and large amounts of money. The cash and checks kept coming in as Bennett's Friday deadline came and went.
Three days after High Point University contributed $1 million, its president showed up at Monday's announcement ceremony with another $357,500 in checks he collected over the weekend. Bennett College also announced Monday that a couple from California gave $1 million.
At noon Monday, Bennett students, alumnae and supporters packed the college's chapel to hear news of the final total and roared when it was announced. After the ceremony, President Phyllis Worthy Dawkins rang Bennett's bell, something that's done only to mark the start and end of the academic year and significant college events.
Earlier, Dawkins told the crowd that she appreciated each and every gift the college had received.
"What matters most is that every dollar counts toward our goal. What matters most is people gave — and they gave from their heart," Dawkins said. "The outpouring of love and support that Bennett received during this campaign is just amazing. … Some might even call it a miracle."
Bennett launched this miracle Dec. 11 after the Southern Association of Colleges and Schools Commission on Colleges revoked Bennett's accreditation.
Bennett is one of just two historically black women's colleges in the nation. With about 410 undergraduates enrolled this spring, Bennett is tiny even by the standards of private colleges, which tend to be much smaller than state-supported public universities.
Bennett has struggled financially in recent years. A steep drop in enrollment led to annual budget deficits and reductions in faculty, staff, and programs. Bennett posted its first budget surplus in seven years in 2017-18, Dawkins' second full year as president.
Before December's decision, Bennett had been on probation for two years, the most allowed under the commission's rules. The commission wasn't swayed by recent improvements in Bennett's enrollment and financial picture. 
Bennett appealed that ruling — a hearing is scheduled for Feb. 18 in Atlanta — and remains accredited for now. Colleges must be accredited to accept federal grants and federal student loans as payment for tuition and other expenses. Colleges that lose accreditation often close.
The commission said Bennett was out of compliance on just one of its standards: financial resources. As Dawkins said again Monday, the commission found nothing wrong with Bennett's faculty or governance or admissions or academic programs. The commission wanted to see more money in the bank to make sure Bennett had enough financial resources to stay open. Based on conversations with the commission, Dawkins and Bennett's Board of Trustees decided $5 million in new contributions ought to do it.
Beating its fundraising goal doesn't guarantee that Bennett will regain its Southern Association accreditation. But Lodriguez Murray, vice president of public policy and government affairs for UNCF, a Washington, D.C., organization that supports private historically black colleges and universities, said the association is sure to take note of the success of Bennett's effort.
"I think this proves to SACSCOC and to everyone who doubts the value of historically black colleges in 2019 — this shows that these schools have far-reaching and deep support, both locally and nationally," said Murray, who attended Monday's announcement.
"Folks across the country are saying they don't want to lose any more of these schools," he added. "That's why people stood with Bennett."
On Dec. 11, after the commission's decision, Bennett leaders sat in the New Orleans airport and came up with a plan. Their plan was to raise $5 million by Feb. 1. They called it simply "Stand With Bennett."
There were blue T-shirts with a red heart where the A in "Stand" normally would be. On social media, the #StandWithBennett hashtag seemed to be everywhere. Dawkins and Bennett students and graduates did dozens of interviews. Students hit up their friends. Churches took up offerings. A TV star, Jussie Smollett of the Fox show "Empire," promoted Bennett's cause online. Bennett alumnae told their friends to skip the Christmas gifts to them and send money to Bennett instead.
"As alumnae, we did not think we could appreciate and love Bennett College more than we have loved her for much of our lives," Gwendolyn Mackel Rice, president of the college's National Alumnae Association, told the audience Monday. "The thought of losing her was more than one could bear, and today we have demonstrated that we would not bear it."
Bennett's call to action started slow but picked up momentum. On Jan. 24 — eight days before its deadline — separate $500,000 gifts from The Papa John's Foundation of Kentucky and the Z. Smith Reynolds Foundation of Winston-Salem pushed Bennett over the halfway mark.
The money kept coming in. From churches in Greensboro and all over. From fraternities and sororities. From college students and alumnae of Bennett and other schools. From an N.C. A&T graduate who gave $100,000 as thanks for Bennett giving him a job so he could afford to stay in school. From a woman who has degrees from three historically black colleges — but not from Bennett. From a man who walked into Bennett's business office with a $20 bill and walked out without giving his name.
The money came from banks, from businesses and from presidents and trustees who represented 100 different colleges. Some Greensboro school children donated $72 in quarters. A High Point University family from the Midwest, in town last weekend for family weekend, convinced a local bank to cut a cashier's check for $10,000.
"This whole campaign is not about money," High Point University President Nido Qubein said Monday. "I believe that God has ordained Bennett in a very special way — to say to the world that there is a reason why Bennett was founded and there's a reason why Bennett must continue to sustain itself with both success and significance."
On Friday, High Point University announced a gift of $1 million, the largest to the campaign at the time. (Bennett and HPU are both affiliated with the United Methodist Church.) That donation pushed Bennett's total close to its goal.
Qubein on Monday brought more money he had collected from friends, associates and others at High Point University. The largest check — for $200,000 — was from BB&T, the Winston-Salem bank on whose board Qubein sits. Dawkins' mouth hung open at the sight of those six figures on the check in her hands.
Bennett didn't announce until Monday that it had received a second million-dollar gift last Friday.
That donation came from a Los Angeles couple: Kwanza Jones, a singer-songwriter and CEO of a personal development brand company whose mother and aunt both attended Bennett in the 1960s; and José Feliciano, co-founder of a private equity firm. The two Princeton University graduates run a foundation that supports education, entrepreneurship and other projects.
On Monday, Jones told the Bennett crowd that she and her Bennett relatives hadn't heard of the college's issues until late last week.
"So what we did is we called up and just said that we would like to give a million dollars. So that's what we did," Jones told the crowd, which erupted again.
"We all stand with Bennett," Jones said near the end of an impassioned speech, "and Bennett stands for what we are: the best of us, the brightest of us, the brilliant of us."
Diane Patterson, a sophomore from Raleigh, said she was overwhelmed by the love and support people have shown for Bennett.
"Bennett is only going to go up from here," Patterson said. "This is the start of something new for Bennett."
As the speakers spoke and the crowd cheered Monday, two Bennett employees boarded a flight to Atlanta. They carried separate copies of Bennett's formal written appeal. As a hedge against that city's notorious traffic congestion, they would take separate cars and separate routes to the commission's headquarters in the suburb of Decatur. One of them was sure to make it there by the end of the day. Bennett also planned to email a digital copy to make the commission's deadline.
Dawkins all along has said she was confident that Bennett would make its fundraising goal. After Monday's ceremony, she said she's certain the commission will rule in Bennett's favor two weeks from Monday. She expects the appeals board to announce its decision a week after the hearing.
"We've raised enough to produce additional resources. That's what we did — and more," Dawkins said. "We should be in good shape."
Contact John Newsom at (336) 373-7312 and follow @JohnNewsomNR on Twitter.​