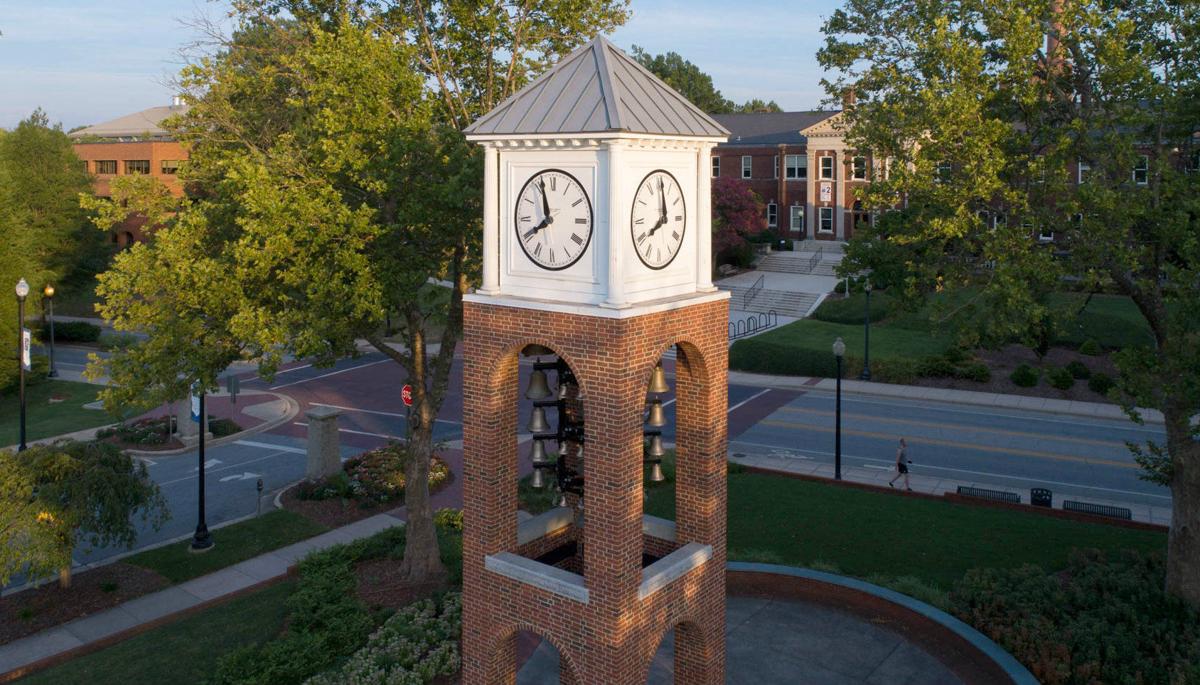 GREENSBORO — UNCG now requires students, employees and visitors to wear masks in most spaces on campus.
The new rule, which took effect immediately, requires everyone to wear masks that cover their faces and noses while inside UNCG classrooms, libraries, auditoriums and meeting rooms. Masks also are required in crowded outdoor spaces when social distancing — being 6 feet away from another person — isn't possible.
UNCG said all students, faculty and staff members, visitors, vendors and independent contractors must have a face covering with them at all times while they are on campus. Masks can be either reusable or disposable. UNCG said it will provide masks for students and employees, or people can wear their own face covering.
The one exception to the mask mandate: Employees may remove their masks when they're in their own offices.
UNCG said in a message to its community Thursday that students who don't wear masks might be asked to leave classrooms or other campus buildings and could be subject to punishment under the student conduct code. Employees who don't comply might be subject to disciplinary action.
UNCG said students and employees with medical conditions that prevent mask-wearing can request an exception. The university said it's working on ways to enforce and remind people of the mask mandate.
"Wearing a face covering is an expression of care, an acknowledgment of community and a vital part of our plan to make UNCG as safe as possible for everyone," UNCG said in its community message.
The university said it adopted the mask requirement based on guidance from federal health officials and the UNC system. Because the novel coronavirus that causes COVID-19 is spread through sneezing, coughing and speaking, health experts consider face coverings to be a key tool to fight the disease.
A Duke University medical expert said in a media briefing Thursday that masks serve a dual purpose: They help protect the wearer from infection, and they help prevent people from spreading the virus.
"The data has really shown that wearing a mask and preventing those respiratory droplets from spreading on other people is really effective," said Dr. Sallie Permar, a pediatric infectious disease specialist at Duke.
"The masks are super useful in protecting those that you are around. You wear a mask to prevent infecting others. It does play some role in protecting yourself as well," Permar said.
UNCG's decision also comes about three weeks after some university employees began returning to campus and about a month after a reported COVID-19 outbreak at a campus construction site.
The university began a phased return to campus June 1 of staff members, nearly all of whom have been working remotely since March. Professors and students aren't scheduled to return to campus until August.
UNCG said May 29 that positive tests had been reported earlier that month among construction workers at the new Nursing and Instructional Building on campus. Yes Weekly, citing a UNCG employee, reported on its website that 36 workers tested positive for COVID-19. Spokespersons for UNCG and the Guilford County Health Department neither confirmed that number nor said how many positive tests had been recorded among construction workers.
A UNCG spokeswoman said Thursday that the contractor in charge of the project enacted several safety measures after the COVID-19 cases emerged. Among them: Construction workers are now required to wear face coverings and maintain social distance while on the job site, and workers are screened daily for COVID-19 symptoms.
Contact John Newsom at
336-373-7312 and follow
@JohnNewsomNR on Twitter.
Concerned about COVID-19?
Sign up now to get the most recent coronavirus headlines and other important local and national news sent to your email inbox daily.