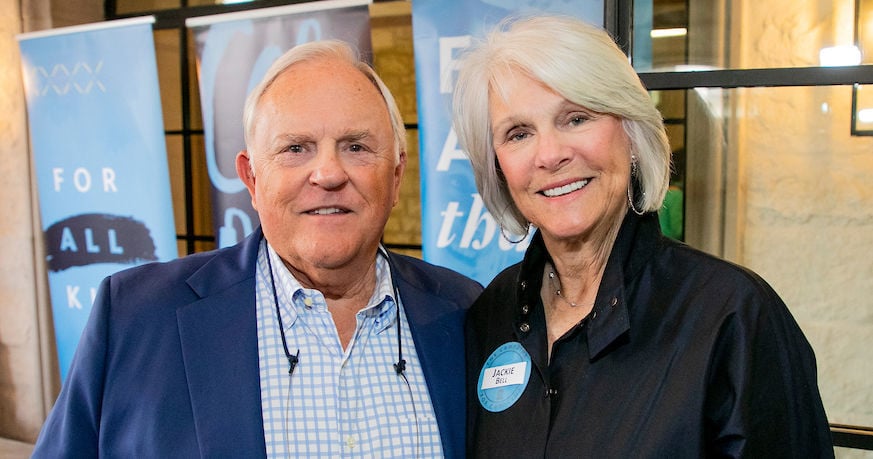 CHAPEL HILL — UNC-Chapel Hill said it will use an $11 million gift from a Greensboro couple to expand its business school.
The university said Tuesday that the gift from Steve and Jackie Bell is the largest single amount given by individuals to UNC Kenan-Flagler in the school's 101-year history.
In a statement announcing the donation, Chancellor Kevin Guskiewicz called it "an investment in our students, in our communities and in the economic growth of North Carolina."
Steve Bell is a 1967 graduate of UNC-CH and founder and chairman of Bell Partners, an apartment investment and management company based in Greensboro. Bell started the company nine years after graduating from UNC-CH with eight properties and 21 employees, according to the company's website. Bell Partners now has 1,300 employees in nine offices nationwide and manages nearly 60,000 apartment units in 14 states.
Jackie Bell is a former trustee at Greensboro Day School, which the couple's two sons attended. 
Steve Bell has a long relationship with UNC Kenan-Flagler. He's a former member of the school's board of advisers, helped create an endowed business professorship and has given money to the business school's real estate studies and family enterprise centers. He received the business school's leadership award in 2013 and contributed to the recent expansion of the Rizzo Center, a hotel and conference center near campus that's owned by the business school.
UNC-CH said it will use the Bells' gift to add another building to the UNC Kenan-Flagler complex on the south end of campus. The business school said it has outgrown the McColl Building, which opened in 1997, and said it turns away about half of all undergraduate applicants because there's not enough space.
When UNC-CH announced its $4.25 billion fundraising effort in late 2017, it said it would raise money to put up another business school building so UNC Kenan-Flagler can expand its undergraduate enrollment by 50 percent.
As of last fall, the UNC-CH business school had enrolled 530 undergraduate students and 1,890 graduate students.
"There is never enough money to address all of the needs in our state, and this is even more true in the current economic downturn, but now is the time to plan for our future," Steve Bell said in a statement. "A building expansion is needed now, not 15 to 20 years down the road."
This is at least the third major donation toward a new business school building, which is not yet under construction. The state legislature gave UNC-CH $1 million in 2017 to start planning the new facility. The university said it also got another $10 million from an unidentified donor.
The Bells' gift will count toward the university's fundraising campaign, which has raised $3.24 billion to date for student scholarships, professorships, academic programs, building construction and renovation and other uses. UNC-CH set a deadline of Dec. 31, 2022 to meet its fundraising goal.
Contact John Newsom at (336) 373-7312 and follow @JohnNewsomNR on Twitter.​
Be the first to know
Get local news delivered to your inbox!