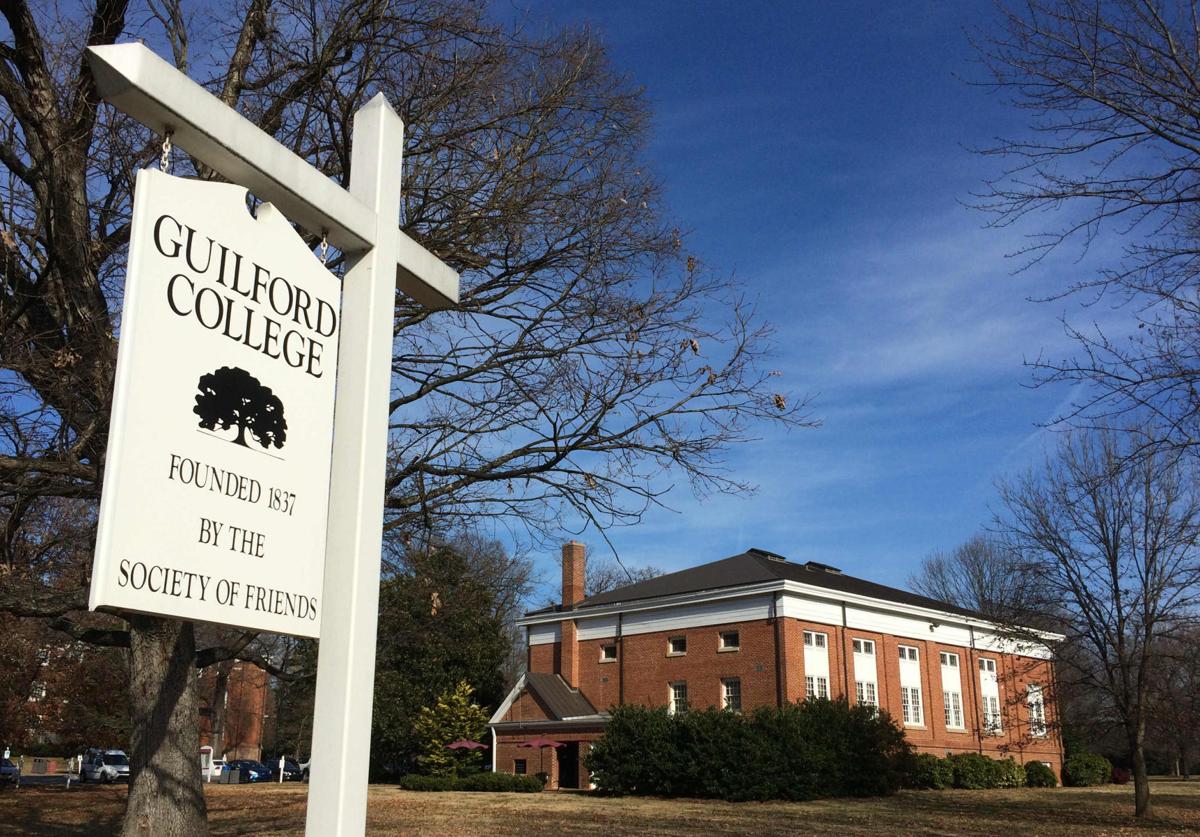 GREENSBORO — Guilford College will bring in an experienced college administrator to serve as its interim president while it seeks a new permanent leader.
The private Quaker college announced Monday that Carol A. Moore will be the college's interim president starting Saturday. Moore has been president of three small liberal arts colleges — two in Vermont and one in South Carolina — over a 40-year career in higher education.
Moore will take over for Jane Fernandes, who has been Guilford's president since 2014.
In an interview Monday, Ed Winslow, a Greensboro attorney and chairman of the college's Board of Trustees, said Moore is "calm, assured and projects an air of confidence and competence."
"We have got to have a president to get us through the next 30 days and to get us through the pandemic," Winslow said. "And we found a great one."
Moore has led colleges for most of the past two decades, and her last two presidencies have put her in charge of colleges undergoing major transitions.
A former high school teacher and college biology professor, Moore first became a college president in 1998. She led Lyndon State College, now part of Northern Vermont University, until 2011.
Burlington College in Vermont hired Moore as interim president in late 2014. The beleaguered school, burdened by debt and on probation with its accreditor, closed a year and a half after she arrived. In a letter to the Chronicle of Higher Education later that year, Moore blamed the college's demise on its earlier decision to buy land it couldn't afford to expand the campus.
Moore was president of Columbia College, a private women's college in South Carolina, for three years until she resigned in March for family and health reasons, according to a college news release. During her tenure the college explored whether to admit men to its on-campus undergraduate day program. Columbia ultimately decided to do so starting next fall.
Moore holds bachelor's and master's degrees from Montclair State University in New Jersey and a doctorate in marine biology from Northeastern University in Boston.
At Guilford College, Moore will take over a 1,700-student school that faces several simultaneous challenges exacerbated by the COVID-19 pandemic.
In early April, Guilford furloughed about 130 full-time and part-time employees — slightly more than half of its non-faculty staff members. Two months later, the college laid off 52 employees and said it wouldn't fill 34 vacant positions. The job cuts amounted to roughly 15% of the college's workforce and was the first major personnel reduction at the college since 2015.
Gail Webster, a chemistry professor and co-president of Guilford's chapter of the American Association of University Professors, said the college needs to find other ways to address its budget issues besides laying off faculty and staff.
"We are hoping for a strong financial manager," Webster said of Moore. "But we can't handle any more cuts. We've been cut to the core. To serve the students well, we can't cut anymore."
Sixty-nine Guilford employees remain furloughed until at least Friday. Guilford spokesman Roger Degerman said Monday he didn't know when those employees would be returning to work.
Winslow, the Board of Trustees chairman, said Monday that Guilford, like many other small private colleges, is bracing for an enrollment decline of at least 10%. Some students plan to take the year off because they don't want to be on a college campus during a pandemic.
About 40% of Guilford's students play varsity sports, and the Old Dominion Athletic Conference's decision last week to postpone fall and winter sports to the spring semester might prompt some student-athletes to stay home or consider another school.
The financial pressures on Guilford, Winslow said, "are as astonishing as anything I've seen."
The new interim president, meanwhile, will be greeted by new academic leadership. Guilford last week named named Rob Whitnell, a chemistry professor and former Clerk of the Faculty, to be interim provost. He replaces Frank Boyd, who resigned July 7 after three years as provost, the college's second-ranking administrator.
There's also discontent with recent changes to two signature programs at Guilford.
The college plans to change its participation in the Bonner Scholar Program, a national effort that provides full-need scholarships to students who can't normally afford college in exchange for community service. The college laid off the program's director earlier this month and instead plans to offer the Bonner Leader Program, which awards smaller scholarships and requires less annual service.
Supporters say Bonner Scholars have played key roles at the college and in the community over the years and help the college express its Quaker values. Supporters also say the leader program won't bring in as many low-income and first-generation students and students of color to Guilford as the scholar program has.
In addition, former Guilford employees, alumni and retired Guilford president Bill Rogers sent a letter last week urging trustees to reverse a recent decision changing the supervision of the Friends Center. The center, which is responsible for Quaker teaching and programming on and off campus, has traditionally reported only to Guilford's president. But its oversight of was recently moved to another campus office, and Friends Center supporters said the change could jeopardize its budget and future.
Moore, in a statement Monday, said she is committed to taking "prudent, timely action" to serve the college's best interests.
Moore's hiring spells out a different future for Fernandes than what the college announced in June.
A month ago, Guilford said Fernandes would serve as president until July 1, 2021. On Monday, however, the college said Fernandes will step down as president Friday and will take a sabbatical during the 2020-21 academic year. She plans to return to the college in fall 2021 as an English professor.
These sorts of moves from the president's office to the faculty ranks are common in higher education, where many college leaders also hold a dual appointment as a professor.
Winslow said Monday that trustees had intended to hire an interim president to replace Fernandes before she departed next summer, but the board wasn't initially sure if the search for a temporary leader would takes a few weeks, several months or longer. In any case, Winslow said Fernandes planned to stay as president until the board could find a replacement.
"There has not been some catastrophic event that has happened since the (June) announcement that has caused us to change our minds" about Fernandes' term as president, Winslow said.
Guilford's trustees will meet later this week to start looking for a permanent president. The college said that search will take several months.
* Editor's note, 11 a.m. Tuesday: An earlier version of this story incorrectly stated who canceled the 2020 Eastern Music Festival season. That decision was made by the festival's board of directors, not the college, due to COVID-19.
Contact John Newsom at (336) 373-7312 and follow @JohnNewsomNR on Twitter.​