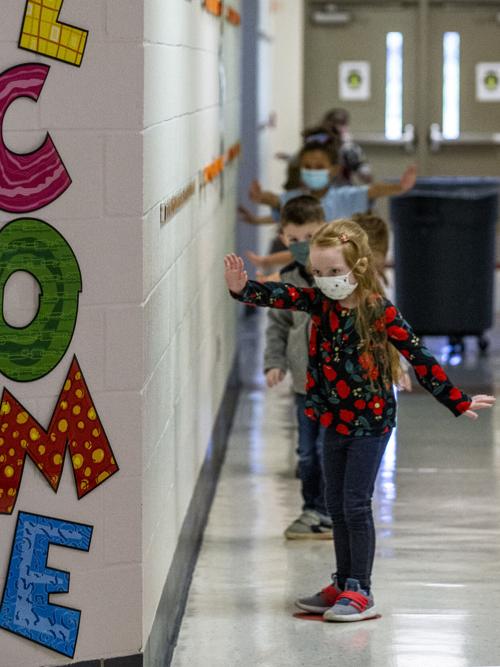 GREENSBORO — With COVID-19 cases and deaths in the county rising, Guilford County Schools announced Friday night it will not bring back its first and second graders on Monday, the second time the district has delayed returning those students to in-person classes.
School leaders had expected to bring those grades back at the beginning of this week, then postponed that plan less than 24 hours before the students were set to return, while leaving open the possibility that students could return next week. 
Now, they've said that will not happen. 
District leaders made the call after consulting with local health officials, who told them the risk factors were not improving, the district said in a news release. In that first delay, district officials cited similar concerns over COVID-19 data.
On Friday, state health data showed 119 new COVID-19 cases and two new deaths in Guilford County since Thursday. Statewide, cases rose by a record 2,716 in one day. The overall death toll stands at 4,114. 
Earlier this week, state officials asked Guilford and 35 other counties to consider tightening local restrictions because of increasing spread of the virus in those communities. Guilford was also recently identified by the White House Task Force on COVID-19 as a county of concern. 
Most students have been learning remotely since the end of last school year, when the first cases of COVID-19 in the state were reported in March. The district put together a phased reentry plan that was based on meeting certain health metrics related to the coronavirus. On Sept. 29, the district welcomed its first students for in-person classes since the spring when pre-K students began half-day classes on a voluntary basis. The next week, kindergarten students started half-day classes, also on a voluntary basis. 
The district said Friday it will continue serving pre-K and kindergarten students on a voluntary basis, while other students will continue learning online.
Guilford County Schools said Friday it also has joined the ABC Collaborative, which the district said is a scientific analysis board associated with the Duke University School of Medicine and Clinical Research Institute that advises several North Carolina school systems on their reopening plans. 
"These are difficult decisions with serious consequences," Superintendent Sharon Contreras said in the release. "We need to make sure we have access to additional experts and the best information possible. Having such access will benefit our decision-making greatly." 
The district said it expects to review data again next week and make an announcement regarding students in pre-K through second grade, and certain students with disabilities in adaptive curriculum classes, on Friday, Oct. 30, for a possible return on Nov. 4 or 5.
"We are doing everything in our power to bring our students back safely, and we need the community to continue to practice safe protocols and reinforce them even more to slow the spread of the virus," Deena Hayes-Greene, chair of the Guilford County Board of Education, said in the release.
Contact Jessie Pounds at 336-373-7002 and follow @JessiePounds on Twitter.​
Concerned about COVID-19?
Sign up now to get the most recent coronavirus headlines and other important local and national news sent to your email inbox daily.