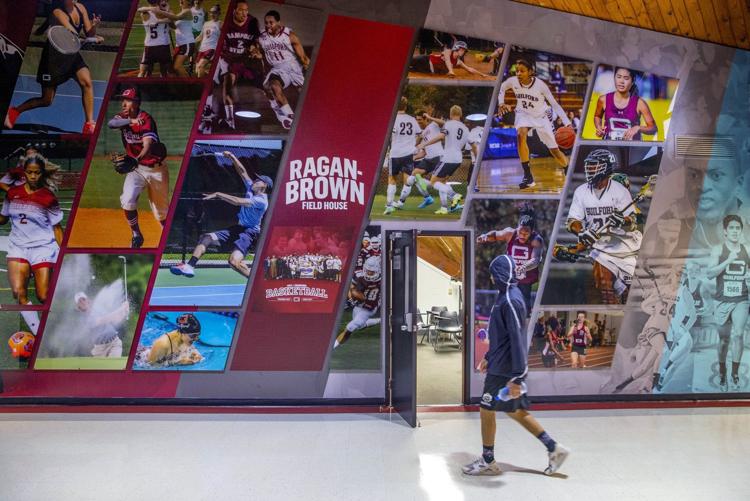 GREENSBORO — This is a big year — a transformative year — for Guilford College.
The private Quaker college of nearly 1,600 students is getting ready to roll out a new curriculum next fall. It's part of a campus-wide change known as the Guilford Edge that its president has called "a game-changer for Guilford."
To prepare for that academic overhaul, Guilford is doing something much more visible: It's spending $50 million on several major campus upgrades.
The college is renovating residence halls, academic buildings and athletic facilities, and it's adding student gathering spaces throughout campus. Some of these projects were ready when students returned to campus this fall. The rest will be done over the next couple of years.
"We intend to provide every student with uncommon engagement in the real world," President Jane Fernandes said in a recent interview. "There are multiple avenues for achieving that overall mission, and one of them is upgrading facilities."
The list of Guilford's latest improvements is a long one.
The college is doing a top-to-bottom renovation of its three largest residence halls. One dorm, closed all last year for repairs, reopened this fall. A second is being renovated now and will reopen next fall. The third will be upgraded during the 2019-2020 school year.
The college is upgrading dorms, sports facilities and other campus spaces and plans to overhaul its curriculum and academic calendar.
The art building got two studio additions — one for ceramics and one for sculpture. That opened up space inside the art building for a gallery and individual work spaces for senior art majors.
The construction will give a big boost to women's athletics. Guilford converted the racquetball courts in its field house into an exercise studio and six women's locker rooms. The new dressing areas mean that women's teams will no longer have to share lockers with other teams.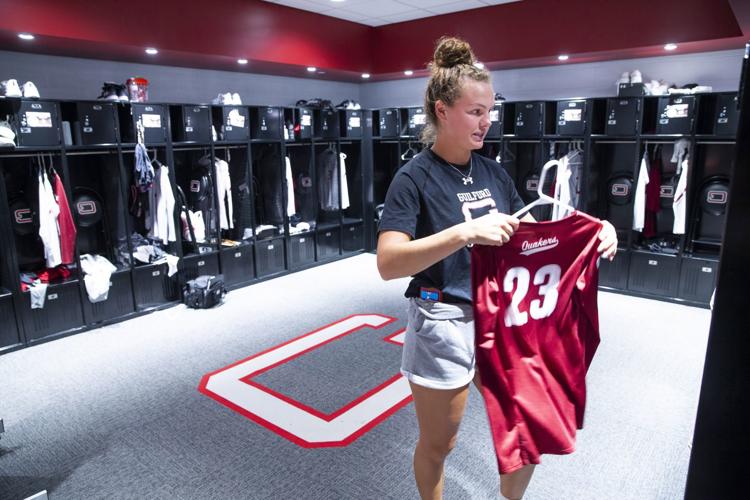 Senior soccer player Morgan Sleeth said her team's new locker room "is so amazing. We never had cubby lockers before where you could sit in your own space. Before it was really tight and … we had to wait on the person next to you to have enough room to open your own gear."
The college also plans to open a new 100-seat softball stadium in time for the 2020 season. It will be built next to Guilford's baseball field and closer to the women's locker rooms. It will replace a playing field that sits on the other side of campus and doesn't meet NCAA standards.
(Fernandes said the improvements should help address some discrimination complaints alleged in a Title IX lawsuit filed by two coaches and 14 women athletes last October. Fernandes said the college was planning these upgrades before the suit was filed.)
Much of the work still to come will be in what college leaders are calling the Student Quad, a triangular space bounded by Founders Hall — Guilford's student center — and two large residence halls.
The Hut, a tiny brick house used as a study and meditation spot, will reopen after winter break as a coffee shop with an outdoor fire pit. Nearby, the college is converting an unused power plant into a student gathering space for plays, concerts and shows. The Boiler Room — so called because it once held the boilers that heated the campus — is scheduled to open next year.
Founders Hall will get a two-part upgrade: a renovated kitchen and a spruced-up dining hall by next fall, and a new outdoor dining terrace by the fall after that. The terrace will look out over the Student Quad, which eventually will get tiered seating, an outdoor stage and perhaps a sand volleyball court.
"We're doing affirmative things to tie the campus community together and bring students together," said Ed Winslow, a Greensboro attorney and chairman of the college's Board of Trustees. "That was an opportunity that we've seen, and we are marshaling the resources to do it."
Perhaps the project Guilford leaders are most proud of is the restoration of Binford Hall, a dorm for about 150 first-year students that reopened in August.
Built in 1962, Binford is a standard-issue residence hall — a three-story brick building with hall bathrooms and two students assigned to each dorm room. The original architects didn't provide much privacy, but they gave the building some fancy touches: high ceilings, terrazzo tile floors, marble dividers in the bathrooms and midcentury modern furniture and fixtures.
Over the years, however, Binford gradually ran down. It needed new plumbing, new wiring, better Wi-Fi and a new heating and air-conditioning system that would bring fresh air into the building. The building also lacked an elevator and sprinklers.
Fernandes said the college looked at gutting the old dorm. But she was leery of two things: filling a landfill with perfectly good tile floors, walnut paneling and original wooden furniture, and making Binford look like every other new dorm project elsewhere.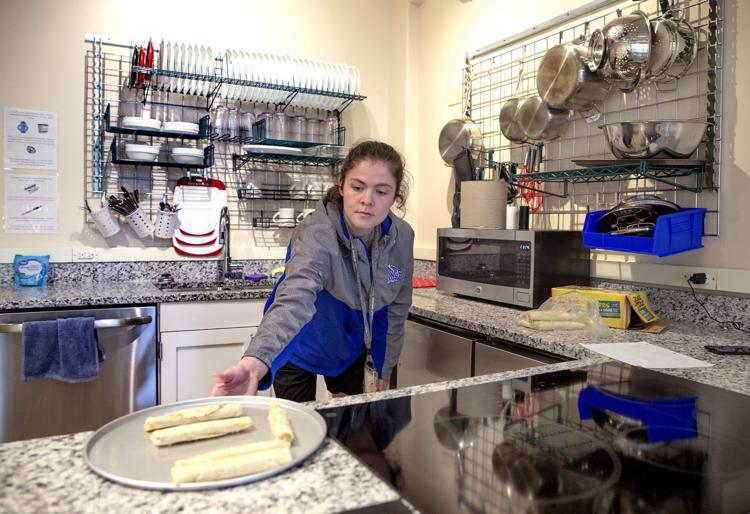 So Fernandes sought advice from Dennis and Nancy Quaintance, the president and vice president, respectively, of the company that owns and operates the Proximity and O.Henry hotels in Greensboro. The Quaintances know how people interact with spaces — it's their business, after all — and they gave suggestions on how to restore the dorm to its former glory.
"These dorms were built well. Why would we tear out all of these really wonderful things we couldn't afford today?" said Nancy Quaintance, vice chairwoman of Guilford's trustee board.
"If something has lasted for 50 years," she added, "let's figure out a way to make it last 50 more years."
The goal was to make Binford cozy and comfortable and give students more places to congregate. The renovated dorm now has tiny nooks behind the elevators for private study. A shiny new kitchen next to a first-floor entrance means that students cook with a crowd. There's an enlarged basement that now has a pool table, a large TV, comfortable tables and chairs and a rec-room vibe. 
Just outside Binford sits the Orangerie, an eight-sided sun room with floor-to-ceiling windows. The 1,200-square foot structure is connected to the dorm by a trellised walkway. It's designed for students to study or meet or just hang out.
Quaintance said it's a replica of the Pavilion Room, a reception space at the O.Henry Hotel. The Orangerie name comes from a greenhouse structure, common on European estates a few centuries ago, used to grow fruit trees.
Amir Abdur-Rahim, a freshman, likes this new space.
"I come here often to study," he said. "It's quiet, and I like the natural light."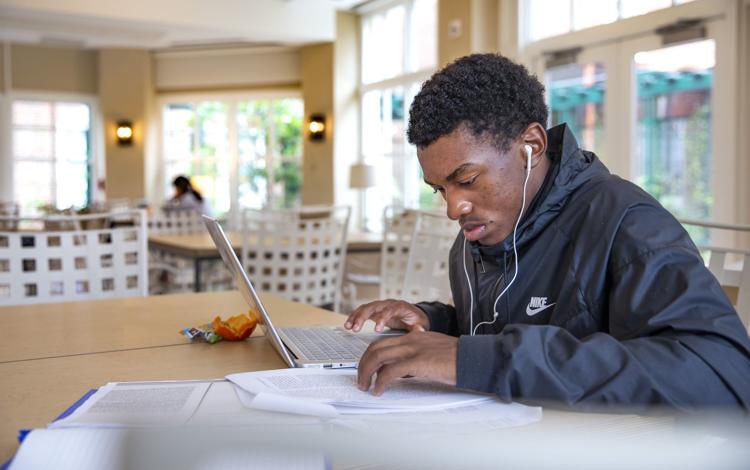 The Binford renovation, Fernandes said, is sustainable and authentic and reflects Guilford's core values. The college is renovating Milner Hall this year in the same spirit and will use the same approach in next year's scheduled overhaul of Bryan Hall.
"It's magnificent, but it's still Guilford College," Fernandes said of the Binford restoration. "It's not any other college — it's us, and that's important."
So why is Guilford College building so much all at once?
"There was a lot of built-up need," Fernandes said. "It all became urgent at the same time."
While other area colleges and universities put up large new student centers, rec centers, residence halls and academic buildings in recent years, Guilford did relatively little.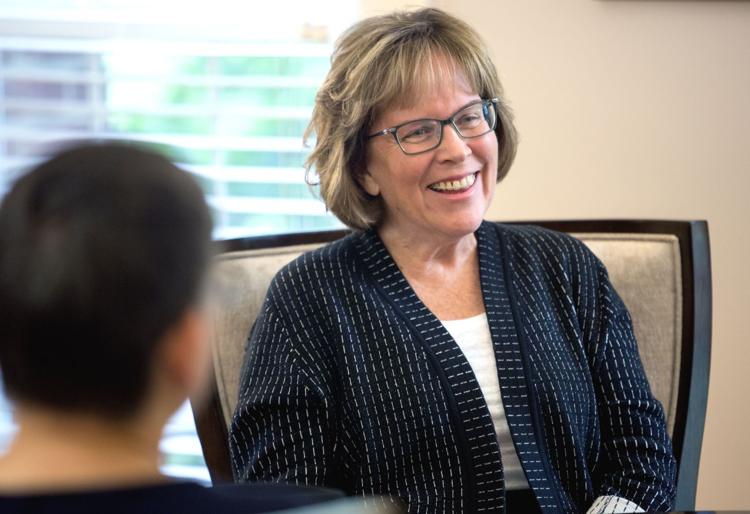 In the decade or so before Fernandes arrived in 2014, the college spent roughly $35 million to build student apartments on campus, buy an apartment complex next door to the college and renovate both its oldest dorm and Founders Hall.
Winslow said Guilford has taken things slowly because it's a fiscally prudent place.
"To borrow money," he added, "is contrary to the traditional culture of the place."
The college did borrow some money in the 2000s and, two years ago, refinanced that debt at much lower — and historically low — interest rates. Fernandes said the college has had balanced budgets for the past three years. Its financial position is strong enough, she added, that the college can now afford to borrow to build.
So Guilford borrowed $45 million of the $50 million it plans to spend on improvements. It will raise the rest from alumni and friends of the college.
Fernandes said that once these planned projects are done, the Guilford community shouldn't expect to see so much construction all at once.
"I wish that going forward," Fernandes said, "that we will space out our construction and facility needs so that we're working on them regularly in a planned way."
News & Record photojournalist H. Scott Hoffmann contributed to this report.
Contact John Newsom at (336) 373-7312 and follow @JohnNewsomNR on Twitter.​
Be the first to know
Get local news delivered to your inbox!