GREENSBORO — It was old-home night at the Greensboro Coliseum when Laura Bush came to town Tuesday night.
The former first lady did talk about education, children and a few other issues near and dear to her heart. But in a humorous and apolitical speech to kick off the 2019-20 season of the Guilford College Bryan Series, Bush told the audience of about 2,600 that she and her family are doing quite well, thank you very much, in their years since leaving the White House.
She and husband George — former President George W. Bush — are enjoying what she called "the afterlife" in Dallas. They're back home in Texas, a state her husband refers to as "the promised land."
They miss some parts of living in the White House — especially "the chef," Bush said as the audience chuckled. "And so does George." But she saw many of those White House employees last weekend when the Bush and Cheney families celebrated the 10th anniversary of their departure from D.C.
George, she said, is working on his golf game and his art. He has painted oil portraits of 98 wounded military veterans and collected their pictures and stories in a book. Some of those portraits will go on a national tour starting next month.
Their twin daughters are good, too. Jenna Bush Hager is co-hosting the fourth hour of the "Today" morning show on NBC. Barbara Bush got married a year ago and is getting her master's degree at Harvard University's public policy school.
George and Laura Bush are grandparents now. They have three grandchildren — 6, 4 and one month old.
"They're perfect," Laura Bush said. Jenna and her husband, she added, "have to be careful of being trampled by George and me in our rush to get our hands on the babies."
If anyone in the audience happens to be in Dallas, Bush invited them to tour the George W. Bush Presidential Center at Southern Methodist University. For lunch, she recommends the center's Cafe 43, its name a nod to her husband, the 43rd president.
"As for me, it's come to this," Bush said and plopped down on the lectern a bobblehead doll of herself. A friend found it in a Philadelphia gift shop shortly after Barack Obama was elected president in 2008.
"It was on the clearance shelf," Bush deadpanned. "He said he couldn't resist sending it to me. I told him he could have tried a little harder."
Bush's speech turned more serious at times.
Bush said she continues to work on global women's issues as chairwoman of the George W. Bush Institute's Women's Initiative. Reading, literacy and children's safety remain just as important to Bush today as they were before and during her time as first lady. She also talked about her years as a teacher and librarian at public schools in Texas, where she taught children who were sometimes hungry, neglected and alone.
"Young people need us in their lives," Bush said. "They need to know that they're valued, that someone believes in them and their success matters."
There have been some sad moments, too.
Bush's mother died in May. Her in-laws — President George H.W. Bush and Barbara Bush — both passed away in 2018.
"We all miss them," Bush said.
It was clear in her remarks that Bush has a soft spot for her mother-in-law, who served as the nation's first lady before her. Bush told how the woman she called "Bar" loved to walk her dogs on the beach near the family's summer home in Maine. When walking became too hard, Bar commandeered a golf cart and careened across the sand, her dogs trotting behind her.
Bush said she admired her mother-in-law's energy, good humor and her ability to make people feel good.
Bar, she said, knew that a young bride wasn't keen to get advice from her mother-in-law. Once, however, Bar relented.
Shortly after George and Laura were married and living in Midland, Texas, George ran for Congress, a race he ultimately would lose. Bar — whose own husband was a former congressman now preparing his first run for the presidency — told her daughter-in-law not to criticize her husband's speeches.
Bar had made that mistake once. For weeks afterward, her George brought home fan letters saying that the speech was the best he'd ever given.
"I took her advice," Laura Bush told the Bryan Series crowd. But once as they returned home from a campaign event in Lubbock, she ignored the mother-in-law's counsel. 
She recalled: "Just as he drove into the driveway, he said, 'Tell me the truth. How was my speech?'
"And I said, 'It wasn't that good.'
"And he drove into the garage wall."
Laura Bush speaks at Guilford College Bryan Series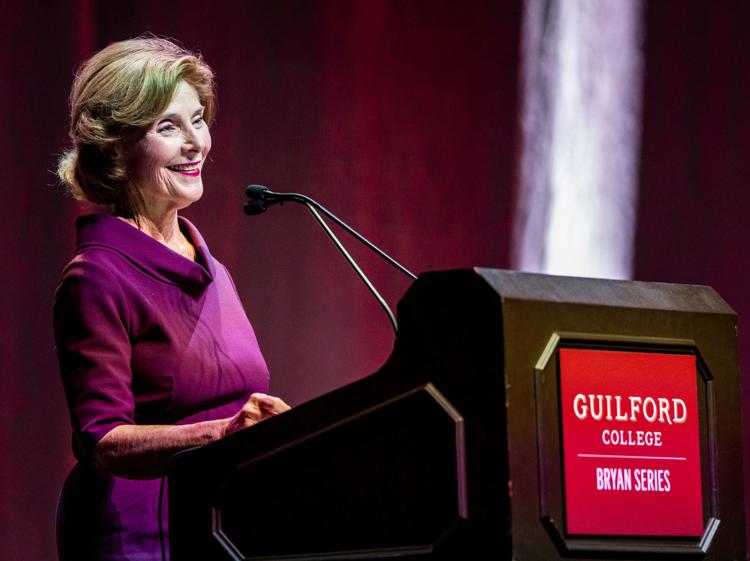 Laura Bush speaks at Guilford College Bryan Series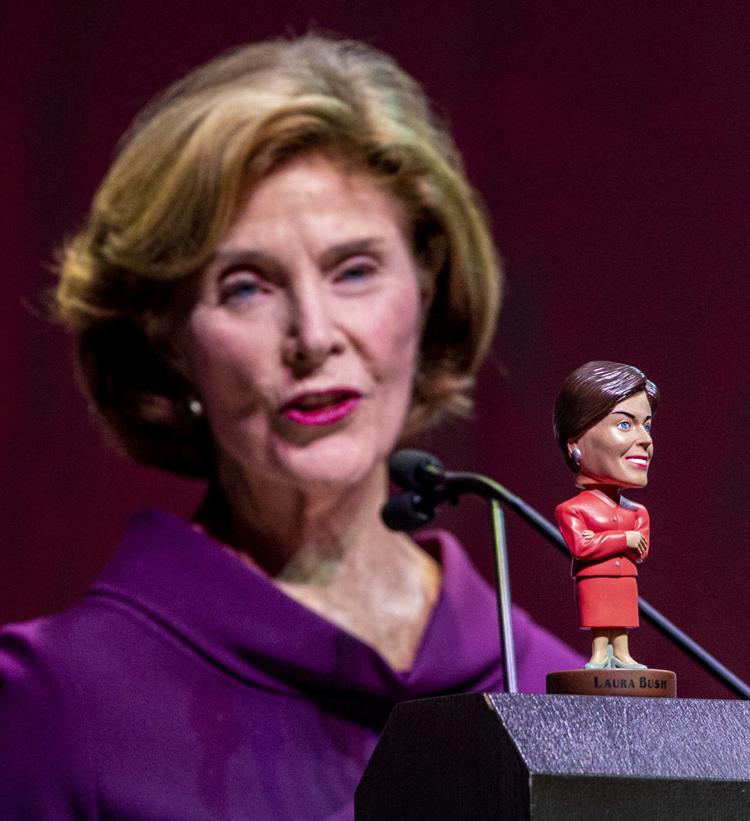 Laura Bush speaks at Guilford College Bryan Series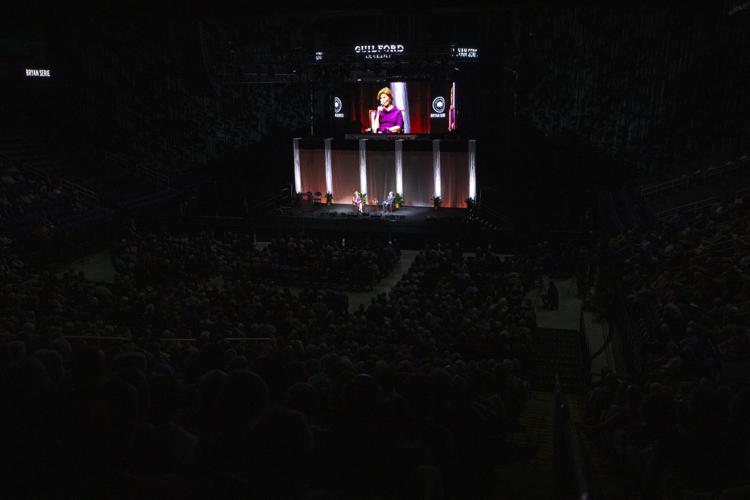 Laura Bush speaks at Guilford College Bryan Series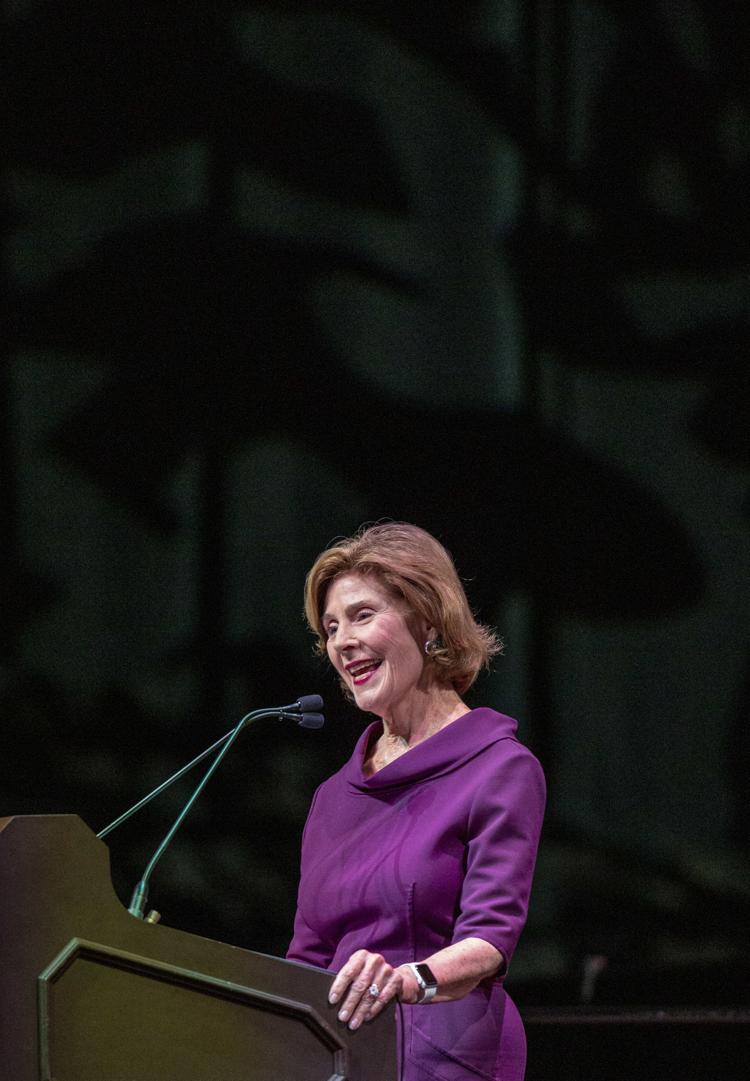 Laura Bush speaks at Guilford College Bryan Series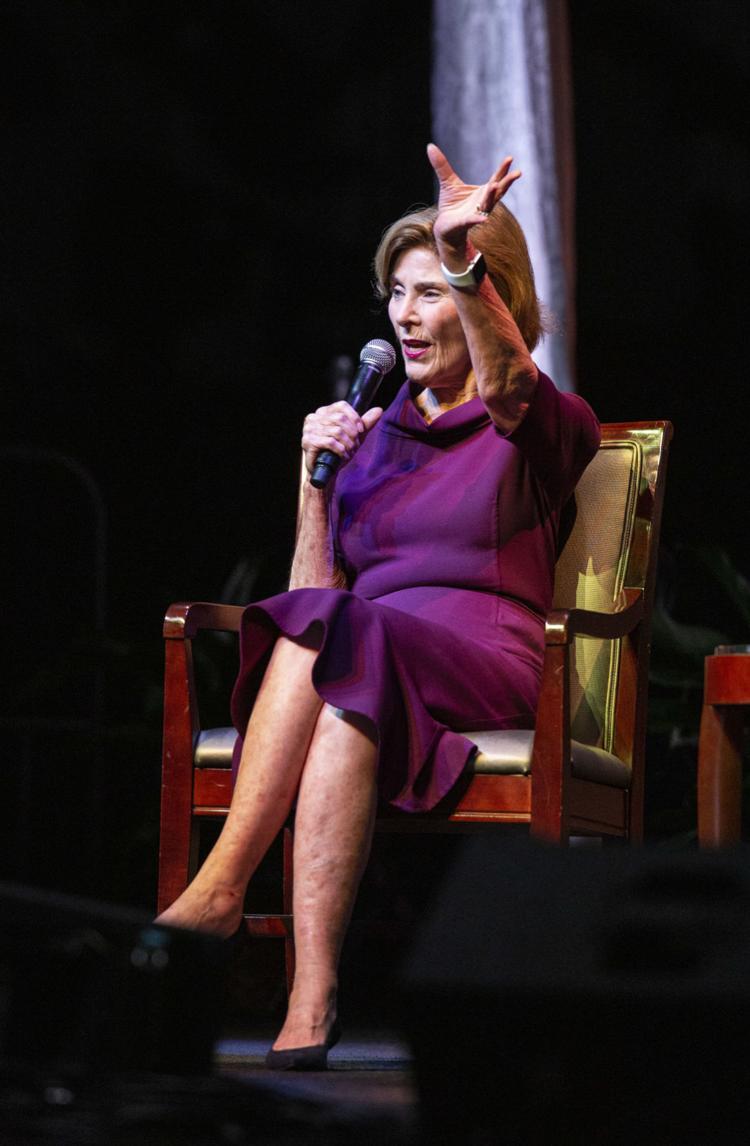 Laura Bush speaks at Guilford College Bryan Series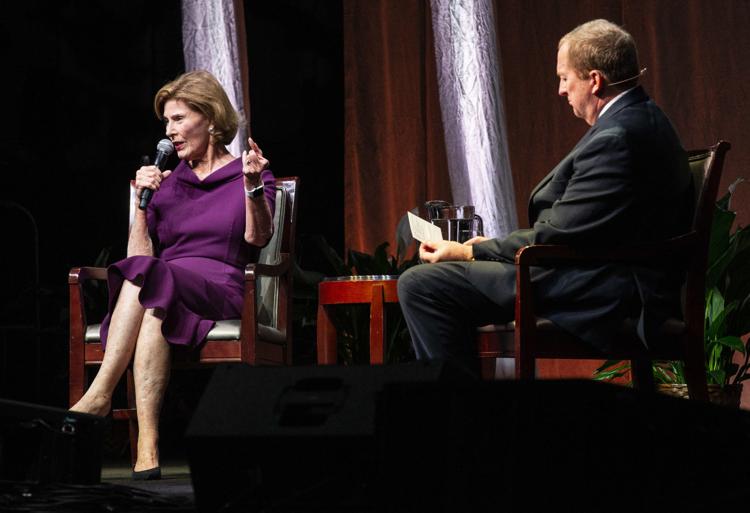 Laura Bush speaks at Guilford College Bryan Series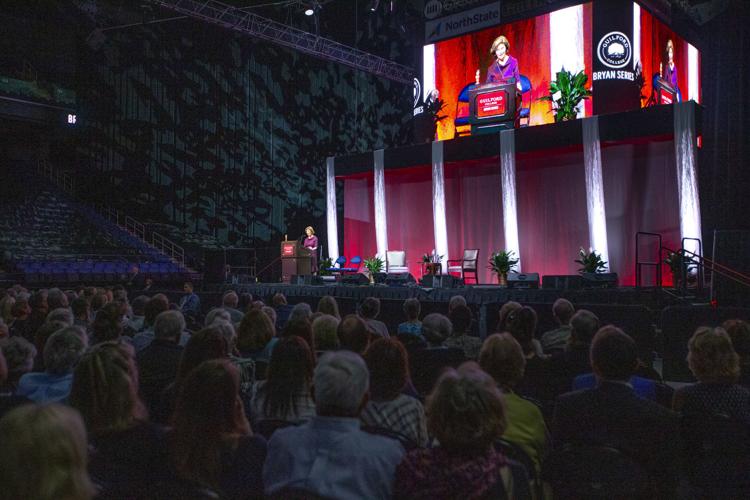 Laura Bush speaks at Guilford College Bryan Series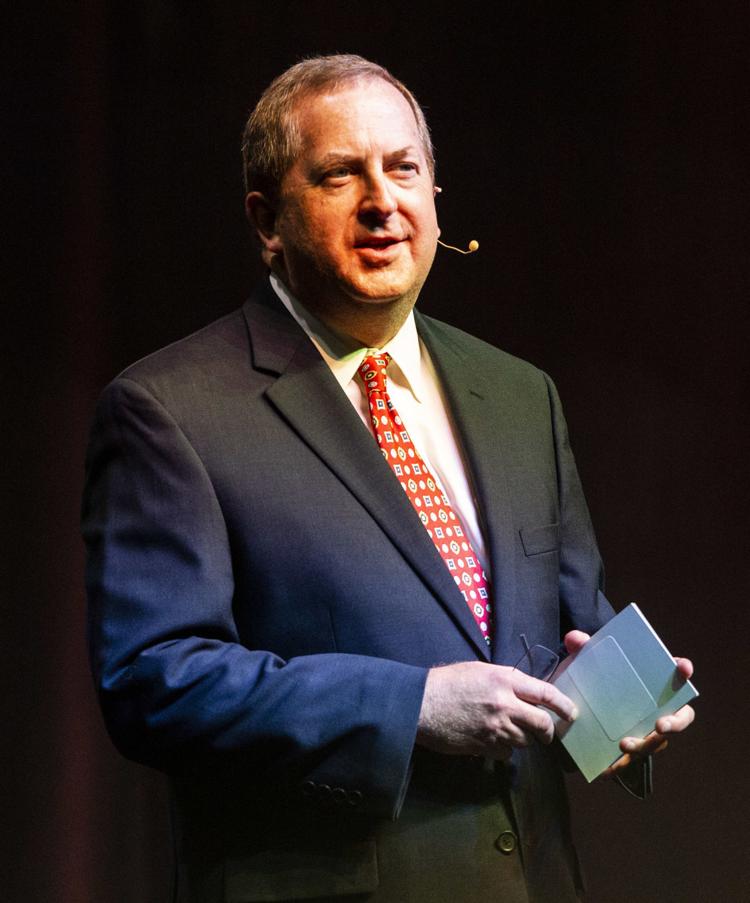 Laura Bush speaks at Guilford College Bryan Series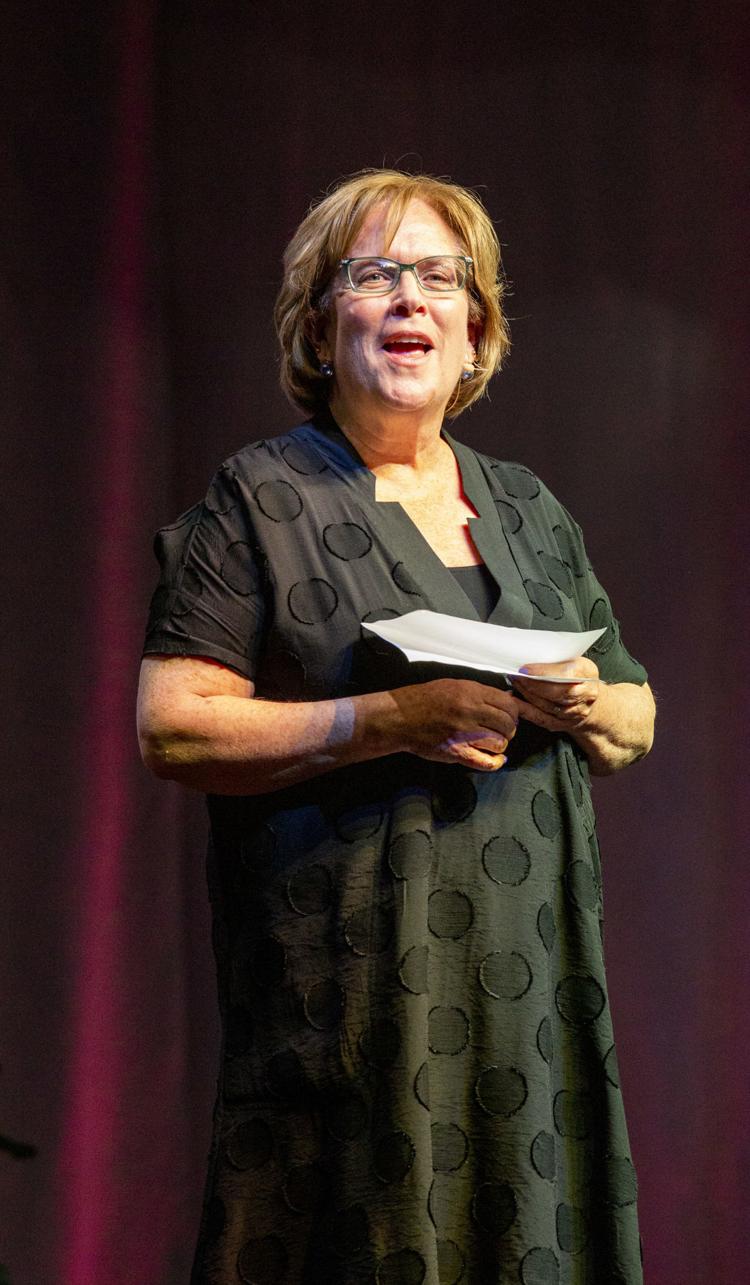 Laura Bush speaks at Guilford College Bryan Series