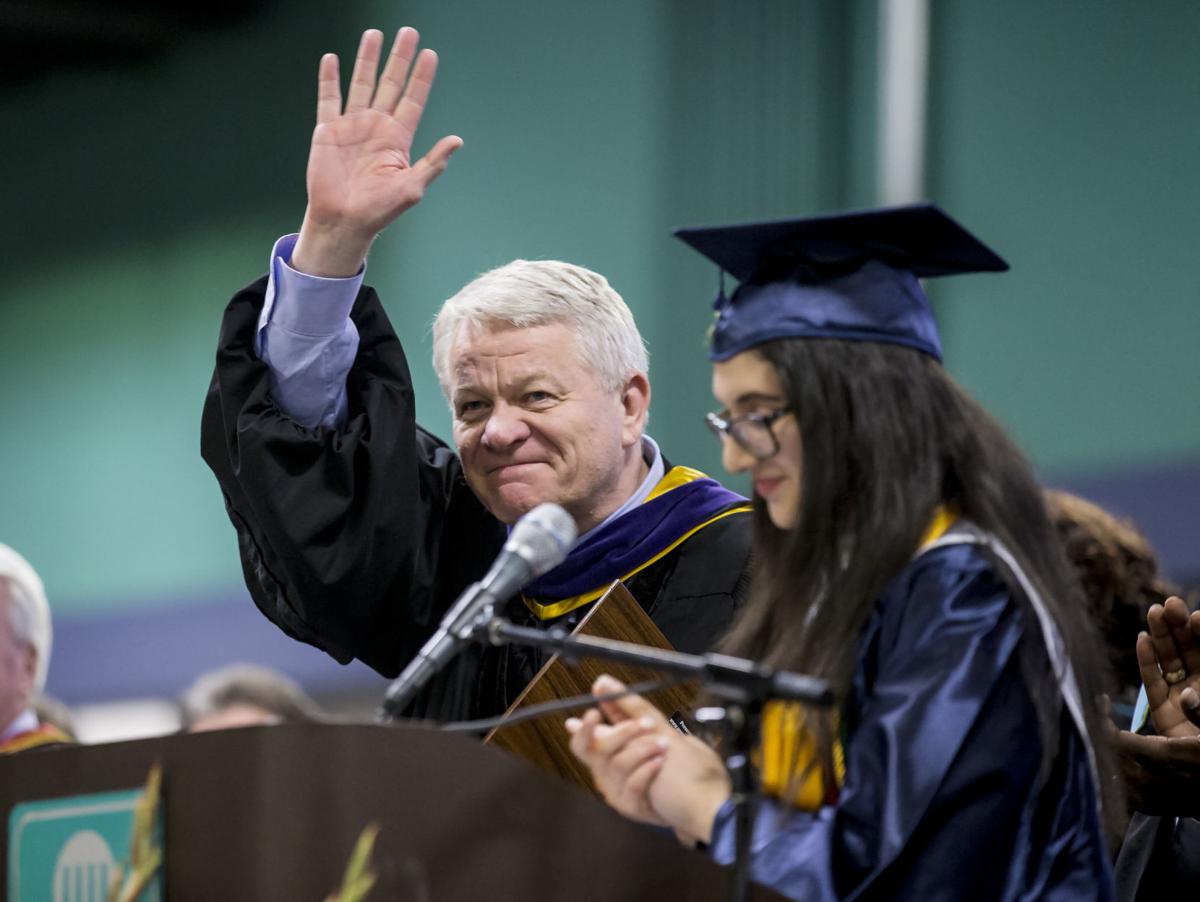 GREENSBORO — Elementary, middle and high school students across North Carolina are getting a new set of rules on how they get graded, upending the plans of local school systems.
The State Board of Education on Thursday passed a new state new policy — with many key differences from what Guilford County Schools was planning.
The change affects everyone except seniors up for graduation, for whom the board had already passed a separate measure.
Alan Duncan, a Greensboro lawyer who represents the Piedmont Triad region as a member of the state school board, confirmed in a brief interview Thursday that the board's new policy will supersede the plans of local school systems, including Guilford County Schools.
It's fairer that all North Carolina students be held to the same policy while the state's public schools are closed because of the COVID-19 pandemic, Duncan said, especially for high school students across the state applying to the same colleges.
"It's the state that closed the schools — with good reason," he said, so the state also had responsibility for figuring out grading.
Plus an estimated 300,000 to 350,000 students across the state, he noted, lack internet connectivity or a device to be able to participate in distance learning during the closure.
Among other changes, the new policy gives students taking high school-level courses the option to get letter grades if they want. That goes for all except graduating seniors. Grades can only improve from March 13. They also have the option to get a grade of "pass" or "no credit,"without it affecting their GPA.
Elementary school students will get feedback from their teachers at the end of the school year on what they have learned across the whole year, but not a letter grade.
Middle school students will be graded on a "pass" or "withdraw" basis. Withdrawal is not the same thing as failure and doesn't mean students would have to repeat the course. Anything the middle school students do or don't do after March 13 can only help, not hurt them.
Sneha Shah-Coltrane, the director of advanced learning and gifted education in the N.C. Department of Public Instruction, co-chaired the group that developed the grading recommendations for the state school board. She said teachers should use "grace and generosity" when giving grades during this time.
Duncan praised Shah-Coltrane's group, which includes students, principals, teachers and college admissions staff members. Some of the adults in group were also parents, he said.
The vote comes as Gov. Roy Cooper is expected to announce soon what he'll do with schools. Currently, K-12 public schools are closed through May 15.
Guilford County Schools had laid out a simpler but more stringent grading plan. Under its prior plan, all students, except graduating seniors, would earn a "pass" or withdrawal for the fourth quarter, based on the completion of a series of assignments meant to show basic mastery of the year's key academic objectives.
Students who didn't pass would have gotten another chance to complete those assignments over the summer and upgrade to a "pass" before starting the 2020-21 school year.
Pam Newman, the grandmother and guardian of a district fourth grader, expressed unhappiness on Wednesday with the grading plan Guilford County Schools had put in place.
Newman said she's working from home at a more-than-full-time job, with hours that have increased during the pandemic, and she is also a full-time student at N.C. A&T. It's impossible to walk her granddaughter through all her lessons and assignments, she said.
"It's just so much," she said. "It's really hard. I have no choice but to do what I can, but I don't want her penalized."
In an interview, she said it's not realistic for her granddaughter to figure out what she needs to do on her own. The instructions, Newman said, seem aimed at parents and are too detailed for children to reasonably follow by themselves.
She said if her granddaughter got a "withdraw" for not being able to complete the assignments needed, it would feel as if her granddaughter was penalized for a situation outside her control.
Duncan said he has heard concerns from North Carolina parents, mostly parents of high schoolers, wanting their child to have the option to get a letter grade, which is included in the state board's new plan.
Nate Kolk-Tomberlin, a student at Apex High School and student adviser to the state board, said all the students he has spoken to have supported the policy. He said it will help people such as high school juniors who need the spring semester grades to count in their GPA as they try to meet college admissions and scholarship requirements.
But state board member James Ford said giving traditional grades during a pandemic when not all students have the same access to resources promotes inequity. He was the lone no vote Thursday. He said the focus now should be on mastering skills and not earning merit grades.
"While it would certainly benefit students who are already in a position to perform well with the resources and opportunity for learning, those without the same level of access will be further disadvantaged," Ford said.
The high school grading guidelines are different from the ones approved in late March for seniors. Under that policy, seniors will get a passing grade for a course if they were passing as of March 13. Spring semester courses aren't counting toward their GPA.
Several state board members asked Thursday about allowing seniors to also get numeric grades for their spring courses. Shah-Coltrane argued against the change but said she'd look at an option where numeric grades for spring courses could be added while still not counting toward GPAs.
The new grading policy should also ease parents' concerns that the school closures will result in large numbers of students being held back. Hoax stories have appeared around the nation saying the coronavirus closures were going to cause most students to repeat the school year.
"There is no perfect solution," said Greene County Superintendent Patrick Miller, a member of the group that developed the grading recommendations. "But this recommendation represents, I think, the best solution that we could put together for you to consider today."
The Tribune News Service contributed to this report.
Contact Jessie Pounds at 336-373-7002 and follow @JessiePounds on Twitter.