GREENSBORO — The Guilford County Register of Deeds has found more than 400 records of sales of enslaved people in its own files and in local court records.
Starting Friday, the county's deeds office will begin airing "The Slave Deeds of Guilford County," an 11-part video series to explain the historical significance of this deep dive into the past.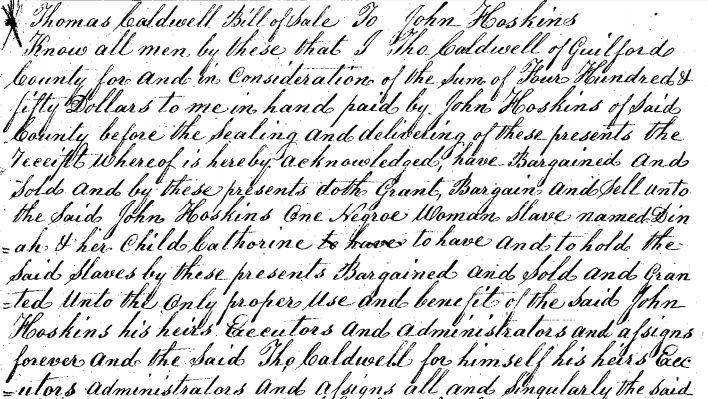 The county's deeds office, working with N.C. A&T and UNCG researchers, has produced videos with historians, genealogists, researchers and others who will talk about slave deeds and slavery. A new video will be posted each Friday on Facebook, YouTube and Twitter through May 1.
"The need to have an honest discussion about the institution of slavery in a way we can all understand it better ... can be incredibly valuable," Guilford County Register of Deeds Jeff Thigpen said.
The video series has grown out of two projects to find and catalog bills of sales, deeds of trust and other documents concerning enslaved persons. The Guilford County Slave Deeds project, organized by Thigpen's office, searched for records of slave transactions in Guilford County. The People Not Property project, coordinated by UNCG Libraries, is creating an online searchable database of slave deeds in 26 N.C. counties, including Guilford. Exhibits of this work have been displayed at the International Civil Rights Center & Museum in Greensboro and the High Point Museum.
Thigpen said the video series will help provide historical and modern context for these projects. The deeds are not only a glimpse into the community's past, he said, but they're also a valuable tool to help African Americans search for their ancestors.
The first interview in the "The Slave Deeds of Guilford County" series is with Arwin Smallwood, chairman of the history and political science department at N.C. A&T whose research focuses on African-American, Native American and eastern North Carolina history. Later videos will feature people such as Max Carter, the retired director of the Quaker Studies program at Guilford College; Glenn Chavis, a community historian in High Point who also writes about black history in a News & Record column; and Anne Parsons, director of public history at UNCG.
Most of the interview subjects are from Guilford County. Videos range from 15 to 40 minutes in length.
Want to watch?
"The Slave Deeds of Guilford County" will be posted on the Facebook and YouTube pages of the Guilford County Register of Deeds and on the Twitter account of UNCG's People Not Property project (@pplnotproperty).
Want to know more?
Guilford County's slave deeds are online here. UNCG's Digital Library on American Slavery, which includes runaway slave advertisements and legal documents concerning enslaved persons, is online here.
Contact John Newsom at (336) 373-7312 and follow @JohnNewsomNR on Twitter.​