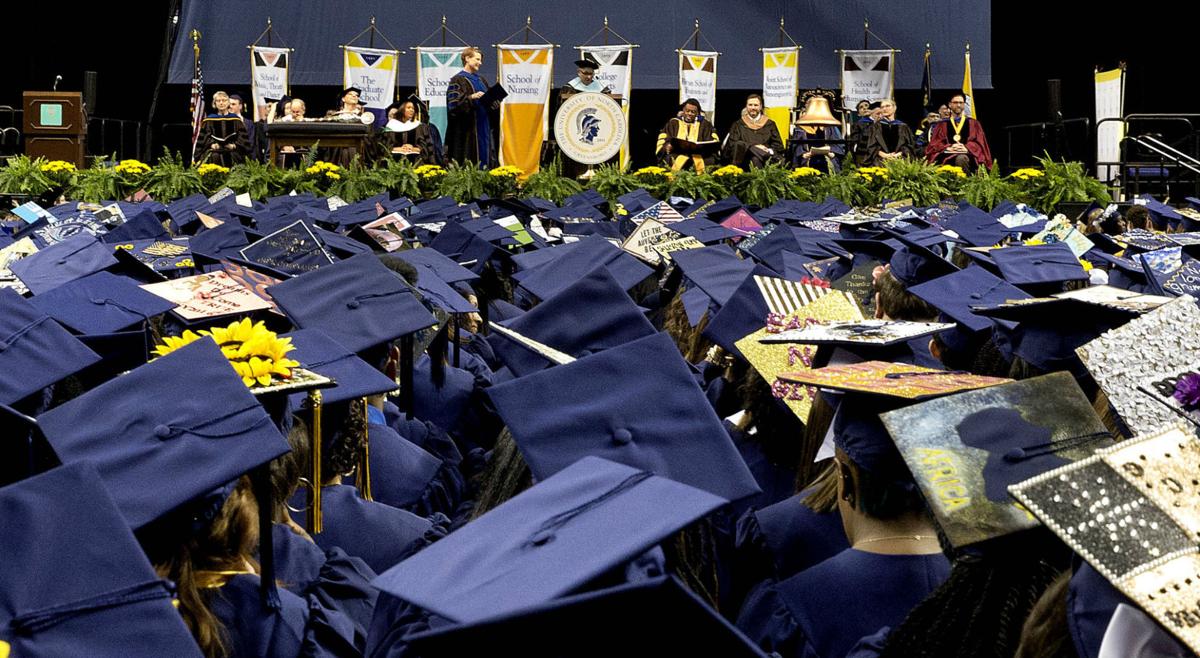 The UNC System's governing board on Monday approved new but temporary admissions standards that will take effect a year earlier than planned.
That decision came on the same day that the university system's leader said students might get refunds for a portion of their spring semester housing and dining fees.
The UNC Board of Governors approved new minimum admission requirements for first-year students seeking admission to the state's 16 public universities. The new standards start with the incoming freshman class this fall but will remain in place for only three years.
Previously, students who wanted to be considered for admission to a UNC System school had to meet minimum standards in two areas. They had to have a weighted high school grade-point average of 2.5 on a four-point scale and a score of at least 17 on the ACT or 880 on the SAT.
Under the new standard, students must meet either the GPA or test score standard — but not both. The minimum GPA remains at 2.5. The minimum test score increases to either 19 on the ACT — the state average — or 1,010 on the SAT.
UNC System officials said the change means that more students can apply to a state university. It estimates that roughly 20,000 N.C. high school graduates are barred from applying each year because they fall short of one of the two standards. In the vast majority of cases, according to UNC System data, these students denied a chance to apply have good-enough grades but poor standardized test scores.
UNC System leaders said the change doesn't mean North Carolina's state universities have become test-optional. Applicants still must submit standardized test scores when they apply. They also said the change won't necessarily result in more students being accepted. Admissions decisions remain in the hands of the admissions offices on each campus, which still must meet UNC System standards for graduation rates.
Supporters of the new standards say increasing access to the state university system — especially from rural and low-income areas where test score averages tend to lag — is a key part of the UNC System's most recent strategic plan. They also point to the encouraging results of a five-year pilot program at three schools — Elizabeth City State, Fayetteville State and N.C. Central — that admitted students who fell slightly short of the current standards. Students who got into those schools with good grades but below-average test scores are doing about as well as students who met the regular standards.
There's also a growing amount of research that says high school grades and not standardized test scores do a better job of predicting how students will do in college. But opponents of the plan worried that the new standards are too lax, would promote high school grade inflation, opening state universities to too many unqualified students.
Ultimately, however, the Board of Governors approved the plan through the fall 2022 admissions cycle. Board members said they didn't want to make a permanent change until they were able to debate the matter face-to-face. Monday's meeting was held by teleconference.
The new admissions standards will go this fall — a year earlier than expected — because of the COVID-19 pandemic.
The makers of the ACT and SAT announced they have canceled or postponed test dates for April and May because of coronavirus. Neither test will be given again until June at the earliest.
This announcement left thousands of high school seniors in the lurch. Anna Nelson, who chairs the Board of Governors' educational planning committee, said Monday before the board vote that applications from more than 6,000 N.C. students were in jeopardy because students wouldn't be able to be tested or improve their test scores until after college admissions deadlines.
Also Monday, interim UNC System President Bill Roper said system officials are close to announcing a plan to give refunds for unused spring semester housing and dining fees. A decision is coming "very shortly," Roper told Board of Governors members Monday, and refund checks will be sent out about three weeks after that announcement.
Many students and their families paid for on-campus housing and meal plans before the start of the spring semester. But to stem the spread of coronavirus, UNC System campuses closed their residence halls in mid-March to all but a handful of students.
Fewer than 3,300 of 65,000 students who lived in university housing this semester remain on campus, Roper said. Students who have been allowed to stay are generally international students unable to get home or domestic students who have no other place to live.
Roper said the refund amounts will vary because the price of university housing and meal plans differ on each campus and between schools.
Contact John Newsom
at (336) 373-7312 and follow
@JohnNewsomNR on Twitter.
Be the first to know
Get local news delivered to your inbox!