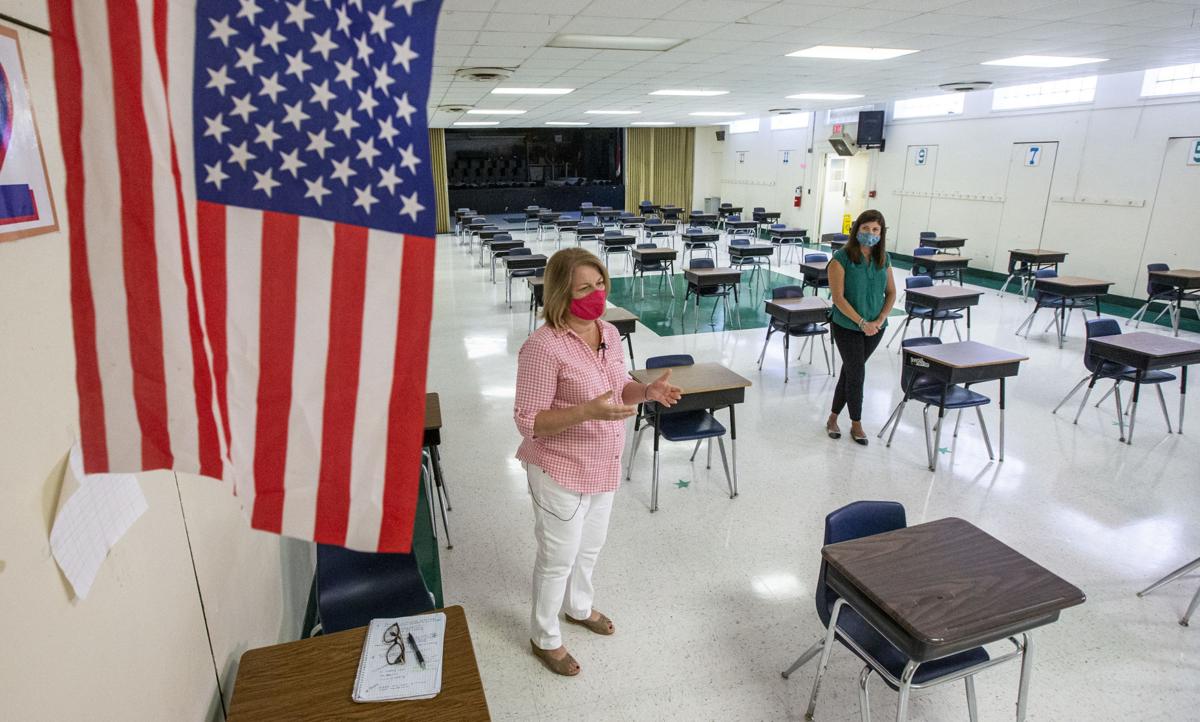 GREENSBORO — Will the after-school ACES program be open? What about pre-K classes? Can plexiglass be used to protect bus drivers?
Guilford County Schools Superintendent Sharon Contreras laid out a tentative proposal during Tuesday's virtual Board of Education meeting on how to reopen schools next month with restrictions and precautions because of the coronavirus pandemic.
School leaders spent more than four hours discussing her ideas and presentation.
Here are some questions and answers based on that presentation and conversation with school board members:
Question: Does Contreras want to reopen school buildings for classes?
Answer: Contreras wants to start the year with five weeks of remote learning. During that time, the school board could continue to monitor the wider health situation with the COVID-19 virus in the community.
She hopes to bring back either grades K-8 or K-9 for in-person instruction after those first five weeks, while leaving most high school students to take online courses from home. High school buildings could be used for socially-distanced classrooms for seventh- and eighth-grade students.
Her proposal is tentative at this point, because she is still trying to figure out whether there will be enough staff to cover classes for younger grades on a daily basis.
That's because of the challenges presented by having to decrease class sizes to have enough space to place desks 6 feet apart, as required by the state. Contreras expects to have a better answer by the board's meeting on July 28.
Q: Would any high school classes be in person under this scenario?
Yes, she's proposing a few exceptions: Some high school students who have disabilities, are in the early stages of learning English, are homeless or are living in foster care would attend school daily.
The district is also still trying to figure out what will happen with the Early and Middle College programs, which take place on college campuses, and involve high school students taking college courses, typically following the college's schedule.
Q: Will there be pre-K classes next year?
A: Yes. However, Contreras said they are discussing whether to shorten the school day for pre-K and kindergarten students, given foreseen challenges of keeping them socially distanced and masked all day.
Q: What about school libraries and school media specialists? What would happen to those under these proposals?
A: Short answer, it depends. Many schools are likely to be short on both teaching space and teachers, if elementary and middle school students return full time. Libraries or any other given room might wind up as classroom space. Plus, administrators said state guidance calls for schools to avoid having multiple children touching the same books, which is counter to how a school library normally works.
Also, with the expected staffing crunch, many specialist teachers could be asked to take on a different role. For example, Chief Academic Officer Whitney Oakley said, school media specialists may serve as support in classrooms. The district may need aides to supervise or work with one set of students for a bit while their teacher is in another room, if the class is split into two smaller classrooms for COVID-19 social distancing requirements.
Still, media specialists will be needed to teach students about media and digital literacy, a subject Oakley said is more critical than ever.
Q: Will the school district run its ACES after school care program this year?
A: Not clear yet, but sounding dubious. ACES as it exists may not be feasible with the social distancing requirements that require students to be 6 feet apart.
Any parent who has paid money toward the coming school year will get a refund if the program does not happen, Oakley said.
Both she and the superintendent stressed they are prioritizing making the core of school work above worrying about add-ons such as ACES, sports, school activities and so forth.
Ideally, they would like to use the ACES staff as classroom aides, however the ACES program and staff are funded by fees from parents, so there's a financial challenge there to consider.
Q: Can plexiglass be used on buses to protect school bus drivers from the virus?
A: They can't put plexiglass on the buses because it's an injury hazard if there's a wreck, administrators said. However, masks, gloves and face shields will be available to drivers.
Q: Could the district begin school later than Aug. 17?
A: No. While the district's lawyer said they should be able to start with remote instruction if they want to do so, either online or in-person school must begin on Aug. 17, per state law.
Q: Is the district looking at other options for a back-to-school plan?
A: Yes, Contreras put forward two other options for the board to consider: One is for students to attend school for two consecutive days a week. Students would be split into two groups, with one group attending in person on Mondays and Tuesdays and another group attending on Thursdays and Fridays. Students would therefore receive three days of remote instruction and two days of in-person learning each week. Another is for students to attend classes on alternate weeks. One group would attend a week and learn remotely the next week while another group would do the opposite.