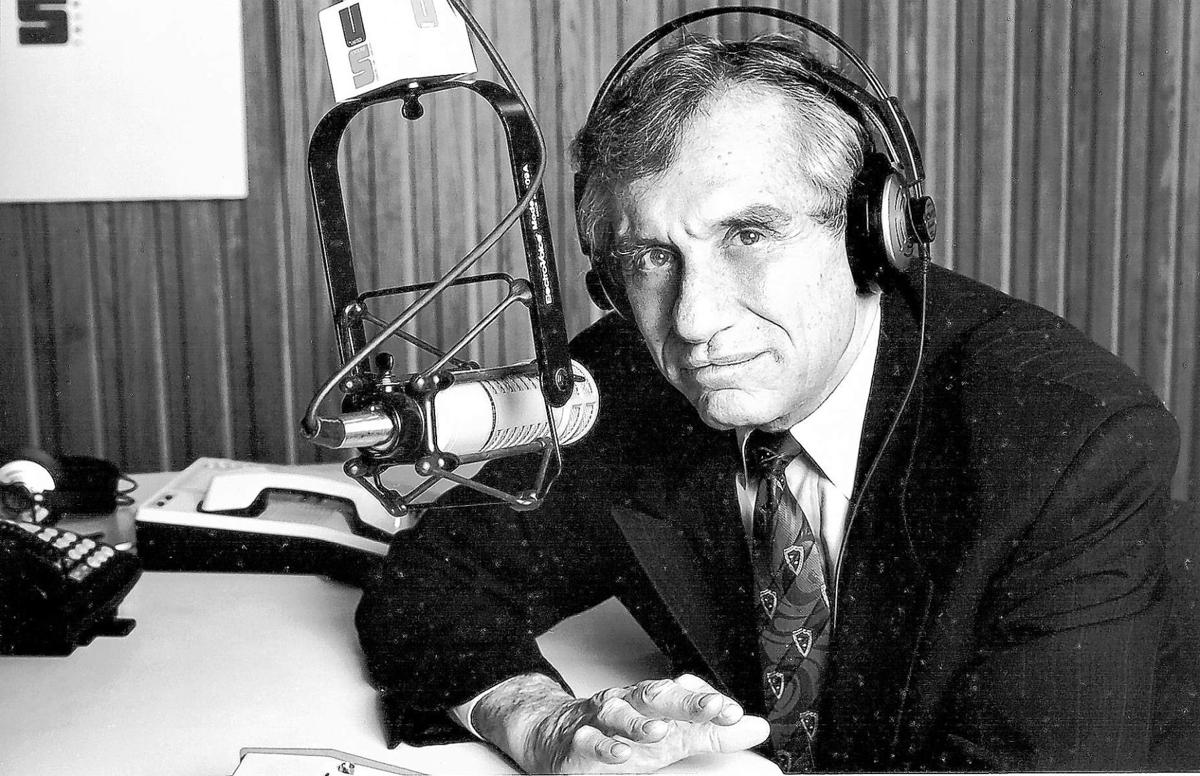 GREENSBORO — When Barry Farber moved from Greensboro to New York in 1957, he aimed for a job with a newspaper or magazine.
"I didn't think that radio or television would be welcoming to a Southern accent," Farber recalls.
As it turned out, his Southern accent and his accompanying gentility didn't hurt. He found work as a radio producer, then as a talk show host.
More than five decades later, Farber hasn't left the airwaves yet — except during a brief unsuccessful run for New York City mayor in 1977.
Today, the talk radio pioneer will be inducted into the National Radio Hall of Fame.
Farber, 84, flew to Los Angeles on Saturday to attend the ceremony with his daughter, Bibi.
"I had no idea that I was being watched or measured, and that's why it's such a happy surprise," he said Friday from his apartment on New York's Upper West Side.
Each weekday at 8 p.m., Farber broadcasts his hour-long conservative talk show from his apartment on CRN Digital Talk Radio, which airs not only on radio but on satellite, cable television and the Internet. His wife, former New York TV news reporter Sara Pentz, often joins him on the show, where he talks primarily about politics.
He writes a weekly column for the World Net Daily website at www.wnd.com.
He's also an author and a linguist — he translated Russian for the U.S. Army during the Korean War — who has studied more than 25 languages and wrote the 1991 book, "How to Learn Any Language." He founded the Language Club in New York City.
Born in Baltimore, Md., Farber considers Greensboro his hometown. He moved here at age 5 when his father's clothing manufacturing business took the family south.
He remembers watching radio station WBIG broadcast from its former location in the old O. Henry Hotel at North Elm and Bellemeade streets.
"Like printer's ink gets in your blood, I guess radio waves do, too," he said.
After graduating from Greensboro Senior High School, now Grimsley, in 1948, he studied journalism at UNC-Chapel Hill, where he served as editor of the Daily Tar Heel.
In New York, a college connection and stroke of luck got him into radio. He was driving down Madison Avenue when he saw a minor bus accident. Among its passengers was a buddy from his college wrestling days. He told his friend of his quest for a job. "The next thing you know, I was gainfully employed as a radio producer, not having spent one day in radio," Farber said.
He joined WRCA/New York City as a producer for Tex McCrary and Jinx Falkenburg's interview show.
In 1960, he debuted "Barry Farber's Open Mike" on WINS/New York. Two years later, he began a 15-year association with WOR/New York as an evening and overnight host. He left in 1977 to run for mayor, but returned to radio the following year for a decade-long run at WMCA/New York.
In 1990, Farber's show went national as part of the ABC Radio network. He later tried his hand at syndication behind the scenes as a co-founder of the independent network Daynet.
Farber was named 1991 "Talk Show Host of the Year" by National Association of Radio Talk Show Hosts.
Since 2008, "The Barry Farber Show" has been on CRN Digital Talk Radio and Talk Radio Network.
Farber hasn't visited Greensboro much in recent years. He spoke at his high school class reunions in 1993 and 1998, and attended the funeral of his high school wrestling coach, Weddie Huffman, in 2002.
But he stays in touch with longtime friends Leonard and Rita Guyes and Erwin and Sandy Goldman.
And he still enjoys his work.
On Friday, his daughters Bibi and Celia, a journalist, turned the tables and interviewed him on his show.
"I would rather burn out than rust out," Farber said. "I am one of those who will not retire."
Contact Dawn DeCwikiel-Kane at (336) 373-5204, and follow @dawndkaneNR on Twitter.