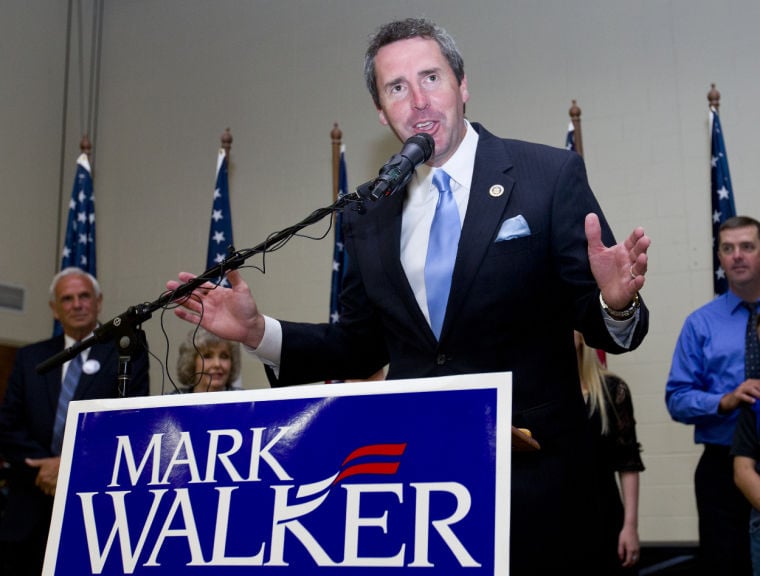 Earlier this month, a video of 6th Congressional District candidate Mark Walker began circulating.
In it, Walker, the Republican candidate, is speaking in June to an area Tea Party group called Will of the People, and he made some comments that he is now calling "inartful," "cavalier" and "not representative of where my heart is."
Here's the exchange, which came during an audience Q&A:
Audience member: "Mr. Walker, I want to ask you: How do you feel about military, using the military to secure our southern border. I know a lot of people holler 'posse comitatus.' That's when the military are out enforcing local laws. Guarding the border is not the same thing. And we've got other people, other countries, going, 'Why can't we guard our own?' "
Walker: "Well, my first answer for that is we need to utilize the National Guard as much as we can. But I will tell you — if you have foreigners who are sneaking in with drug cartels, to me that is a national threat. And if we've got to go laser or blitz somebody with a couple of fighter jets for a little while to make our point, I don't have a problem with that either. So yeah, whatever you need to do."
Event moderator: "I hope you wouldn't have any qualms about starting up a little war with Mexico."
Walker: "Well, we did it before. If we need to do it again, I don't have a qualm about it (laughing)."
(Audience laughter and applause)
Walker has taken heat for the comments since they were published, with video, on the popular Daily Kos website, which leans to the left politically.
He has been grilled about it by the media and flogged by the campaign of his Democratic opponent, Laura Fjeld.
And it's not the first time.
In August, Daily Kos published video from the same event that contained this exchange:
Audience member: "If you are given the chance, would you vote to impeach Obama?
Walker: (laughing, smiling) "If I was given the chance to impeach Obama … yes, I would.
(Audience laughter and applause)
Moderator: "I hope you are working on a plan in case he decides not to leave."
Walker: "Yeah. And I don't think that's out of the question. I think he's gotten pretty comfortable up there spending all of those billions of dollars on vacations for he and his family. Yeah."
Moderator: "All he's got to do is declare a little martial law and what are you going to do with him?"
Walker: "That's what Norris was talking about a little bit earlier — Sharia law. I mean — and martial law, both. 'I'm not leaving until ...' I don't want to sound too cowboyish there, but yeah, I would stand up to that. And I think we still have a country that if he tried to pull that crap, it'd get real nasty real quick."
Walker has qualified the comments in several ways over the past two weeks:
• It was tongue-in cheek.
• He was talking about bombing drug cartels and sex traffickers, not Mexico as a country.
• The full context of his comments wasn't clear, and they've been mischaracterized.
• He was just trying to be "gracious" to an old man in the audience who kept bringing up Sharia law.
But in an editorial board meeting at the News & Record last week, Walker was almost disarmingly honest about why he has repeatedly ended up walking back and apologizing for public remarks.
"Being someone who is not a career politician, I've learned there are different environments that are a little more heated in context," Walker said.
"And when you walk into those by proxy, you have to be very concerned as well as being very upfront about what your positions are because you can be guided very easily. ... It was a rookie mistake, as much as I hate to admit it."
He is essentially saying: "Listen — I don't have a lot of political experience. I got up in front of this juiced-up Tea Party crowd and they said some out there, stupid stuff. I played along and said some of it, too. They laughed and whooped and cheered, so I said some more. I probably shouldn't have done that ... but I'm new at this, I'm going to make some mistakes."
That's a big admission. And his making it, owning up to these missteps as missteps and not entirely blaming the opposition for highlighting them, is the kind of thing that makes me like Walker even if I disagree with him politically.
But it's also something of a cop-out. And he knows it.
Whenever I hear Walker talk this way — and I've heard it a few times — I'm reminded of two of my favorite little gems about political amateurs.
The first, from journalist and author Robert Louis Stevenson: "Politics is perhaps the only profession for which no preparation is thought necessary."
The second, from writer and comedian Tina Fey: "Politics and prostitution have to be the only jobs where inexperience is considered a virtue. In what other profession would you brag about not knowing stuff?"
It's true Walker doesn't have any political experience. No one has ever elected him to anything. But he wants to be your congressman, so it's time he started acting like one.
As a reporter, I've had the opportunity to see the guy speak in front of a variety of different crowds, field questions from voters and reporters. And I'm here to tell you: political experience or not, the guy is a natural.
As a Baptist preacher, he's got charisma and charm.
One-on-one or in front of a crowd, he's funny and thoughtful.
He can accurately rattle off a complicated series of statistics on gravely important matters and break up the dry policy talk with a witty, self-deprecating joke.
It's damned hard not to like the guy.
He has some political positions that will make you squirm — such as the fact that he thinks abortion should be illegal even in cases of rape and incest, except in some circumstances where the life of the mother may be threatened.
But before he drops something like that on you, he couches it in conversation about his faith, stories about him and his wife, a nurse who has worked with rape victims, talking with young women who have to make this very difficult decision.
None of those things ultimately make his position more palatable to me — but they do leave me feeling that he has thought long and hard about these things; he's talked to people in real world situations about it; he's done his spiritual and intellectual due diligence. And I can respect that, even if we ultimately disagree.
Which is why all these wacko comments of his drive me nuts.
I've met this guy. I've interviewed him. I've seen him in a lot of different situations. I'd tell you if he was crazy. He's not.
It would be a lot easier for me if he was crazy. This column would be a lot shorter and make a lot more people happy.
But calling him crazy is too simple and dismissive. It also lets him off the hook.
Crazy people may be crazy, but they generally believe the crazy things that they're saying.
Mark Walker does not think Barack Obama may declare martial or Sharia law. He does not really believe the president has been spending billions of dollars — with a B! — on family vacations. He doesn't actually have no qualms about bombings at the border that could start a war with Mexico.
But he still says these things. Why?
Because there's something in him that wants to please a crowd, be it a Tea Party rally or a small clutch of cynical journalists. He can't help himself. He gets carried away. And that makes for some great performances — but it doesn't help you understand who he really is, what he really thinks.
Being a United States congressman shouldn't be like being a stripper. You do not want your representative in Washington driven by the excitement of the crowd, the adrenaline rush of approval. You don't want him doing the policy equivalent of a fevered bump and grind routine to Motley Crue's "Girls, Girls, Girls" while lobbyists, corporations and political action committees shove sweaty fists full of dollars into his campaign G-string.