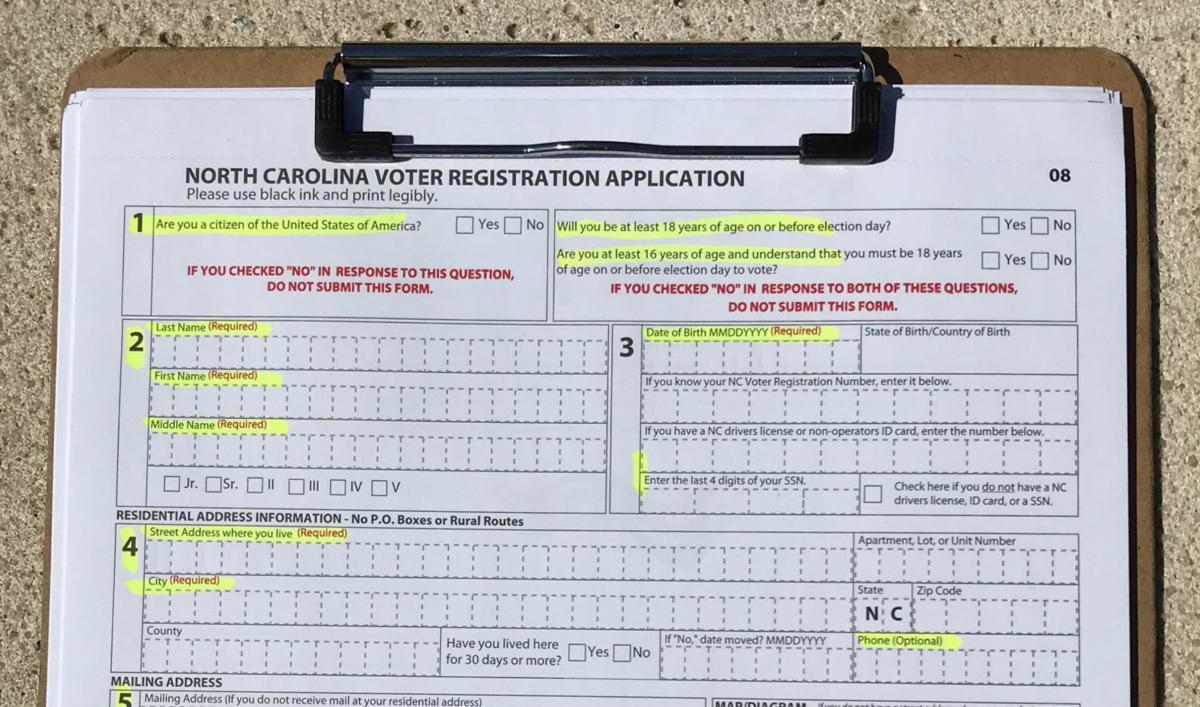 GREENSBORO — On a recent afternoon at UNCG, a table set up by the front door of the cafeteria offered civic-minded students some Jolly Ranchers and a chance to take a portion of the U.S. citizenship quiz.
The candy and the quiz were a set-up, a lure to attract UNCG students who had not yet registered to vote. In an hour, a three-person crew from a political group called NextGen America registered 13 new voters — not bad, considering that events at the start of the semester yielded 50 to 100 new registrations each time.
"Now it's hard to find people" who haven't registered, said Kurtis Fulmer, a NextGen America organizer based in Greensboro. Thirteen new registrations, he added, "is good for this amount of time and at this point in time."
As Friday's registration deadline for the Nov. 6 election draws close, NextGen America has beat its goal of registering more than 5,000 young people at 16 college campuses in North Carolina. Whether NextGen can turn these new voters into a political force remains to be seen.
"We're making sure these students are making their voices heard through the vote," said Josette Ferguson, a Greensboro native who's serving as NextGen's state director for North Carolina.
The nonpartisan NextGen was founded in 2013 to fight climate change but has since embraced other liberal issues such as health care, immigration and equal rights. Its founder is Tom Steyer, a California billionaire who made his money as a hedge fund manager and has given much of it away to progressive causes and Democratic political candidates.
In 2018, NextGen launched a national voter registration drive in 11 states in hopes of signing up a quarter of a million young voters. NextGen announced last month that it would spend $3 million on a digital ad campaign to get young voters to the polls. Last week, NextGen said it had registered nearly 210,000 young voters in its 11 targeted states ahead of the November midterm elections. The group is calling this effort the largest youth organizing event in American history.
In North Carolina, Ferguson said NextGen organizers started working in June at 14 college and university campuses in the 9th and 13th Congressional Districts, where the races are expected to be close. The 13th District includes much of Greensboro, so NextGen focused its efforts at UNCG, N.C. A&T, Bennett College, Guilford College and High Point University. The 9th District hugs the state line south of Charlotte, a territory that includes Fayetteville State University and UNC-Pembroke.
Ferguson said NextGen used a lot of free food — mostly pizza, cupcakes and doughnuts — T-shirts and other swag and even free haircuts to entice young people to come talk to NextGen organizers.
The group did major signup pushes just as students arrived on campus in August and on National Voter Registration Day on Sept. 25. The goal was to do one event at each campus every day, whether it was something big with music and giveaways or something as small as a college student with a clipboard.
"We want to make sure that students know (young people) have power that we haven't unlocked yet," Ferguson said.
Colleges traditionally make an effort to register their students to vote, and this year was no different. At one-day on-campus events on National Voter Registration Day, N.C. A&T registered 35 new voters, and UNCG signed up 28.
But NextGen's months-long effort dwarfed these totals. Since June, NextGen local spokesman Patrick Battle said, the group signed up 840 new voters at N.C. A&T, 772 at UNCG and 5,600 statewide.
NextGen's efforts have contributed to the rise in registrations among younger voters. Since Jan. 1, 41 percent of new Guilford County voters are between ages 18 and 25, according to the Guilford County Board of Elections.
Statewide, according to political analyst Michael Bitzer, Generation Z (ages 18 to 21) is responsible for 24 percent of all new voter registrations this year. The only group who signed up in larger numbers is millennials (ages 22 to 37), who produced a third of all new voter sign-ups in North Carolina this year.
One of those new voters is Michael Zsiga, a UNCG freshman who filled out a registration form at the NextGen table on campus last week.
"Voting is a very big deal," said Zsiga, who's majoring in peace and conflict studies. "Not enough young people vote. I want to help move that and change that."
But will younger voters like Zsiga make it to the polls this time?
Generation Z and the millennials are roughly a third of the N.C. electorate and "are a plurality of the registered voters in this state," said Bitzer, a political science professor and provost at Catawba College in Salisbury. "Their traditional record for showing up to vote — to use a polite word — is abysmal, especially in midterms."
In each of the last five elections dating to 2008, Bitzer said, millennials had the lowest turnout among the four major demographic groups. (The other three are Generation X, the baby boomers and the so-called Greatest/Silent Generation.) In the 2010 midterms, only 15 percent of registered millennials voted. Their turnout was only four points better four years later. Gen Xers voted at twice the rate of millennials, according to Bitzer, and baby boomers and the Greatest/Silent Generation were more than three times more likely to vote.
A recent Gallup poll doesn't find much voting enthusiasm among young people. Among people ages 18 to 29, 44 percent said they were more excited about voting in November, but only a quarter said they were "absolutely certain" they would cast a ballot. Among those 65 and older, 82 percent said they were sure to vote next month.
To rally young voters, Ferguson said NextGen organizers planned to drive students to the polls during the early voting period and all day on Election Day.
"We want to make students know that voting is something cool and fun," Ferguson said. "We want people to be, You didn't get into the van (to go vote)? You missed out on something."
Contact John Newsom at 336-373-7312 and follow @JohnNewsomNR on Twitter.