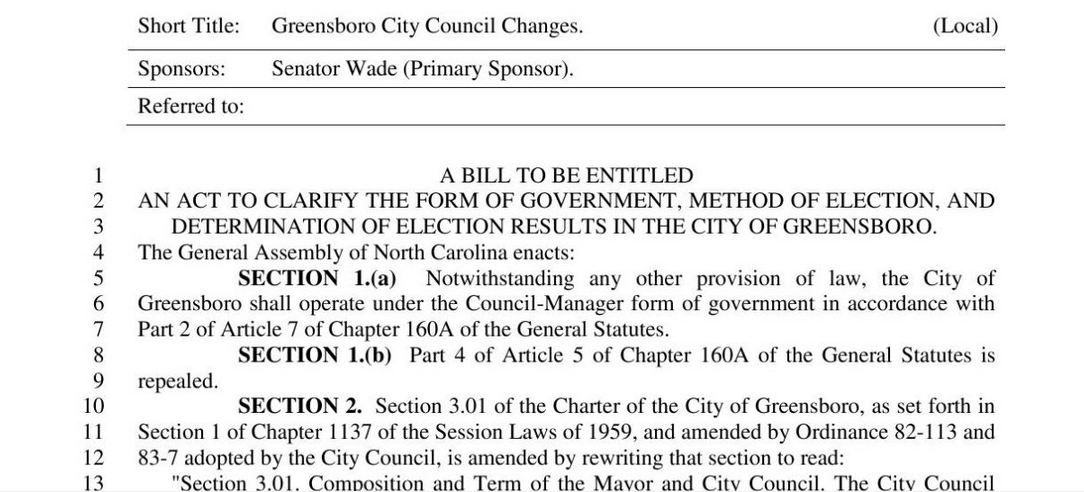 GREENSBORO — More Greensboro residents support a controversial bill to restructure the City Council than oppose it, according to a survey paid for by a local conservative newspaper.
But polling experts question the poll's results and the methods of the company that conducted it.
The survey, paid for by the weekly Rhino Times, is the only one that has been conducted on Senate Bill 36, which was filed in February by state Sen. Trudy Wade (R-Guilford).
The bill easily sailed through the N.C. Senate and likely will be taken up next week by a committee in the N.C. House. If passed, the bill would reduce the size of council, redraw districts and strip the mayor's vote in most circumstances.
The Rhino Times reported that the poll found 44 percent of respondents either strongly or somewhat support the bill and 37 percent strongly or somewhat oppose it.
Nineteen percent of respondents said they neither support nor oppose the bill, according to the Rhino Times.
No information about the poll's margin of error was reported.
John Hammer, the editor of the Rhino Times, declined to answer any questions about the survey or its methods Thursday. Representatives of Revily, the Atlanta company the newspaper hired to conduct the poll, did not return phone calls for comment.
On its website Revily describes its mission as "to increase the probability of winning for Conservative Campaigns and Organizations."
The poll seems to have the same mission, said Ken Fernandez, an assistant professor of political science and the director of the Elon Poll at Elon University.
"I would argue that a poll like this has no value and could in fact harm the public's knowledge," Fernandez said.
There is a lot that isn't apparent about how the poll was conducted, he said.
Among those unanswered questions:
How many people responded to the poll. The Rhino Times article describes a poll of "over 1,000 likely voters on Tuesday, April 7" and later indicates that more than 1,000 people were called. It is not clear how many responded. Fernandez said 1,000 calls likely would have resulted in fewer than 100 completed surveys.
Whether the poll was all prerecorded questions — or "robocalls" — or included live calls. Because so many people hang up on robocall surveys, Fernandez said, tens of thousands of robocalls would have to have been placed in a single night to attain 1,000 completed surveys.
Federal law prohibits robocall surveys to mobile phones without prior consent — so a pre­recorded survey would have reached only people with telephone landlines. That would tend to make respondents older and more conservative, Fernandez said, skewing the results.
The News & Record was able to interview one person who received the survey — June Barron, 72, of Greensboro. She described a prerecorded call in which she pressed telephone buttons to answer.
Whether respondents were considered "likely voters" based solely on self-identification or if the company used past voting data to identify likely voters.
All that information should be available in any survey released to the public, said Tim Johnson, the director of the Survey Research Lab at the University of Illinois at Chicago.
Johnson, who also works with the Transparency Initiative of the American Association for Public Opinion Research, said all legitimate research operations should release full data about their methodology with a poll.
"If someone who is conducting a poll doesn't provide that information, you cannot take the poll seriously," Johnson said. "They are either incompetent, or they are hiding something."
Of the information available about the poll, Fernandez said, there are a number of red flags:
Questions ordered in a way that taints the most important policy question of the survey.
Questions phrased so poorly as to cause confusion.
Failing to give information that would help respondents give a more informed answer.
Before being asked about their support for SB 36 callers were, according to the Rhino Times, asked a series of questions about their trust in the Greensboro City Council and whether they believe the city is heading in the right direction.
"You never want to ask questions about confidence in government before you ask your main question about a government change," Fernandez said.
"Americans are by nature skeptical of government and have very low levels of trust in it. So, if you ask questions that lead them to say they're dissatisfied or distrustful of government and then ask if they'd like to see it changed or reduced, you've tailored the order of the questions to get a much higher 'yes' percentage — in this case, more support for the bill."
That's a widely studied and well-understood effect, Fernandez said, and no serious pollster would order questions that way if it wasn't intentional.
"By stacking them that way before the question about the bill, you're creating a situation where most people would have to contradict themselves to oppose the bill," Fernandez said.
"They've just said they're dissatisfied with government, so they feel they have to answer that they'd like to change it," he said. "You could ask almost any question at that point, and people would say 'yes'... you've set them up."
Fernandez said the survey should have given respondents information about how the City Council is currently configured and a summary of what proponents and opponents of the bill say it will do.
The survey also failed to ask whether respondents would favor any changes to the council being made by the General Assembly or through a local referendum — a central question of the debate that now divides Republicans in Raleigh.
All that information should have been standard in polling on this sort of change, Fernandez said.
Reaction to the survey was mixed among elected officials in Greensboro and Raleigh on Thursday.
City Councilman Tony Wilkins, who has defended much of the bill, said the survey's findings match what he has heard from his constituents in District 5.
"According to the Board of Elections, there are 31,119 registered voters in District 5," Wilkins said. "I have had five contact me in opposition to this bill."
Wilkins said he estimates he has had about 20 constituents tell him they support the bill.
He reiterated his support for a local referendum on the bill — a position shared by state Rep. Jon Hardister (R-Guilford).
"If the results (of the survey) are accurate, then I don't see why supporters of the bill would be concerned about a referendum," Hardister said.
Mayor Nancy Vaughan agreed. She doesn't have much confidence in the results of the poll, she said — but those who do should be eager to put it to a local vote.
"Those results should give the legislature all the cover they need to say, 'Let's go ahead and have a referendum,' " Vaughan said. "Sen. Wade should feel very comfortable having one."
Contact Joe Killian at (336) 373-7023, and follow @JoeKillianNR on Twitter.