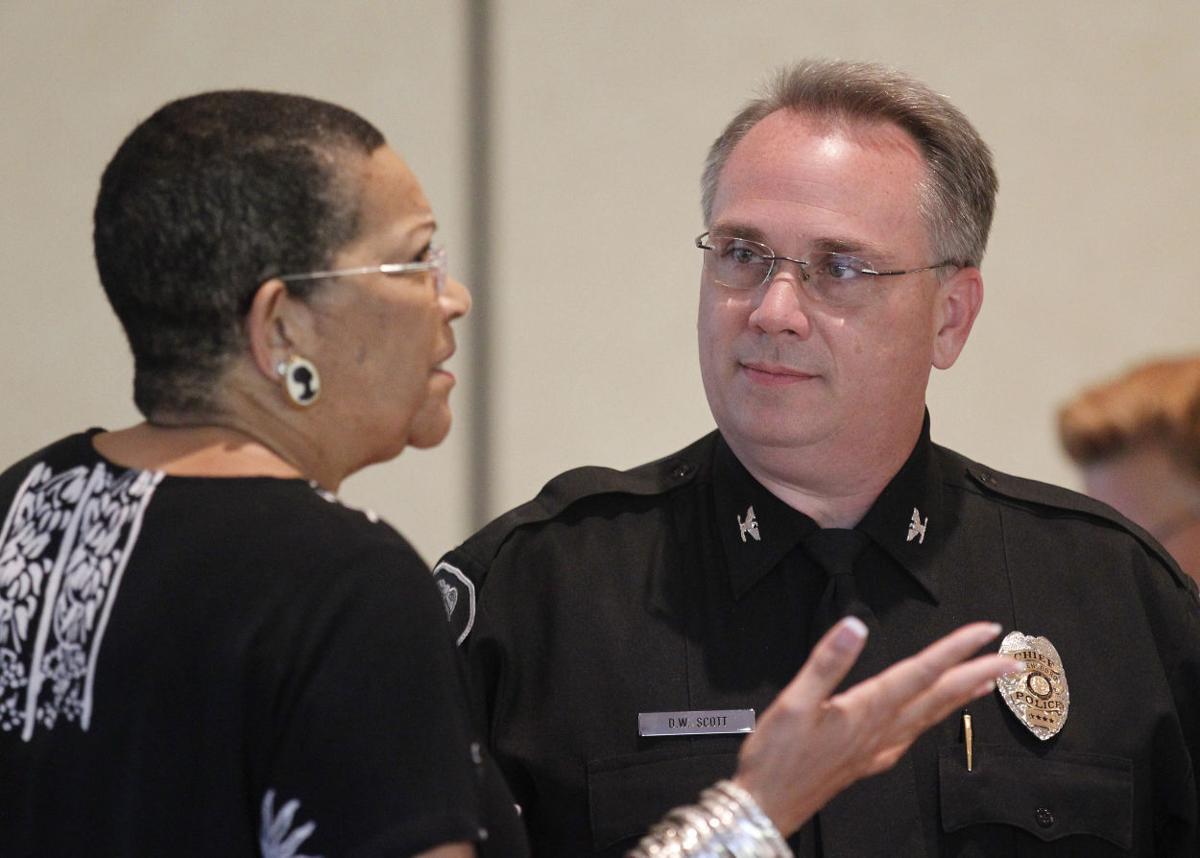 GREENSBORO — The Greensboro Police Department will no longer initiate traffic stops for minor infractions such as broken headlights or tail lights, one of a host of changes being implemented to address racial disparities in the city's dealings with the public.
"We want to understand what causes the problems and how we can go about fixing those issues," Police Chief Wayne Scott told the City Council at its regular meeting Tuesday. "We must make the necessary changes to ensure that the issues created by statistics and perceptions are … addressed."
Tuesday's council meeting was the first following the publication of a front-page New York Times article that uncovered racial bias in the police department's dealings with residents.
According to the newspaper, black drivers in Greensboro are more likely to be pulled over for routine traffic violations and are four times more likely to be searched when pulled over — even though white drivers more frequently carry contraband.
Black drivers were five times more likely to be charged for possession of small amounts of marijuana, despite studies showing that marijuana use is virtually the same among blacks and whites.
Black drivers also were four times more likely to be charged with resisting, delaying or obstructing an officer — a charge so ubiquitous that some police departments discourage its use unless an incident involves other, more serious crimes.
Many of those charges stem from routine traffic stops where officers pull over cars due to a broken headlight or expired registration. Roughly a quarter of all traffic stops in the city begin that way, Scott said.
That stops this morning, per a special order the chief signed Tuesday.
"I do not want them to initiate vehicle stops solely off of equipment infractions," he said. "Until we get our arms around this data and understand why these disparities exist, I think it's important that we focus officers on what I need them to do in those neighborhoods."
The police department is conducting its own analysis of the data cited in the New York Times article, much of which was previously presented in a racial disparity study by Frank R. Baumgartner, a political science professor at UNC-Chapel Hill.
Experts from N.C. A&T and UNC-Greensboro are conducting that study, Scott said, and the results are expected early next year.
In the meantime, the department will implement other changes, including the creation of an Office of Community Engagement. The three-person department is tasked with "developing new programs and services to engage the police department with Greensboro's diverse residents."
Additionally, officers will be required to undergo a locally led course on racial inequality. All field officers have also been through bias-based training, Scott said, which helps police understand, identify and avoid existing biases in their work.
Scott's presentation was mostly well received by council members, who said they appreciated that he didn't deny the issues within the police department.
The changes are a step in the right direction, said Councilwoman Sharon Hightower, but the problems aren't new and solutions won't happen overnight.
"That article was disturbing. The numbers were disturbing. This has gone on for a long time," she said. "We must begin to change the way we interact with our community. Police are certainly needed in the community, and I want to say that out loud ... but we cannot allow citizens to feel like they can't trust the police when they get stopped or when they're driving, simply, down the street."
Residents at Tuesday's meeting were less impressed with Scott's comments. One used her time during the public comment period to read the names of people killed by police officers in the city. Several presented a list of demands from the Black Lives Matter movement, including the resignation of Scott and City Manager Jim Westmoreland. Another said the proposed changes are meaningless if the police department doesn't involve residents in the process.
"We hear all this talk about the good police — what about the good people in our community … who do not need to be egregiously over-policed?" asked Taryn Muhammad, the final speaker to address the council. "It would behoove you not to just create an Office of Community Engagement, but to actually engage the community."
In his remarks, Scott promised both the council and residents that racial profiling would not be tolerated within the department.
"I am deeply disturbed by these issues and am committed to the equal protection of all of our residents," he said. "It is my goal … that no residents … feel uncomfortable or mistreated in interactions with the police department for any reason ... the city deserves better than that."
Contact Kate Elizabeth Queram at (336) 373-7003, and follow @KateElizabethNR on Twitter.