SUMMERFIELD — The property on the corner of Bunch Road and Interstate 73 looks like any number of parcels in northwestern Guilford County.
But just beyond its kudzu exterior lays the foundation for a public equestrian park, an urban connector with hiking trails and a valuable resource for protecting Greensboro's drinking water.
"We're really lucky to have been able to buy it," said Kevin Redding, the executive director of the Piedmont Land Conservancy.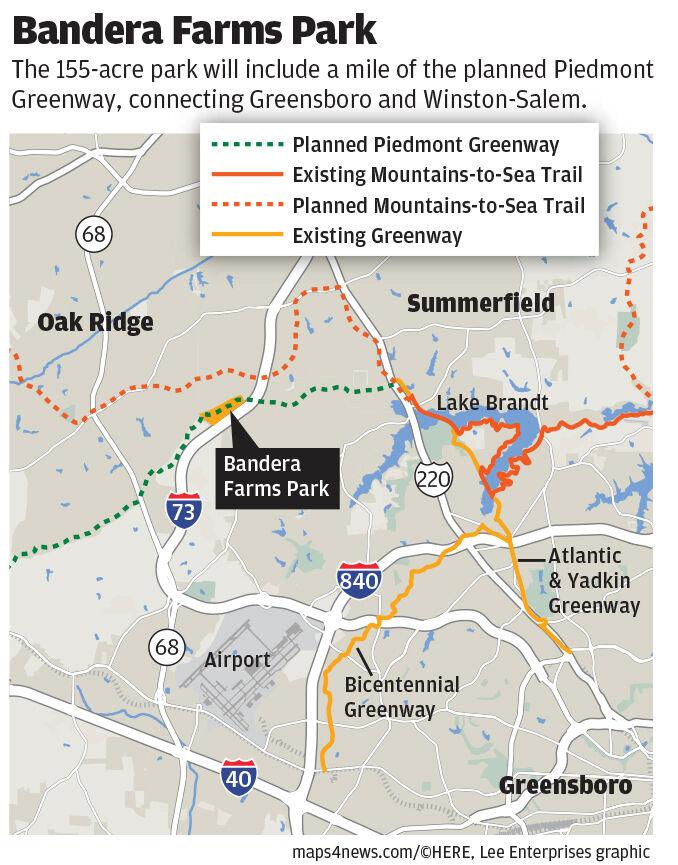 The nonprofit bought the 115 acres for $575,000 in December 2020 from the Henson family, who had owned the property since the early 1970s.
It's the future site of what will be called Bandera Farms Park.
The property, which previously had been logged, consists mostly of young, dense forests. There's large open fields on the southern boundary and kudzu dominates an area along Bunch Road, where parking lots are planned.
Summerfield, Oak Ridge, Greensboro and Guilford County all kicked in money to help buy the land. And Piedmont Land Conservancy also received money from the state Department of Justice's Environmental Enhancement Grant Program. That program uses money from a 2000 settlement with Smithfield Foods over major hog lagoon spills into public waterways during Hurricane Floyd.
That's a fitting contributor, considering Reedy Fork runs alongside the property's northern boundary.
"We saw this as an opportunity to protect some really important open space in the county and to protect the water quality of Reedy Fork Creek because it's feeding right into our drinking water supply for the city of Greensboro," said Palmer McIntyre, a conservation planner for the Piedmont Land Conservancy.
This image taken from the Bandera Farms Master Plan shows the park's trail system.
As a park, the site will serve equestrians and hikers, as well as provide a mile-long stretch of the planned Piedmont Greenway.
The 19-mile path will stretch from the Atlantic & Yadkin Greenway near U.S. 220, through Triad Park in Kernersville, to the Salem Lake Trail in Winston-Salem.
"There's a few little easements between this property and Highway 220," McIntyre said. "If we can get those tied up, we'll have a six-mile stretch of that greenway all secured."
While the conservancy bought the property, it plans to turn ownership over to the town of Summerfield.
"We'll do that in the near future," McIntyre said.
The property transfer will be subject to deed restrictions or conservation easements, McIntyre said, "so they can't later turn it into ball fields and tennis courts and swimming pools. It will always be a natural-area park."
A Boone firm was hired to design the park and are expert planners of horse trails, McIntyre said.
The focus of the 5-mile trail network is for horses, though they are open to hikers, too.
"It's loop trail, so you can really get 10 miles worth of experience," said McIntyre, making it attractive to equestrians who want more space to ride.
"These are designed to be sustainably-built, purpose-built horse trails, so they're not just putting horse trails on old logging roads or ATV trails," McIntyre continued. "It's really considering the impact of horses because they have a different impact on trails than humans."
Redding added: "It's also why they zigzag so much since they try to stay on the topography instead of going up and down hills. They go the way the topography allows for it."
McIntyre said there will be separate parking for cars and horse trailers, "so you keep those uses separate and keep people safe and keep the horses safe."
The trailer parking will be pull-through, something horse riders said in a survey they wanted to see in the design.
There are no all-terrain vehicle or mountain bike trails, "only because mountain bikes and horses don't mix," McIntyre said. "And we'll have to have a lot of signs, too, to educate hikers about how to interact with horses because that's not something everyone understands."
It will cost an estimated $1.2 million to build the park, which includes a small picnic shelter, bathrooms and a 6,000-square-foot "playscape" featuring wood-based structures for kids.
The Conservation Corps North Carolina rough-cut most of the trail network last spring.
"We're pretty ready to start building trail once we can assemble all the funding," McIntyre said.
In September, Summerfield received a $500,000 matching grant from the North Carolina Parks and Recreation Trust Fund.
The North Carolina Horse Council contributed $50,000.
About $650,000 more is needed, which could come through additional state and federal grants as well as potential contributions from local governments.
This image taken from the Bandera Farms Master Plan shows the park's equestrian parking design (center) and the pedestrian parking (left).
Reid Wilson, secretary of the North Carolina Department of Natural and Cultural Resources, noted that getting the $500,000 matching grant shows how important Bandera Farms Park is to the region.
And he's not alone in thinking that.
"We're very excited about the partnership that we're going to have with the other towns," Summerfield Mayor BJ Barnes said. "It's something that can be enjoyed by the equestrians all across the state."