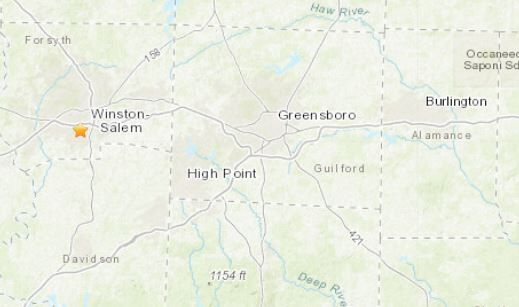 WINSTON-SALEM — The U.S. Geological Survey said a 2.4 magnitude earthquake shook Winston-Salem shortly before 9 a.m. Sunday.
The Winston-Salem Police Department received about a dozen calls about the earthquake, said Lt. Scott Doss. A number of people reported hearing a loud boom, he said.
Police didn't receive any reports of property damage or injuries, Doss said.
The USGS said it was roughly 1.2 miles deep.
About 115 people had reported feeling the quake to the USGS as of about 3 p.m. Sunday, including a couple of reports in Greensboro.
North Carolina has "its share of earthquakes," according to the North Carolina Department of Environmental Quality. But "large, damaging seismic events" are not common in the state.
A 2.5 magnitude quake also was reported near Abingdon, Virginia, shortly after 6 a.m. Sunday.
In August 2020, a 5.1 magnitude earthquake was recorded in North Carolina near Sparta. It was the second-strongest quake recorded in the state since 1900, according to the National Weather Service. The strongest was a 5.2 magnitude quake reported near Skyland in the Asheville area in 1916.