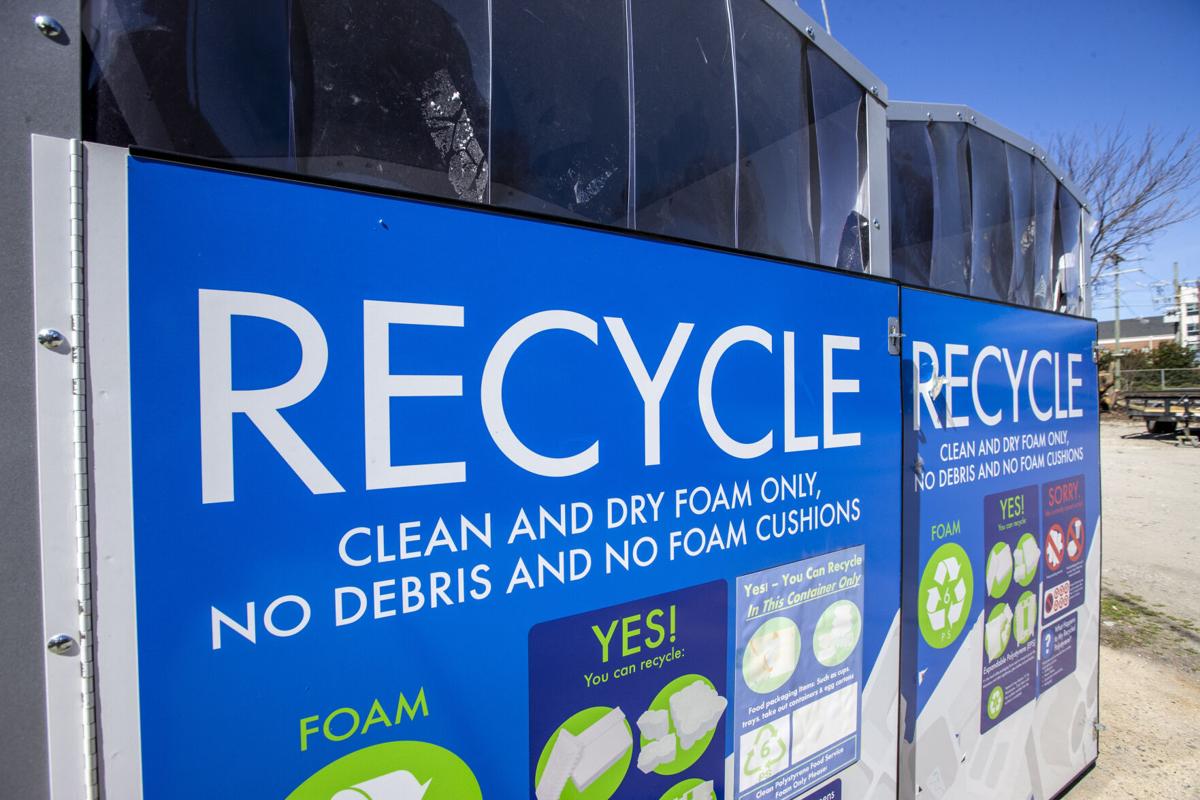 Question: I think I saw somewhere that Styrofoam is recyclable. Is that true?
Answer: Helen Peplowski, sustainability director for Winston-Salem, said in a previous answer that the recycle symbol is placed on items that can be recycled in some way, but not necessarily in a local recycling program. While Styrofoam is not accepted in either Winston-Salem's or Greensboro's recycling program, there is a local alternative.
The Greensboro Foam Recycling Partnership has a densifier that condenses foam into bricks that can be sold to manufacturers and transformed into new products. It's stored at Tiny House Community Development at 1310 W. Gate City Blvd., which is also where people can drop off their foam into large, clearly marked bins.
They only accept clean and dry #6 Styrofoam, which does not include packing peanuts or the flexible foam sheets that often come wrapped around fragile items. The No. 6 Styrofoam sometimes has the number six written on it to indicate what it is, but includes most other forms of foam, including packaging foam, egg cartons and foam plates, bowls and cups.
Q: My wife and I have Medicare and got tested at Novant's drive-thru site at Hanes Mall in January. We were under the impression that these tests were administered at no charge to the person taking them. We are now being billed by Novant. If we owe, we will pay, but we need clear guidance. I expect that there are many others with the same issue.
A: Megan Rivers, a spokeswoman for Novant, said that insurance coverage varies from provider to provider.
"The diagnostic test for the novel coronavirus costs $79-$158, depending on where you receive care," she said. "However, the cost of the test is typically covered by insurance plans. We encourage patients to check with their individual insurance provider to better understand the costs they may incur. Novant Health covers the costs for those who are uninsured."
Novant has financial navigators who can explain your bills. The navigators can also help with financial assistance, if that's needed. Navigators can be reached by calling 888-277-3901, from 8 a.m. to 6 p.m. Monday to Friday.
"For added context, I know there was a federal mandate at one point for all insurance providers to cover tests, but that may have shifted," Rivers said. "For instance, if someone who is asymptomatic and wants to get a test even if they don't have known exposure, ahead of travel let's say, then that may not be covered. Again, coverage will vary by each insurance provider so they should reach out to them, but thought this may be helpful example."
Q: I received a Krispy Kreme birthday reward through their app for a free dozen doughnuts. It said to use the app in May to get the free dozen. When I used the app to pay it took $10.66 out of my balance. I've emailed Krispy Kreme twice with no reply.
A: A customer service representative for Krispy Kreme said there have been some technical problems recently with the app.
"Thank you for letting us know. We are currently experiencing a technical issue which causes members not to be able to see their award when logging into their account.
"We assure you that if you have registered with your correct birthday month, your award should still be in your account and will be able to be redeemed if you identify yourself as a Rewards member at the shop. Sorry for the inconvenience. We are working on correcting this."
— Melissa Hall, Winston-Salem Journal Email your questions to mike.kernels@greensboro.com. Include Ask a Reporter in the subject field.