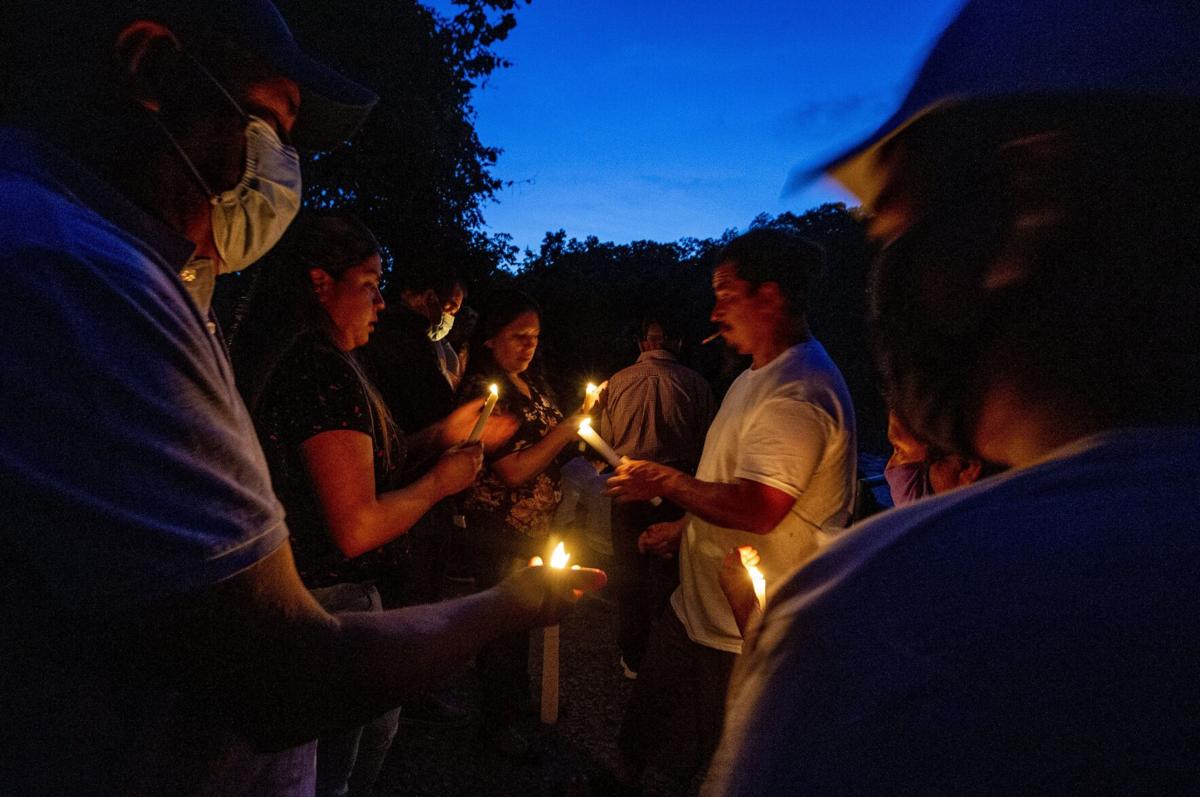 EDEN — The body of Teresa Villano, 35, was recovered from the Dan River on Monday afternoon, ending a 19-day search for the last of five family members to die in a dam-related tragedy here.
Rockingham County Emergency Services personnel and Swift Water Rescue team members located Villano's remains at around 4:30 p.m. near the Draper Landing, an access point at N.C. 770's crossing of the river, a spokesman said in a news release from the Rockingham County Sheriff's Office.
Villano was six months pregnant and had moved to the area in the spring to live closer to family, relatives said.
"This is a terrible tragedy, and our continued thoughts and prayers are with the family and survivors. At least the family can lay their loved ones to rest and receive the closure that comes along with that,'' said Sheriff Sam Page, who was at the site with county Emergency Services Director Rodney Cates during Villano's recovery Monday.
Villano and eight other members of her family were tubing on June 16 and traveled over a low head dam near Duke Energy's Dan River Steam Station.
"They didn't know what it was,'' Villano's sister Angelica Villano of La Porte, Ind., said of the 8-foot-high dam earlier this month.
Instead, her family members guessed the dam's ripples were nothing more than small rapids, Villano explained, citing accounts from survivors of the ordeal.
But the dam and other low-head dams like it are considered by many national outdoors experts and engineers to be "drowning machines'' — outdated structures with a current at their bases that holds deadly churning power. That hydraulic force traps swimmers beneath the water in a reverse rolling cycle and drowns them, experts said.
County river veterans and emergency workers have called the tragedy, which drew help from state and regional search and rescue teams for over two weeks, the worst such accident they can remember.
And a tragedy of this magnitude takes its toll on first responders, even the most seasoned, keeping them away from home and dealing with emotionally charged conditions, Cates explained.
"The large majority of our responders are volunteer. They are not paid for their services, but through their dedication to their communities, they donate their time and services,'' Cates said.
"Most of those activated for (Monday's) recovery effort canceled family events to report for volunteer duty,'' he said.
In order to make sure his staff and volunteers are able to express and discuss their emotional reactions to calamities such as the tubing deaths, Cates pays attention to his personnel and offers professional help when needed, he said.
"We monitor all responders and offer Critical Incident Stress Debriefing at any time it is needed,'' he said of the help service.
"Earlier today, I was asked if I was okay,'' Cates said. "I have 31 years in this line of work and members were checking on me as well. I am doing fine, but it was nice to be checked on.''
Cates and Page thanked the North Carolina State Highway Patrol, as well as all local and regional responders, for helping out with the rigorous search effort that saw the SHP send a specialized helicopter with infrared technology to scrutinize the river and surrounding land from the air.
Page and other officials further said they were grateful to see churches, community members, and many local agencies donate time, food and resources to rescue workers and the Villano family.
Four surviving family members were rescued June 17, the day after the accident, when a Duke Energy employee saw them stranded near the utility's steam station.
Later that day, officials said they recovered the bodies of Antonio Ramon, 30, and Bridish Crawford, 27 — both of Eden — and Sophia Wilson, 14, of La Porte, Ind., about three miles from the dam. On June 20, the body of Isaiah Crawford, 7, Bridish Crawford's son and the family's youngest member on the tubing trek, was recovered.
Survivors said they spent more than 22 hours in the water after the accident before they were rescued. Some clung to rafts, while 18-year-old Irena Villano used a finger to cling to a crevice she found in concrete near the dam, Angelica Villano said.
Other survivors include Irena Villano's brother Eric Villano, 14, of Eden, their father Ruben Villano, 35, who is the twin brother of Teresa Villano, and relative Karlos Villano, 14, of La Porte, Ind.