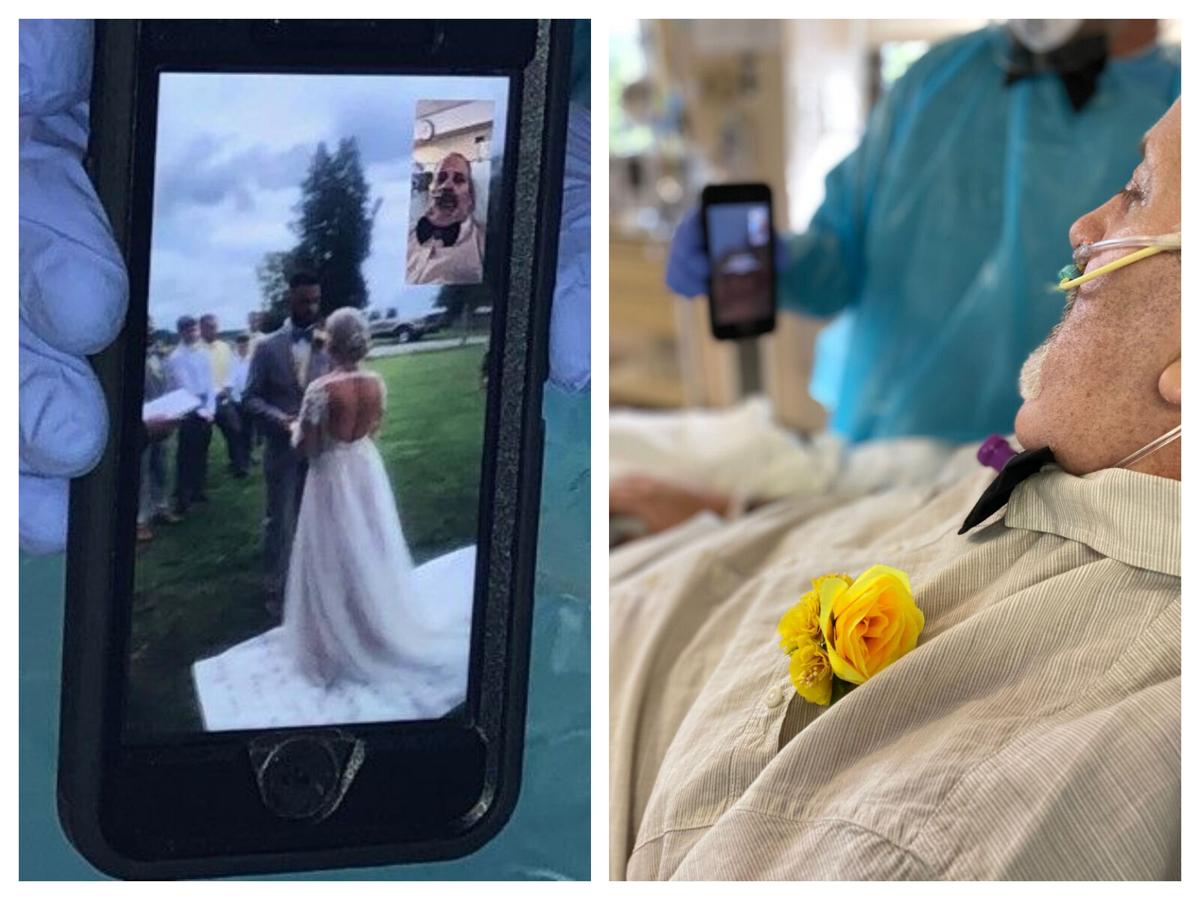 GRAHAM — The wedding of high school sweethearts Kayla Thomas and Seth Hayes was almost picture perfect, with family and friends gathered at a farm in Haw River.
But it was missing one important part: her father, Mark Thomas.
Thomas had been on a ventilator at Cone Health's Green Valley Campus, which cares for COVID-19 patients, for five weeks. He had not seen or spoken to any of his family the whole time, including his wife June.
So when Thomas called his daughter by phone minutes before her vows, she was stunned.
"It was just unexpected, and it made the day more special and memorable," Kayla Hayes, 20, said.
Thomas, 57, had come off the ventilator just the day before the wedding. The staff at Green Valley, who had been in close contact with June the whole time, were not about to let Mark's daughter get married without him being a part of it.
"When he came around and was able to breath on his own, we knew we needed to get him to that wedding anyway we could," said Brent McQuaid, Green Valley's chief medical officer.
McQuaid said once Mark realized that might happen, he fought to be strong enough to make the call.
"He needed the opportunity to connect to his family," McQuaid said.
From his hospital bed, Mark was able to FaceTime with his daughter and read her a letter he had written four months ago, before contracting the virus in July. Family friend Preston Gallagher, Mark's stand-in as father of the bride, walked her down the aisle. Gallagher took the call from Mark on his phone. The bride's mom was expecting the call and said, "Kayla, your daddy wants to read you something."
Gallagher held the phone up as the bride incredulously watched the screen while her father read the letter from his hospital bed.
"There wasn't a dry eye within miles," Hayes said.
The Green Valley staff went to great lengths to make sure Mark could attend his daughter's wedding virtually. They helped him switch from a hospital gown into a dress shirt complete with a bow tie and yellow rose boutonniere. They decorated his room with "Father of the Bride" décor and purchased reading glasses so he could read the letter.
McQuaid, wearing his own bow tie amid his personal protective equipment, stood by Mark's side holding the phone that connected him to his daughter's nuptials.
McQuaid credits the nurses in the unit for pulling it all together. "They worked really hard to make sure this man got this day," he said.
The call helped June get through the bittersweet day.
"It was the hardest thing I've ever had to do was walk down the aisle without my husband," said June, who has not seen Mark in person since July 10.
The two have been married for 18 years and have weathered tough times, including Mark losing his mother a year ago. June said it was a blessing to have Mark at the wedding at all.
"It's just a miracle. We like to have lost him," June said.
After the ceremony, Gallagher handed the phone to June. Family and friends gathered around her eager to say hello to Mark.
"It was like a reunion. Everybody was saying 'We've been praying for you,'" June said.
Mark is in step-down intensive care. Once he tests negative for COVID-19, he will be moved to a rehabilitation unit. Only then will June be allowed to hold her husband's hand for the first time in months.
"Mark had long hair, and they had to cut it. I always told him he was Sampson and he said, 'Well Sampson got his hair cut.' And I told him he was still going to have strength. So, fight, baby, fight!"
June now knows too well the gravity of the pandemic.
"A lot of people say it's not real. It is real," she said.
Choking back tears, June said she is eternally grateful for the staff at Green Valley.
"I owe them my life," she said. "Almighty God has got their hands. They worked a miracle with my husband."