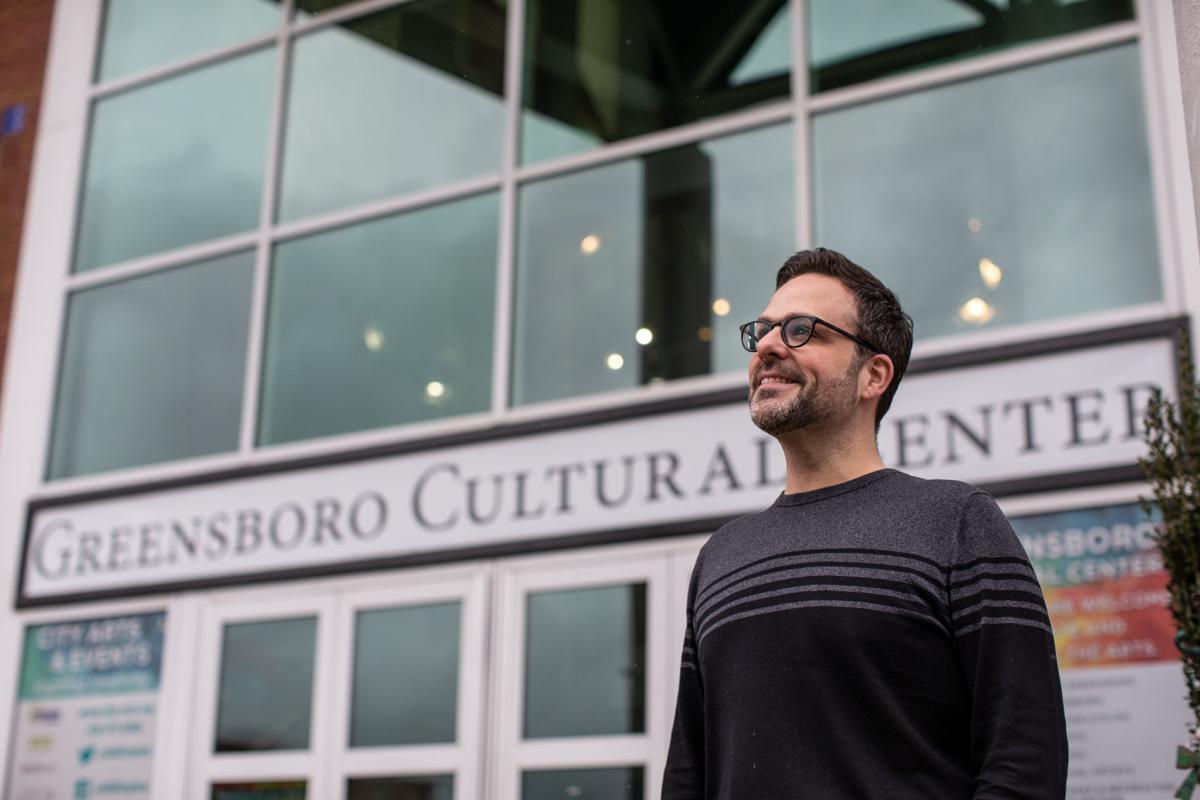 GREENSBORO — More arts groups and artists will be able to use select spaces for free or reduced cost in the downtown Greensboro Cultural Center.
The city-owned cultural center at 200 N. Davie St. long has been home to galleries, studios and performance spaces for city arts programs and nonprofit arts organizations.
Creative Greensboro, the city's office of arts and culture, has expanded the cultural center's use to address the need for more space for arts and cultural programming.
A volunteer task force identified that need in its cultural arts master plan, adopted by the City Council in December 2018.
The master plan called for an initiative supporting the growth, resilience and reach of culturally-specific and emerging arts and cultural organizations.
It proposed refining policies for use of cultural center space to create greater and more equitable access.
"These initiatives allow Creative Greensboro to bolster the work of creative individuals and emerging arts and cultural organizations and help them grow," Ryan Deal, the city's chief creative economy officer who runs Creative Greensboro, told the News & Record in an email.
Those individuals and groups will join resident nonprofits in the cultural center, including ArtsGreensboro, Eastern Music Festival, Greensboro Symphony Orchestra and GreenHill Center for North Carolina Art.
Longtime resident organizations that contribute to the arts scene have rented space for $1 per year, under lease agreements that will expire on Aug. 31, 2021. 
"The Greensboro Cultural Center has long been a place that provides critical support to creative organizations," Deal said. "These new programs will bring in new and diverse individuals and organizations into this space."
Deal has worked on fulfilling that plan since his arrival in late 2019.
Thursday's announcement spells out two strategies for using select spaces. It calls them Greensboro Residency for Original Works and Creative Activation Partners.
Creative Greensboro is particularly interested in supporting residencies that are programmatically diverse when compared with other activities already in the cultural center, as well as those that focus on engaging communities of color, low-income communities, and/or people who are disabled.
• GROW provides creative individuals or organizations a free space to produce new and original works that encourage public visitation and engagement.
They will have access to the new 800-square-foot exhibition and performance space at the building's Davie Street entrance for one to four weeks. Applications will be accepted on a rolling basis, beginning in January . Read the program overview for eligibility guidelines and application details.
Its first residency will be Casa Azul of Greensboro, an arts and entertainment nonprofit that supports and promotes Latino culture.
Casa Azul will build and present a community ofrenda, an altar with objects placed on a ritual display during the annual and traditionally Mexican Día de Muertos celebration. The ofrenda will be available for community viewing from Nov. 1 to 15, on days and times to be announced by Casa Azul.
Deal is excited about the prominence of the GROW space, which includes exterior windows facing Davie Street.
The space occupies what had been two administrative offices and a podcast studio. The prior podcast studio tenant moved to another space downtown in the spring.
"This location will add to the visibility of the exciting work we hope will take place in the space," Deal said. 
• CAP is a space rental program designed to provide low-cost, hourly access to cultural center music rooms, dance and theater studios and a conference room for arts and culture programming.
A Trombone Ensemble program, led by Larry Porter, meets on Wednesday nights and a NIA Free Movement class, led by Cynthia Wolfe, meets on Tuesday and Friday mornings, Deal said.
It recently hosted a screen play reading by an independent group. It also has confirmed space for individual choreographers to use dance studios for independent work.
Coming soon, the Kelly Walsh School of Irish Dance will be in the building on Saturdays. Royal Expressions Ballet will be there over a few weekends in November to work on a performance project.
Creative Greensboro is in ongoing discussions with several other program providers including tai chi, group music lessons and music therapy, Deal said.
It welcomes interest from new and additional partners. It is especially flexible with space during weekday mornings, although there is still availability on weeknights and weekends.
Contact Dawn DeCwikiel-Kane at 336-373-5204 and follow @dawndkaneNR on Twitter.
Get local news delivered to your inbox!
Subscribe to our Daily Headlines newsletter.