GREENSBORO — A Greensboro police officer was fired after he was charged with sexual battery, assault on a female and giving alcohol to an underage person, according to a news release from Greensboro police.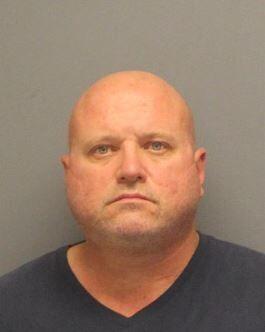 Officer Kenneth Eugene Adams was fired Thursday after police Chief John Thompson learned the details of the investigation, which was conducted by the Guilford County Sheriff's Office.
On Dec. 19, the sheriff's office notified the police department of criminal allegations against Adams. The allegations were reported to the sheriff's office on Dec. 19 for an incident that occurred the previous day.
The allegation involved a possible sexual assault that occurred outside of the city limits. It did not occur while Adams was working in his official capacity as a police officer, Greensboro police said.
As is standard protocol, the police department immediately placed Adams on administrative duty and began an internal investigation, according to the release.
The sheriff's office completed its investigation on Tuesday, and presented its findings to the district attorney on Thursday, the release said. 
In a statement, Thompson said: "As always, if an allegation is made against an officer, it is thoroughly investigated. If in the course of the investigation, evidence emerges that is so egregious that it erodes public trust, I feel swift action is necessary as not to negatively impact or interfere with the day to day operations of the Department.
"We cannot effectively operate if we don't have the support of the public and to continue to maintain that support, it involves a commitment to transparency. As is true for all victims of sexual assault, the Department asks that the privacy of the victim and family members is respected as they process and heal," the statement said.