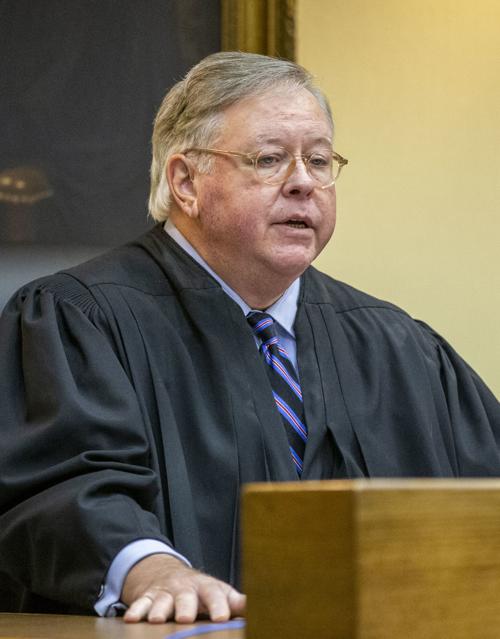 GREENSBORO — A Guilford County Superior Court judge has backed off an order to require the district attorney to hold special sessions in December to handle murder trials he says have been sitting for too long. But he said he will order special sessions in January if the backlog doesn't lessen before then.
The initial administrative order, issued on Nov. 12 by Senior Resident Superior Court Judge John O. Craig III, directed District Attorney Avery Crump to prepare and publish a calendar, scheduling a series of special court sessions to address the "unprecedented" backlog of homicide cases.
In the order, Craig said that while some of the delay can be attributed to the COVID-19 pandemic, "the office of the Guilford County District Attorney and the office of the North Carolina Capital Defender have been slow" to address the backlog, despite operations at the Greensboro and High Point courthouses returning to pre-pandemic conditions.
Craig also noted that he informed Crump he would be requesting the special sessions to address the backlog, to which she indicated she would "decline to publish said administrative calendars" for special sessions, prompting Craig's order.
But a week later, Craig issued another administrative order, announcing that "after consultation with (Crump) and Chief Assistant District Attorney Stephen Cole," he had amended the Nov. 12 order, canceling the special sessions ordered for Dec. 13 and 14 in High Point and Dec. 15-17 in Greensboro.
Craig said this week in an interview that representatives of Crump's office assured him that cases from the backlog could be addressed during regular court sessions. However, he said he reserved the right to hold shorter special sessions in January if some cases remain unaddressed for various reasons.
"I agreed to that with the proviso that any cases that don't get addressed, that they'll be heard in Greensboro on Jan. 10 and in High Point on January 31," Craig said. "That really accomplished what I was gonna try to do in December."
"We're looking at getting these cases moved and getting them on for trial dates," he added.
In an interview hours after the second order was issued Friday, Crump said she has "never refused" to publish a calendar and that she would certainly never refuse if Guilford County was facing the backlog that Craig's order suggested.
Attached to Craig's order was a list of first-degree murder trials which had been pending for more than two years — 22 in High Point and 78 in Greensboro.
But Crump said the list was inaccurate.
"Those cases were not all over two years pending," Crump said. "A number were already disposed. A number are already scheduled (for trial). And more than half of those cases aren't even 2 years old."
Crump said she can't speak to why those cases that did not qualify wound up on Craig's list.
"I'm not saying we don't have a homicide problem," Crump said. "In every county, there is a backlog. It's state and nationwide."
But to schedule a special session would be unnecessary, Crump said, when regular court sessions are already scheduled throughout the months of November, December and January.
In Craig's newest order, he mandates that during upcoming regular Superior Court criminal sessions, the assistant district attorneys assigned to first-degree murder cases that have been pending for two or more years will place those cases on their calendars for administrative conferences.
The special sessions Craig initially ordered were designed to answer any questions counsel had and to set trial dates for 2022, but that can be accomplished during the regular sessions, according to Crump.
And though she acknowledges a backlog, Crump thinks Guilford County has done well handling cases, especially given the COVID-19 pandemic, which prohibited cases from being tried for several months.
Even when the county began scheduling jury trials again in November 2020, officials were instructed by the N.C. Administrative Office of the Courts to "begin with shorter and less demanding jury trials, such as simple civil trials and lower-level felonies."
Crump said, despite those parameters, plenty of murder cases were disposed of during the pandemic, including a dozen in High Point.
Still, some don't necessarily agree with the manner in which cases are being handled.
"I've got clients who are just hoping to get their day in court," said defense attorney Brennan Aberle of Greensboro law firm Aberle & Wall.
One of Aberle's clients, 20-year-old Leon Brimley, has been in custody since June 2019, charged in the shooting death of 30-year-old Mamie Yvonne Martin.
While awaiting the murder trial, Brimley was brought to trial on a non-violent drug offense.
Aberle said he can't imagine why Brimley was tried on the drug offense while awaiting a murder trial.
While Aberle said he believes Brimley is innocent, "If he goes to trial on the murder and were convicted, his cocaine cases aren't going to matter.
"If he's found not guilty, then we'll deal with the cocaine cases," Aberle said. "But why, when you've only got 38 or 39 weeks out of the year that you can try murder cases, are we going to spend any time on anything less important?"
Craig is also impatient to begin hearing more homicide cases, he said.
"Unfortunately, the murder rate doesn't show any signs of decreasing," he said this week. "The list only gets bigger and we've got to tackle it."
Staff Writer Richard M. Barron contributed to this report.
Contact Jamie Biggs at 336-373-4476 and follow @JamieBiggsNR on Twitter.