PLEASANT PRAIRIE — Two men from Missouri are facing federal charges of illegal possession of firearms after being arrested Tuesday at a hotel in Pleasant Prairie, where a cache of weapons was located.
According to a Thursday news release from Matthew D. Krueger, United States Attorney for the Eastern District of Wisconsin, Michael M. Karmo, 40, and Cody E. Smith, 33, both of Hartville, Mo., were arrested at La Quinta Inn, 7540 118th Ave., which is located just east of Interstate 94 and just south of Highway 50.
According to the criminal complaints:
On Tuesday, the Kenosha Police Department advised FBI that a law enforcement agency in Iowa had received a tip that Karmo and an unidentified male were in possession of firearms and traveling from Missouri to Kenosha to loot and "possibly pick people off."
FBI agents subsequently located and detained Karmo and Smith at the hotel, the U.S. Attorney's Office said.
After receiving consent to search Karmo and Smith's vehicle and hotel room, FBI agents recovered an Armory AR-15 firearm, a Mossberg 500 AB 12-Gauge shotgun, two handguns, a silencer, ammunition, body armor and a drone, among other materials.
In interviews with federal agents, Smith reportedly indicated that he and Karmo traveled to Kenosha to take part in rallies for President Donald Trump, who traveled to Kenosha on Tuesday to tour businesses destroyed in the unrest and to meet with law enforcement protecting the city in the wake of the unrest that followed the Aug. 23 police shooting of Jacob Blake.
Karmo reportedly told agents that he and Smith have been roommates in Hartville, Mo., for approximately four weeks, that they worked together, and are part of an organization called the 417 Second Amendment Militia. Karmo reportedly said the two decided to travel to Kenosha "to see for themselves" what was going on regarding the riots.
Karmo told investigators that "he would be willing to 'take action' if police were defunded."
Among evidence federal agents collected in their investigation were social media posts and text messages that showed firearms and persons dressed in tactical gear.
According to Kruger, Karmo has prior convictions in California, including for burglary, possession of a controlled substance, receiving stolen property and evading a law enforcement officer resulting in injury or death. Smith has a prior misdemeanor domestic battery conviction in California and acknowledged regular drug use. As a result, both Karmo and Smith were prohibited from possessing firearms and ammunition.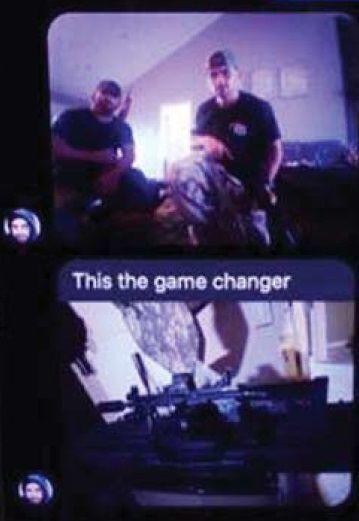 Despite this, both men had photos of themselves posing with firearms on social media and in text messages. One informant told law enforcement that Karmo was seen frequently walking "around with a firearm in his waistband and played 'Rambo' in the backyard." Karmo also allegedly "bought firearms through the mail and manually put the firearms together" while also "making the firearms untraceable to law enforcement."
Karmo is facing a charge of being a felon in possession of a firearm. Smith is charged with aiding and abetting a felon's possession of firearms; possession of firearms and ammunition by a prohibited person due to misdemeanor domestic violence; and possession of firearms and ammunition by a prohibited person due to being an unlawful user of a controlled substance. Each offense carries a maximum penalty of 10 years in prison, a maximum fine of $250,000, and up to three years of supervision after release from prison.
The case was investigated by the FBI, with assistance from the Bureau of Alcohol, Tobacco, Firearms & Explosives (ATF), the Kenosha Police Department, the Pleasant Prairie Police Department, the Kenosha County Sheriff's Office, the Kenosha County District Attorney's Office and local law enforcement in the State of Iowa. It will be prosecuted by Assistant United States Attorneys Richard G. Frohling and Margaret B. Honrath.