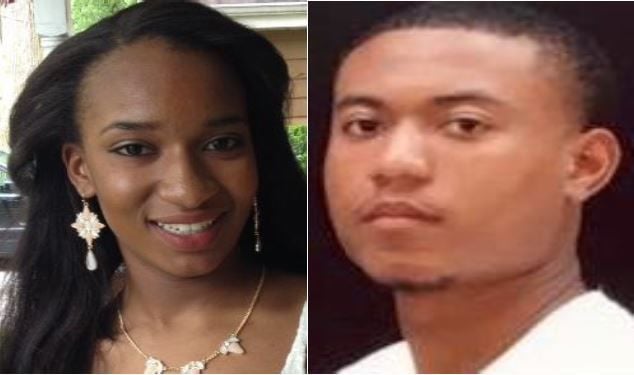 GREENSBORO — More than five years have passed since Mary Dieudonne-Hill and Alicia Campbell lost their children to gun violence.
On Tuesday, the two mothers talked about the impact of losing Alisia Dieudonne, 19, of Homewood, Ill., and Ahmad Campbell, 21, of Kittrell, on Oct. 2, 2016.
The two N.C. A&T students were in a back room of a Campus Evolution Villages apartment during a party when someone outside started shooting during an argument and bullets went through the wall, killing them.
Mary Dieudonne-Hill and Alicia Campbell described the anxiety and depression they have experienced since.
"We have become a world of numbness to gun violence and how it affects the family," Dieudonne-Hill said in a phone interview from her sister's home in Clemmons.
"...The five years have been like hell on earth," she said.
Added Campbell: "Our family has always been close-knit. This has really destroyed us."
Earlier Tuesday, the two women had spoken at a plea hearing for Lawrence Jacques Baird, the man accused of killing their children. Baird initially faced two counts of first-degree murder, and one count each of discharging a firearm into an occupied property and possession of a firearm by a felon.
On Tuesday, Baird, 33, pleaded guilty in Guilford County Superior Court to a lesser charge of being an accessory after the fact to first-degree murder.
Senior Resident Superior Court Judge John O. Craig sentenced Baird to a minimum of nearly seven years in prison.
Baird also received another year and two months on the weapon charge, to be served at the end of the first sentence.
Baird must serve at least eight years, one month, and as much as 11 years, six months in total, said Steve Cole, the county's chief assistant district attorney who prosecuted the case.
He gets credit for time spent in custody pending trial. Baird was arrested and has remained in jail since Aug. 30, 2018, Cole said.
Cole said the plea offer was extended because he believed there was sufficient evidence to support a conviction that Baird knowingly possessed the weapon used in the shooting, but not enough to prove him guilty beyond a reasonable doubt of actually firing the weapon.
"It was critical that he be held to account in some measure," Cole said via email. "Despite the best efforts of the Greensboro Police Department to find a credible eyewitness to the shooting, we are bound by the evidence."
"The prison sentence received by the defendant does not begin to do justice to the terrible events that occurred back in October of 2016," Cole said.
According to newspaper accounts at the time, party host Nicholas Jeffers said that he had invited a few friends over for a gathering. But hundreds showed up after someone posted about the party on social media.
Jeffers tried to get the uninvited guests to leave but a fight erupted. And then shots were fired outside, with bullets going through the apartment wall to strike Dieudonne and Campbell.
Police said interviews and evidence led them to suspect Baird, who was arrested in 2018.
On Tuesday, mothers Mary Dieudonne-Hill, from Chicago, and Alicia Campbell, from Kittrell in Vance County, came to tell the court about their children.
Dieudonne was attending A&T for graphic design, Dieudonne-Hill said in a phone interview after the hearing. Her daughter would be 24 years old.
"She could have been doing something phenomenal in Silicon Valley because she had a connection there," Dieudonne-Hill said about her daughter. "She was a dancer, a singer, an actress. She had so many talents. To think of where she could be today..."
Alicia Campbell came to court with her husband, Anthony Campbell, and sister Shelby Taylor.
"If there is ever such a thing as a perfect child on earth, that was my Ahmad," Alicia Campbell said.
Despite a speech impediment in his elementary school years, Ahmad Campbell was an honor roll student in high school and was accepted to A&T.
"He just never quit," she said. "He just kept going. He was determined he was going to be somebody."
And he was generous. When he discovered in high school that a fellow track runner couldn't afford track shoes, Ahmad Campbell would privately let the other runner use his.
Today, Ahmad would be an uncle. His oldest brother has a 1-year-old son.
"He reminds me so much of Ahmad. It's amazing," Alicia Campbell said of her grandson. "That has brought us some peace. I feel Ahmad would be the best uncle ever. … I just hate that he doesn't get that chance."
Contact Dawn DeCwikiel-Kane at 336-373-5204 and follow @dawndkaneNR on Twitter.