GREENSBORO — With more than 300 catalytic converters stolen from vehicles around Greensboro in the past several months, police are asking the public for help in solving the crimes.
Right Touch Interiors at 807 Post St. fell victim to the latest theft. Three catalytic converters were stolen from vehicles at the business, according to owner Tommy Adams.
Right Touch Interiors Vice President David Vaughn said police performed a through investigation after the business reported the theft, but there are no suspects or leads as far as he knows.
At a minimum, catalytic converters cost about $1,000 to replace.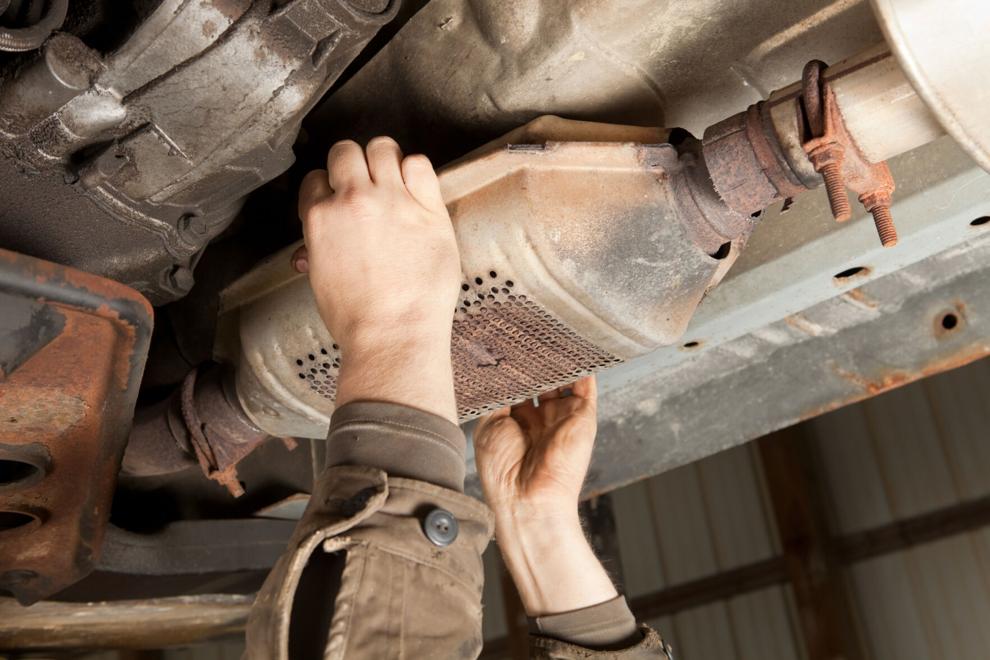 Catalytic converters control exhaust emissions and are a hot commodity for thieves because they're easily accessible and can be scrapped for money. The converters, which contain precious metals, can be quickly sawed off of vehicles. Greensboro police said the lack of identifying markings of catalytic converters make them even more appealing to thieves.
A total of 303 catalytic converters were reported stolen in Greensboro between Oct. 1, 2020, and Feb. 28, according to police.
Police spokesman Ron Glenn said authorities suspect multiple people are involved in the recent thefts and, because it's unlikely someone would do a crime like this only once, they suspect it is probably a few groups of the same people committing the crimes.
Glenn said the thefts tend to be in areas where there are multiple vehicles that can be accessed at the same time. Police are working to identify the thieves, Glenn said, including the most recent one at Right Touch Interiors. That crime was recorded on surveillance footage.
In the footage, two people are seen coming out from underneath a vehicle and fleeing in a white Dodge Nitro.
To avoid catalytic converter theft, Glenn said people should try to park vehicles in a garage or secured area. People who have to park in a public lot should try to park in a well-lit area, preferably close to a building entrance or in an area where the vehicle is visible to others.
There also are security devices that can be attached to converters, making them harder to steal. If a vehicle has a security setting, people should calibrate it so vibration sets it off, ensuring the alarm activates if a thief attempts to saw off the converter, Glenn said.
Crime Stoppers is offering a reward of up to $2,000 for anyone who can provide information about the recent thefts.
People can contact Crime Stoppers by calling 336-373-1000 or leave a tip at P3tips.com. All tips to Crime Stoppers are anonymous.
Contact Jamie Biggs at 336-373-4476 and follow
@JamieBiggsNR on Twitter.