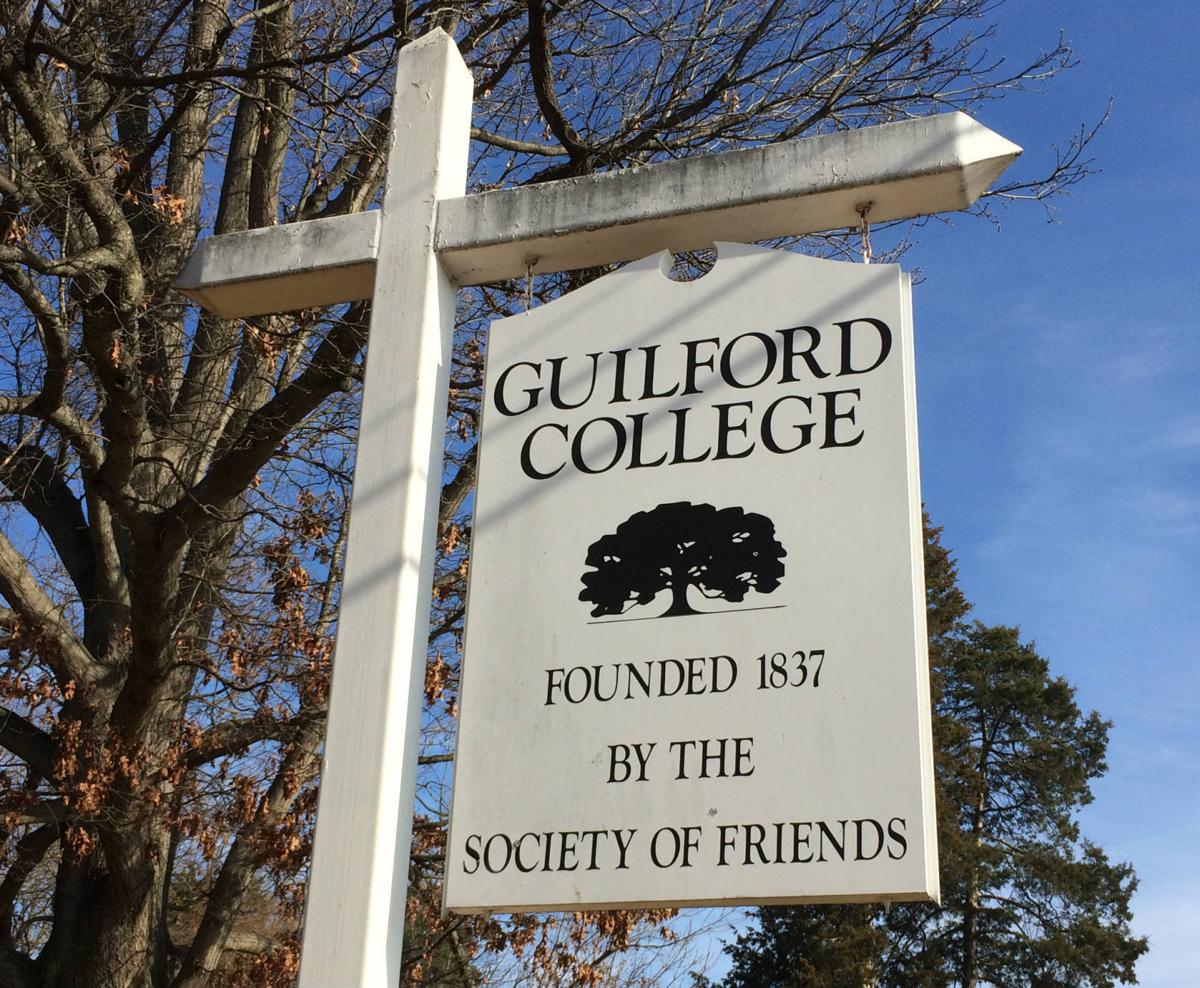 GREENSBORO — After an overwhelming response from alumni and other supporters, Guilford College won't make significant cuts to academic majors and faculty jobs as it announced it might do just two months ago.
Instead, the private Quaker college plans to raise money — at least $6 million within the next year — and explore other options for an institution whose finances have been buffeted by ongoing enrollment declines and the COVID-19 pandemic.
Guilford College trustees voted Monday and announced Tuesday that the school won't go forward with a proposal to phase out nearly half of its 40 academic majors, mainly in the humanities and liberal arts. The college also won't lay off 16 tenured professors or cut another 11 faculty positions after the upcoming spring semester.
The announcement came three weeks after Guilford's board said it would pause the proposed changes as they continued to listen to impassioned feedback from the college's many supporters.
"Alumni rose up and said, we really love this place," board Chairman Ed Winslow said in an interview Wednesday. "Trustees are trying to respond in a positive way to that."
But Winslow cautioned that the college is not yet out of financial danger. The board will focus in the coming months on ways to increase enrollment, raise money and chart a sustainable way forward for an institution founded before the Civil War.
Guilford trustees announced two aggressive fundraising goals: They want to collect $4 million by May 31 and another $2 million by Jan. 31, 2022. If the college is able to raise that money, Winslow wrote Tuesday in a letter to the Guilford community, "we will have the important time and space to do the necessary work together to establish a sustainable future."
Trustees also have set up committees to explore four key areas: enrollment stabilization and student recruitment; fundraising; faculty and staff collaboration; and constituent engagement. Two trustees will lead each group, whose members will include other Guilford trustees, faculty, staff, students and alumni. Winslow also promised that the board will continue to hold online listening sessions to hear more opinions on where Guilford should go from here.
Since the college announced its plan in November, Winslow said he was getting 20 emails a day from people who wanted Guilford to reconsider. Many of those offered to contribute money.
An alumni group called Save Guilford College was the driving force behind these lobbying and fundraising efforts. Its private Facebook group has more than 3,100 members. The group said Wednesday that it had arranged nearly $3.3 million in pledges from 875 donors over the next five years.
"We were hearing from so many people with such an overwhelming level of concern that the board has responded with this letter," Winslow said. "What we're saying is the board hears the constituents."
Faculty seemed relieved that teaching jobs will remain for now.
History professor Damon Akins said trustees clearly responded to the "incredible" efforts of the Save Guilford College group.
"I am grateful for their work. They have been inspiring," said Akins, a tenured professor who faced the loss of his faculty position. "It shows the value of a Guilford education and the values it instills in its graduates."
Maria Rosales, the clerk of Guilford's faculty, said she is pleased that the college's board, with the help of alumni, will look for what she called a "different and better path forward."
"This is the best of Guilford — a willingness to put in the time, the care, and the attention to community that is needed to come up with creative ideas that actually work," said Rosales, a professor of political science, one of the 18 academic majors slated to be cut or absorbed into other departments. "The board has decided to bet on the community, and I have faith that the community, large and small, is going to live up to that trust."
Guilford, like many small private colleges, has struggled in the short term with COVID-19 and over the longer term with enrollment and finances.
Trustees last summer brought in Carol Moore, an experienced higher education leader, to serve as Guilford's interim president when Jane Fernandes resigned after six years. Trustees told Moore to stabilize the college's financial situation.
A month after she arrived in August, Moore, who had led three small colleges before coming to Guilford, set in motion a review of the college's academic departments. Two months later, Moore announced her plan. Just 23 academic majors among more than 40 would remain, mainly in pre-professional areas that emphasized health, science, business, education and technology. Thirty percent of faculty jobs would be eliminated.
Majors would not be discontinued until after current students enrolled in those disciplines had graduated. And the college would continue to offer classes in math, chemistry, history, foreign language and philosophy — majors slated to be phased out — but Guilford students would no longer be able to major in those subjects.
The plan was meant to address long-standing difficulties. Guilford's enrollment had fallen 11 straight years to 1,429 students as of this fall. Guilford's discount rate — the amount of tuition and fees that the college plows back into student financial aid instead of employee salaries or other expenses — was growing by about 2% per year. The college had borrowed money to pay for recent campus renovations and additions, which swelled Guilford's debt to about $73 million and increased annual interest payments.
And then the pandemic hit. The college lost some housing and dining revenue when it closed its campus in March. The 2020 edition of the Eastern Music Festival, which uses Guilford's campus for a month each summer, was canceled. In-person classes resumed in August and Guilford has had to spend extra money to protect the health and safety of students and employees.
To reduce expenses, Guilford furloughed about half of its non-faculty staff members for much of the spring and summer. The college also had two rounds of layoffs in 2020.
Reaction to the cuts was fierce. A week after the plan was announced, an overwhelming majority of faculty voted no confidence in the interim president — a first in the college's 184-year history. Students, worried that their majors would be eliminated and their favorite professors laid off, twice lined New Garden Road to protest. Alumni took to email and social media to raise awareness and find potential donors.
Guilford trustees on Monday put the brakes on those proposed changes, at least for now.
"The great thing here," Winslow said, "is that a lot of people adore Guilford College and are committed to it."
Contact John Newsom at (336) 373-7312 and follow @JohnNewsomNR on Twitter.​