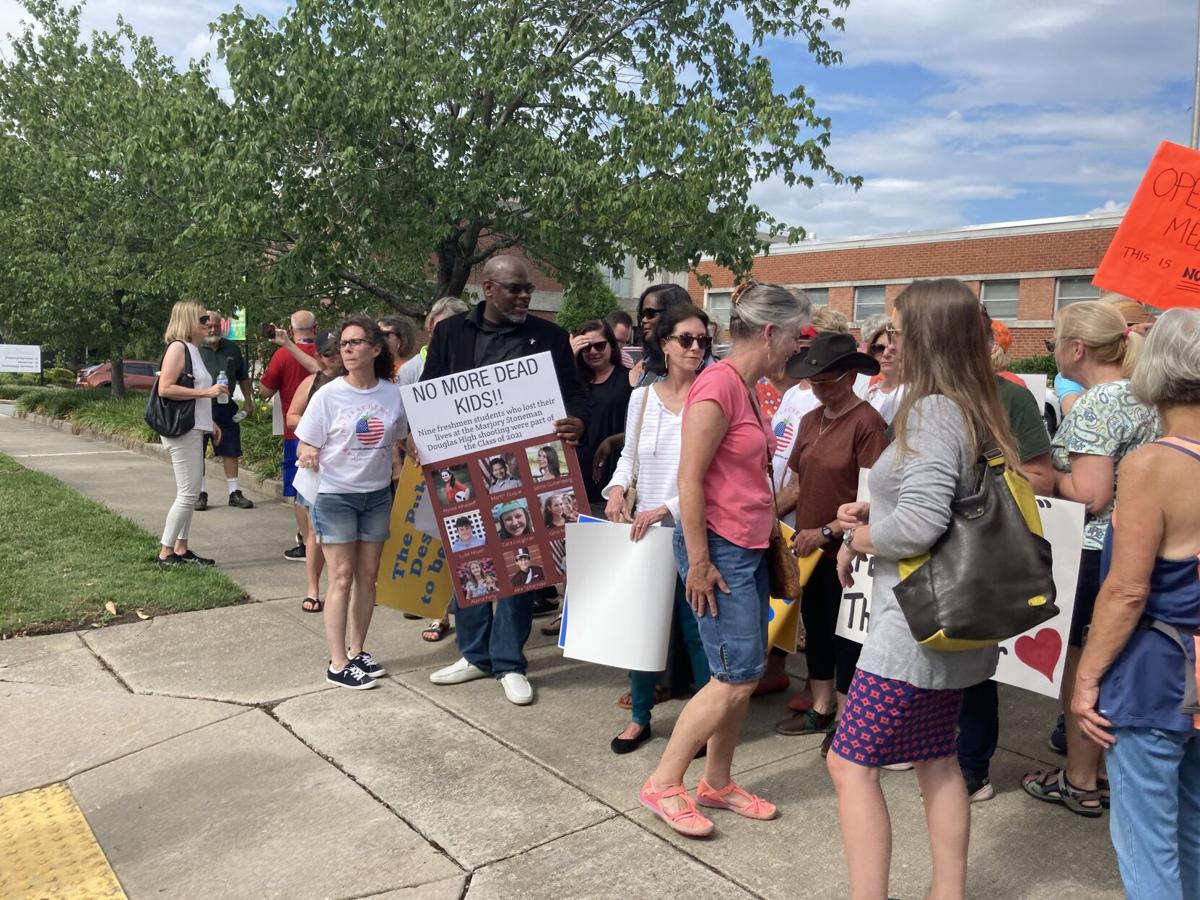 GREENSBORO — Protesters called Thursday for the school board to allow the public to attend meetings in person again.
Their chants from a spot outside the district's offices could be heard as the Guilford County Board of Education met inside to discuss that very topic.
About 30 to 45 people gathered around 4 p.m. Thursday outside the district's central office for a rally organized by a local group called Take Back Our Schools. Some of them stuck around during the 6 p.m. meeting, repeatedly chanting "Open Up!" "What are you hiding?" and other phrases. They were often fully audible in the board room and on the internet livestream of the meeting.
At one point, chairwoman Deena Hayes-Greene asked fellow board members if they wanted to recess because of the chanting, but they told her they wanted to continue the meeting.
School board meetings have been closed to the public since early in the pandemic. Board members have met sometimes in person, sometimes virtually, and oftentimes through a combination of the two.
Before the pandemic, the board held public comment periods during meetings where people could sign up to speak for a few minutes. Now the board posts public comments emailed to the board with its online agenda at the start of meetings. Members of the Take Back Our Schools group want the board to reopen meetings to the public so people can share their comments in person, like they did before the pandemic.
Various group members have said they have complaints or concerns on school discipline, school security, and how race is taught in schools, among other topics.
The issue of reopening meetings to the public was on Thursday's agenda.
Chief of Staff Nora Carr said she expected to bring to next week's board meeting recommendations for safely reopening the meetings, with July as a target for the first one.
But Carr also expected the recommendations would probably include requiring masking and social distancing. She suggested that some sort of a "ticket system" might work to help limit the number of people allowed in the board room, which has sometimes been crowded with those participating in public comments or when the board gives awards to a big group of students. However, those precautions might not be needed if the N.C. Department of Health and Human Services changes its guidance, Carr said.
"On the mask mandate, I've had both shots, I don't feel the need to wear a mask, are we still requiring it?" asked board member Anita Sharpe.
Carr started to respond, and then said, "Here I am, talking with my mask off ..."
Sharpe jumped in to say that was because the board couldn't hear Carr when she was wearing her mask, and Carr agreed, though she said she had been putting it back on when not talking.
The Centers for Disease Control and Prevention has updated its guidance to say that most fully vaccinated people no longer need wear a mask in most situations, save a few exceptions like airplane or bus travel, or where other rules say they are required.
North Carolina has dropped most of its mask mandates, but with most K-12 students not vaccinated yet and many still not eligible, the state is still requiring masks for everyone in school buildings. That's all school buildings, including the district central office, Carr said.
Sharpe said she hadn't meant to break any rules and had assumed it was no longer required.
Board member Khem Irby was greeted by protesters as she walked up to Thursday's meeting.
Among them was Pastor Brian Hawkins, a city councilman from San Jacinto, California, and congressional candidate who said he was invited by a Take Back Our Schools member after he met her at a recent meeting of North Carolina Republicans.
"I spoke at Wayne County Board of Education the other day and they are fully open, no masks," he told Irby. "So I am just curious what is the difference between Wayne County and here? Why are you guys not allowing open session ... and still wearing masks?"
Irby said she favored being cautious and looked forward to hearing the school administration's recommendations for how to prudently reopen the meetings.
Contact Jessie Pounds at 336-373-7002 and follow @JessiePounds on Twitter.