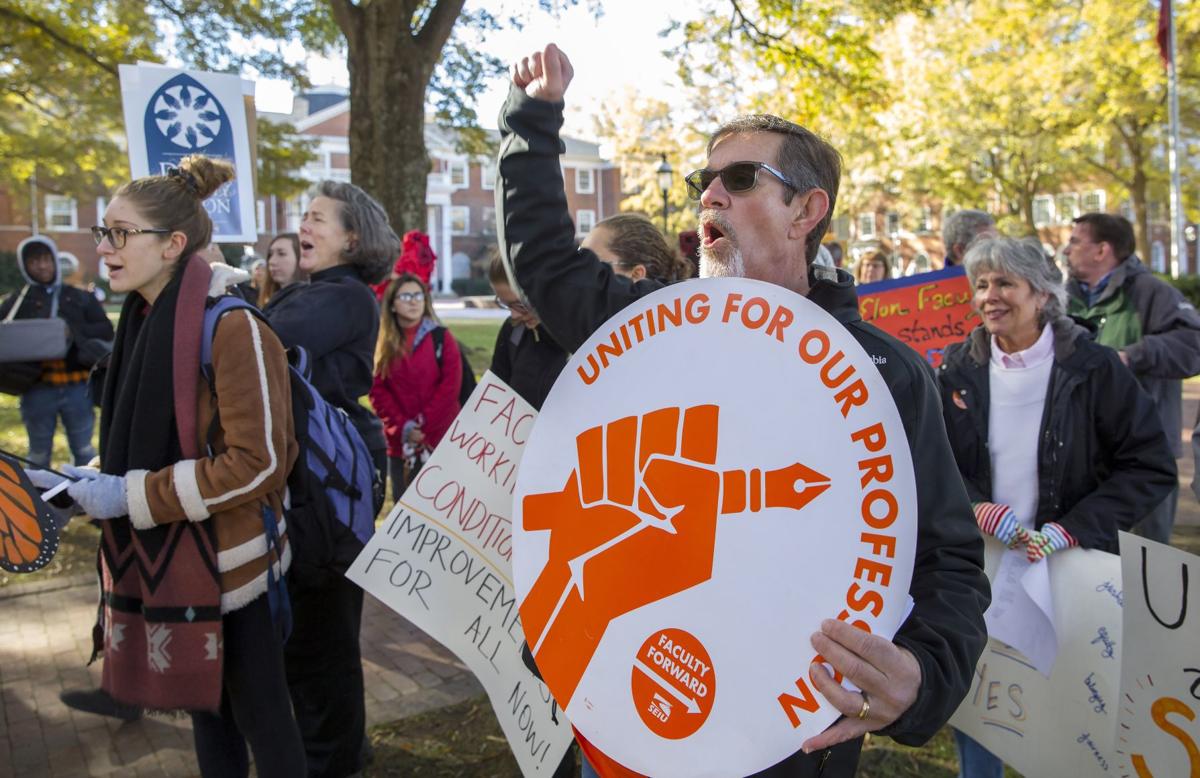 ELON — Elon's faculty union has won yet another round in its bid to be recognized by the university.
The Elon Faculty Union, which represents adjunct professors at the university, received a unanimous ruling last Friday from the National Labor Relations Board. The four current members of the board, the independent agency that upholds federal labor laws concerning union activity, rejected the university's appeal of a 2019 regional decision that sided with Elon's adjunct faculty.
The Elon Faculty Union declared victory once again and called on the university to begin contract negotiations.
"Since we voted to form a union in March 2019, our members have stood respectfully by while the university has used every legal tactic available to them to stall, discredit and deny the validity of our legal right to unionize," Jim Roberts, a member of the union's organizing committee, said in a statement issued by the union. "We are excited about this outcome."
The university didn't commit to contract negotiations and declined to outline its next move.
"We are carefully reviewing this very complex decision and will consider all available options in support of our collaborative model of shared governance before making a decision about next steps," Provost Aswani Volety wrote to Elon's faculty and staff on Monday. "As always, we remain committed to working with all faculty with respect, transparency and collegiality."
Elon's adjunct faculty announced in December 2018 that they intended to unionize in hopes of getting better pay, benefits and working conditions.
Elon has about 180 adjunct, limited-term and visiting faculty who work full-time and part-time teaching undergraduate classes. Unlike tenured professors, who essentially have lifetime appointments, adjunct faculty are temporary teachers who are paid much less and aren't eligible for promotions. Most don't get paid time off or health care through the university. They also don't have the same scholarly and campus responsibilities as tenured faculty.
Teaching contracts for these temporary professors can range from a single semester to several years, depending on their role and the university's need for additional instructors. There's also no guarantee that contracts of adjuncts will be renewed.
In March 2019, Elon adjuncts voted to form a union with the Service Employees International Union, which represents about 120,000 faculty, graduate workers and other employees of public and private universities across the United States. Sixty-two percent of the mail-in ballots certified by the National Labor Relations Board were "yes" votes for the union.
The university appealed the union vote as well as decisions in the union's favor by a National Labor Relations Board hearing officer in Winston-Salem in May 2019 and the board's regional director in Atlanta four months later.
In its 13-page ruling, which includes a concurring decision from its chairwoman, the National Labor Relations Board said that Elon's non-tenured and non-tenure-track faculty aren't managerial employees because they don't take part in the shared governance practices that give faculty a lot of say in academic and faculty matters.
The labor board noted that Elon's Academic Council, the university's top faculty committee, sets aside one of its 19 seats for an adjunct professor. But the board said that most adjuncts aren't eligible to serve because they haven't worked at Elon long enough or teach enough classes.
The labor board also said that adjunct faculty are barred from serving on nine of Elon's 14 standing faculty committees. Moreover, the labor board said it found no evidence that any adjuncts had ever served on the five other faculty committees. It noted that fewer than half of Elon's adjuncts are eligible to vote at university-wide faculty meetings where major academic and faculty matters are considered.
In a news release, Elon's faculty union said improvements in adjuncts' pay, benefits and job security could "create a more consistent and supportive learning environment" for students at the private Alamance County university.
This is just the second union to be formed at a North Carolina university. The Duke Faculty Union, formed in 2016, represents more than 200 non-tenure-track faculty at Duke University.
Public university employees are barred under North Carolina law from unionizing.
Contact John Newsom at (336) 373-7312 and follow @JohnNewsomNR on Twitter.​