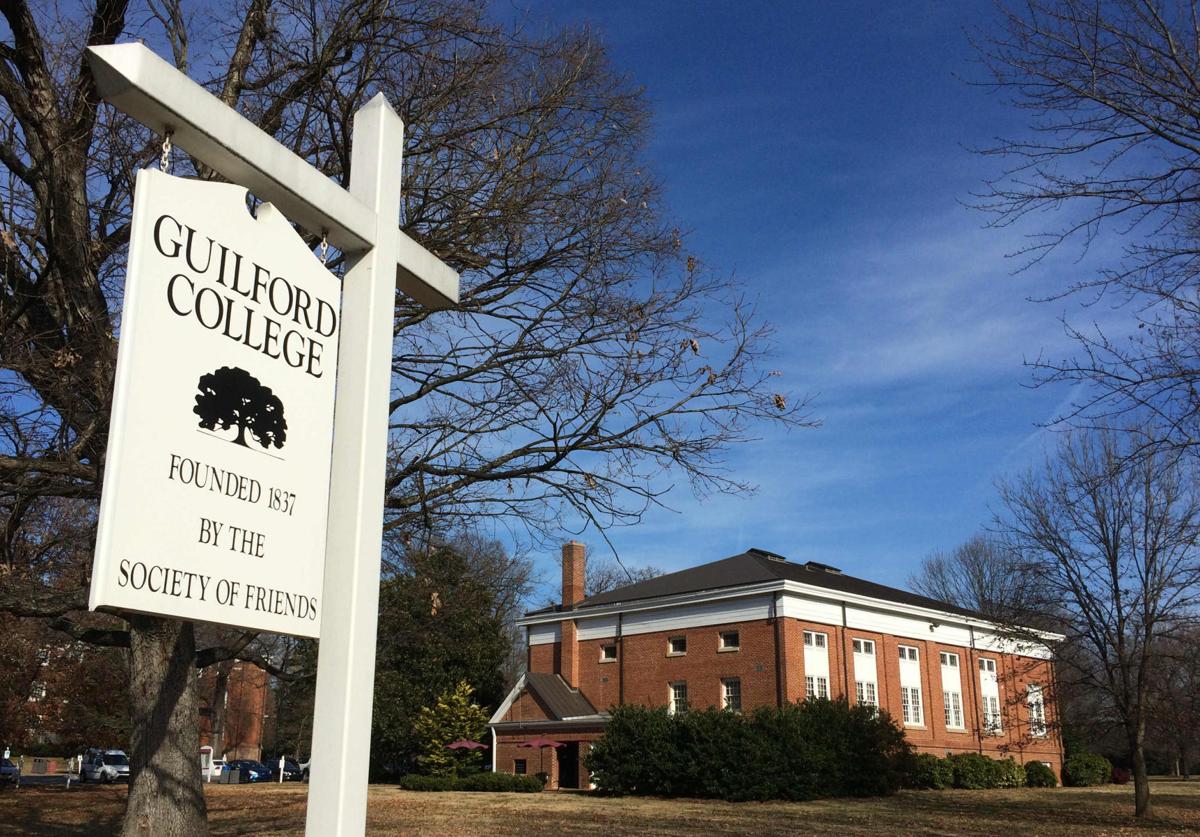 GREENSBORO — Guilford College plans to discontinue nearly half of its academic majors and cut another 36 positions in hopes of securing its long-term future.
This latest round of job cuts — the second in four months — will hit faculty particularly hard. The private Quaker college plans to lay off 16 tenured professors, who generally can be dismissed only under extreme circumstances.
The college announced these profound changes Friday to employees and students in separate town hall meetings. The potential elimination of majors and more jobs follows a two-month review of Guilford's academic programs and a decade of declining enrollment.
The announcement was met with outrage from some faculty and alumni, who said the planned changes will critically damage an institution founded before the Civil War.
"It's not a pretty process ..." interim President Carol A. Moore said Friday of the pending changes. "But it's a process that is necessary to lay the foundation for growth in the future and to have the resources available for that kind of growth going forward."
When she arrived at Guilford in August, Moore said trustees asked her to review the college's academic offerings to determine what she called their "educational and financial sustainability."
After a review that began in September — the first such review at Guilford in nearly a decade — Moore said she is recommending to Guilford trustees that the college phase out 19 of its 42 academic majors. The changes won't become official until after a trustees' vote in early 2021 that will give time for tenured professors to appeal their dismissals.
According to Moore's plan, some majors will become minors or academic tracks within other departments. Some majors will disappear entirely, though Guilford will continue to offer these courses for its general education requirements or because they support majors that will remain.
Guilford plans to keep its most popular majors, including business administration, psychology and biology, as well as several smaller interdisciplinary majors. It also will retain several recently established majors, including health sciences, environmental studies and sustainable food systems.
The majors slated to be cut generally have low enrollment and are declining in popularity nationwide. Most of the discontinued majors are humanities programs, including history, philosophy, religious studies and three foreign languages. Political science, chemistry and math also will no longer be Guilford majors.
Moore said the process to phase out academic majors will take several years. Majors won't be discontinued until students currently enrolled in those programs complete their studies.
Job losses will accompany the sweeping academic changes. Guilford cut 9.5 staff positions this week after furloughing about half of its non-teaching staff in the spring when it closed its campus due to the COVID-19 pandemic.
In July, the college laid off 47 staff members and five visiting professors and announced that it wouldn't fill another 34 open administrative and staff positions. The college blamed the pandemic for revenue losses.
This time, there will be significant losses in the faculty ranks. Guilford plans to cut 27 faculty positions, or 30% of its full-time faculty. The college plans to lay off 16 tenured professors and five visiting professors. Four professors are scheduled to retire, and two more have said they plan to resign.
The faculty job cuts won't take effect until after the upcoming spring semester, which allows professors to finish out the academic year.
Ed Winslow, chairman of Guilford's trustee board, praised Moore for taking such decisive action so quickly after arriving at the college. He also said Moore — who has led three small liberal arts colleges since 1998 before coming to Guilford — has a firm understanding of the short-term and long-range financial challenges looming over the nation's small colleges.
"We're very pleased with Carol's leadership," said Winslow, a Greensboro attorney. "But we're having to do things that are heartbreaking."
Faculty and alumni have reacted to the changes with anger and alarm.
A Facebook page titled Save Guilford College has amassed nearly 2,000 members since it was created less than two weeks ago. Some 740 people have signed an online petition urging trustees to delay the changes for a year and promising to help the college raise money.
Jessie Starling, a 2000 Guilford graduate who organized both efforts, said alumni believe the college should lean into its long-standing strengths of being a service-oriented liberal arts institution steeped in Quaker tradition and values.
"We just understand it to be a different place than what the interim president seems to be trying to save," said Starling, an associate professor of religious studies at Oregon's Lewis and Clark College.
Though Moore said she based her decision in part on input from the college's professors, students and administrators, political science professor Maria Rosales said faculty haven't gotten sufficient answers to financial questions they've asked. Rosales also said suggestions to reduce the number of layoffs, cut salaries instead of jobs and offer early retirement to some faculty got no traction among college leaders.
"We haven't seen any examples of colleges that have gutted their number of majors in this way and thrived," said Rosales, who serves as clerk of the faculty — the college's top faculty leadership role. "We haven't seen any examples of colleges that have cut this proportion of employees and thrived. It is hard for most of us who work at Guilford College to believe that these are wise decisions."
Gail Webster, a chemistry professor and co-president of the college's chapter of the American Association of University Professors, called the proposed cuts "draconian" and "in direct opposition to shared governance and academic freedom, two principles that AAUP stands for. We are outraged."
The cuts come after a tough decade for Guilford College. Enrollment peaked in 2009 at a record 2,833 students and has fallen each year for 11 straight years. Most of the decline came in the college's adult education program, which over the past decade has lost more than 90% of its enrollment. Guilford's population of traditional-age college students has remained at around 1,200 for most of that time.
The college said it has 1,429 students enrolled this fall — nearly half what it had a decade ago. Enrollment is down 7% from last fall partly because of the pandemic, which has depressed college numbers nationwide.
Like most small private colleges, Guilford's annual budgets depend largely on the number of students who arrive on campus each fall, and sustained enrollment losses often lead to cutbacks.
Former president Jane Fernandes, who resigned this summer, eliminated 52 positions in 2015 to close a $2 million budget deficit that preceded her arrival.
During Fernandes' tenure, Guilford rolled out its first master's degree program since the late 1960s, embarked on a $50 million program to renovate several aging buildings and introduced Guilford Edge, a revamped educational approach that emphasizes real-world and collaborative learning. Though college leaders say Guilford Edge helped Guilford retain current students, those new offerings failed to reverse the college's enrollment slide.
Moore said Friday that Guilford's annual budget was balanced before she arrived and should remain that way through the current fiscal year that ends in July. The recent construction spending has ballooned the college's debt to $73 million, Moore said, and the Guilford must now cover $5 million in annual interest payments.
Friday's announcement is the start to a process to ensure the college's long-term future, Moore said.
Moore listed several possibilities she is exploring to cut expenses: refinancing the college's debt, outsourcing some college services and reviewing current contracts for potential savings.
To attract more students, Moore said Guilford is considering three new master's programs — business administration, organizational leadership and sport management — to start next fall if faculty and the college's accrediting agency approve.
Moore said the college will explore adding new undergraduate programs and short-term credential programs in future years.
Guilford also will overhaul its adult education program and will try to attract students who have attended college but didn't earn a degree.
"As student interests change, we really have to be watching the market and making changes to our programs," Moore said. "These changes ... will enable us to shift some resources to new programs that are in higher demand and move Guilford forward."
Contact John Newsom at (336) 373-7312 and follow @JohnNewsomNR on Twitter.​