GREENSBORO — For the past several years, N.C. A&T has referred to its forthcoming engineering building by its acronym, ERIC.
This $90 million facility, under construction on a prime corner of campus, now has a new name that honors A&T's current chancellor who has devoted the majority of his life to both engineering and the university.
A&T announced Wednesday that the building will be called the Harold L. Martin Sr. Engineering Research and Innovation Complex. Martin, who earned two engineering degrees at A&T before working there as a professor, dean and vice president, has been the university's chancellor for the past 11 years.
"It's a shocking event — I must say that very candidly," Martin said in an interview Wednesday. "It's one which I'm most honored and humbled by."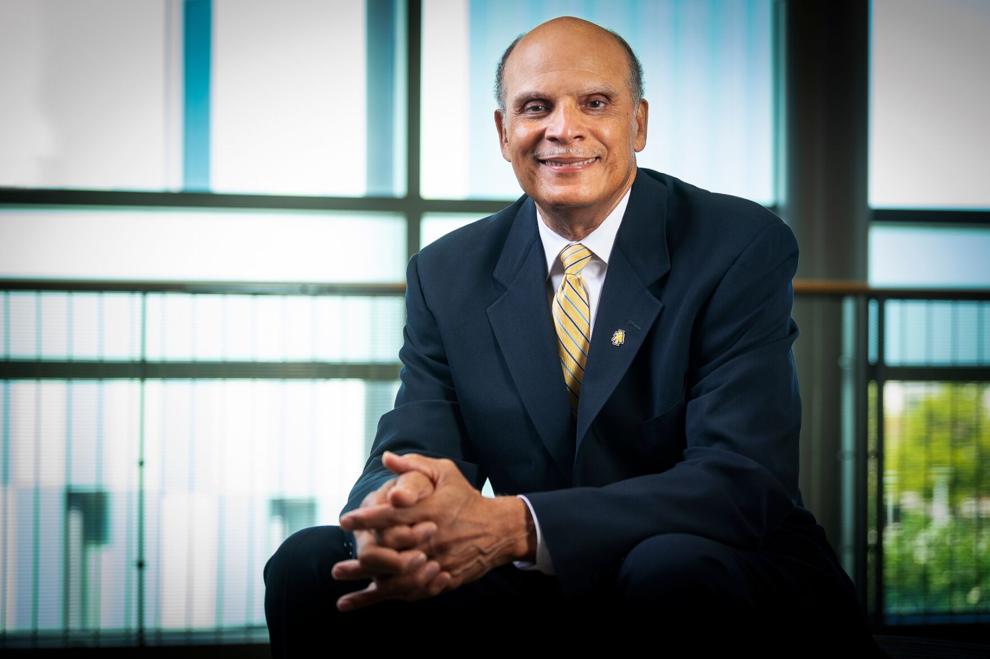 The naming recognizes the longest-serving current chancellor in the UNC System and someone who has been associated with A&T since he arrived on campus more than 50 years ago.
Martin, 69, earned his bachelor's degree in electrical engineering from A&T in 1973 and his master's degree in the same discipline two years later. After getting his doctorate from Virginia Tech, Martin returned to A&T as an engineering professor.
Martin served as a professor, chairman of the electrical engineering department and dean of the College of Engineering before moving into senior administration. After working as A&T's vice chancellor for academic affairs, he was chancellor at Winston-Salem State University for six years, then a senior vice president for the UNC System for nearly three years.
He returned to A&T in 2009 as the university's 12th chancellor and the first alumnus to lead the school.
During Martin's tenure the university has become a powerhouse.
At nearly 13,000 students, A&T is the largest four-year historically Black college and university in the nation. U.S. News & World Report's most recent college rankings listed A&T as the nation's top public HBCU. The Aggies' football team got national attention for winning four Celebration Bowls — the Black college national championship — in five years. And A&T recently wrapped up its largest-ever fundraising campaign that brought in more than $100 million.
"There is no doubt that Chancellor Martin's vision and passion for this university have played critical roles in the incredible ascent of A&T," trustee and former board chairman Timothy King said in a statement put out by the university.
"In no place do we see that more than in engineering, which has been the foundation upon which the university's national reputation has been built since his service as dean 30 years ago," King added. "The Martin Complex will serve as a lasting testament to the difference his leadership made."
Money for the Martin Complex was included in the $2 billion bond issue approved by voters in 2016 to put up new buildings at state universities and community colleges, improve state and local parks and fund other improvements across North Carolina.

A&T's new engineering building is going up at East Market and Dudley streets on the former site of the Hayes-Taylor Memorial YMCA. The four-story building will be the first thing people see as they enter campus from downtown Greensboro.
Martin sees the building — which will focus largely on cutting-edge research across multiple engineering disciplines — as a key to A&T keeping its spot as the nation's top producer of Black engineering graduates. He also said it's a crucial piece in the university's efforts to attract more students, more research dollars and more investments in the university and Greensboro's east side.
"It's an incredible facility for the university ..." Martin said. "I'm excited about what this facility will bring to the university."
A&T trustees approved the building's name during the closed-door session at their Feb. 26 meeting but without telling Martin beforehand. According to Martin, trustees asked him to disconnect from the meeting's Zoom call while they talked without him. "Don't think of it as negative," Martin recalled being told, and Martin waited and wondered at home.
Less than 10 minutes later, Martin rejoined the meeting. Chairwoman Venessa Harrison told Martin about the board's vote, and trustees broke into applause.
After the meeting, Martin broke the news to his wife, Davida, on a walk near their Summerfield home. She cried and hugged Martin.
"It was a very emotional time for me personally," Martin said.
It's uncommon, but not unprecedented, for colleges and universities to name campus spaces for their leaders while they're still in charge.
Winston-Salem State in 2011 named its under-construction student activities center for then-chancellor Donald Reaves partway through Reaves' tenure.
Elon University renamed a seven-building academic quad for Leo Lambert in 2018 during the last week of his 19-year presidency.
And in May, UNC-Charlotte renamed its 11-story building in uptown for Philip Dubois a month before he retired after 15 years as chancellor. (Martin, by the way, said Wednesday he has no immediate plans to retire.)
At A&T, campus buildings include the names of seven of the 11 presidents and chancellors before Martin. The Crosby, Dudley, Bluford, Gibbs, Proctor, Dowdy and Fort buildings are all named for former A&T leaders.
It was nearly eight. A&T trustees voted in 2005 to name the new education school building for then-chancellor James Renick, but rescinded that decision two years later. Internal audits commissioned after Renick left A&T found multiple instances of questionable spending, among other issues, during Renick's tenure. Trustees in 2007 said they hadn't followed proper procedures for naming the education building.
A&T plans to move into the Martin Complex this summer. Martin said his namesake building is scheduled to open to faculty, staff and students the Tuesday after Labor Day. A&T expects to hold a formal dedication ceremony sometime during the fall semester.
Did you know?


A&T's new engineering facility will be the second university building in the area named for Harold Martin.
Winston-Salem State trustees named a dorm for two former chancellors, Martin and his predecessor, Alvin Schexnider. The 227-bed Martin-Schexnider Residence Hall opened in 2013.
Contact John Newsom at
(336) 373-7312 and follow
@JohnNewsomNR on Twitter.