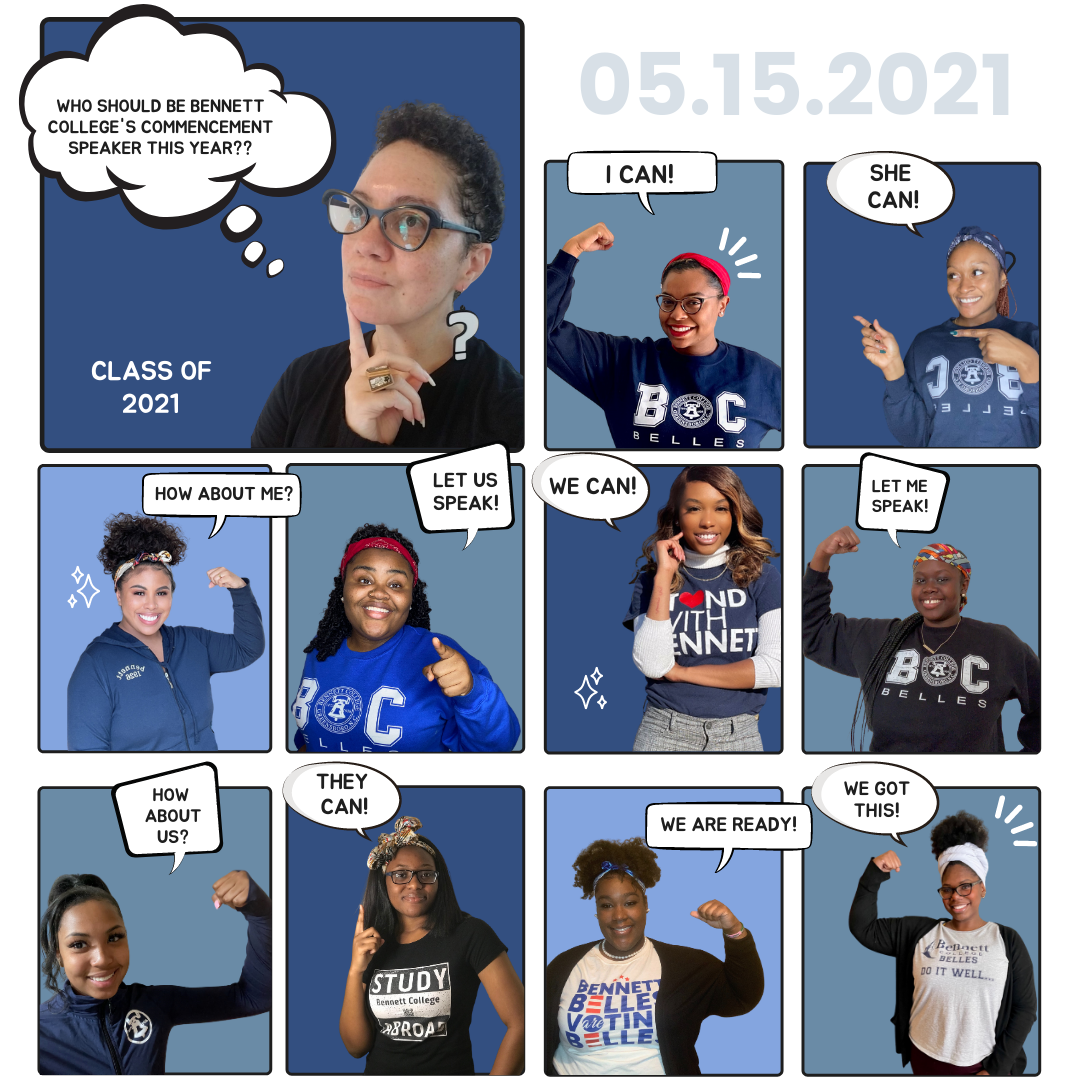 GREENSBORO — Most college commencements feature just one keynote speaker. Bennett College's upcoming graduation will have several times that.
Every Bennett graduate — all 38 members of the class of 2021 — has been invited to speak at commencement via pre-recorded video. These videos will be part of the college's virtual commencement ceremony that will air Saturday morning.
A spokeswoman for the private women's college said 10 seniors had submitted videos as of Wednesday morning. One graduating senior said she expects most of the senior class to make personal videos for commencement.
Saturday's graduation will be the second straight virtual commencement for Bennett, which hasn't held classes on its Greensboro campus since March 2020 because of the COVID-19 pandemic.
Its 2020 commencement was virtual, too. But this will be the first time that graduating seniors, instead of an invited speaker, have given the keynote address at Bennett's commencement.
The idea emerged from a Zoom meeting that the college held shortly after spring break to discuss commencement plans.
"I came off mute and said, 'Do we have to have a commencement speaker?'" recalled Aariella Houston, a senior who will graduate Saturday with a degree in chemistry and a mathematics minor.
Most commencement speakers, Houston said, follow the same traditional script: They tell their own story, dispense some wisdom and advice and wish the graduates the best in their new lives after college.
"I said, 'Why can't we tell them what we're going to do?'" Houston said in an interview this week. "Most of us know what our next steps are going to be."
So college leaders decided each senior could record a 90-second video to be included in the virtual commencement. Seniors could talk about their own stories, their experiences at Bennett and what lies ahead for them.
Bennett President Suzanne Walsh said "it's been a challenging and unusual year for them" — the entire academic year was virtual — so commencement needed a different approach.
"The graduating Bennett Belles believe they are best suited to speak about the experiences they've had and offer the right kind of encouragement to each other and those who are following them," Walsh said in a statement. "And I agree wholeheartedly."
Houston, a California native, said she covered a lot of ground in her 90-second video: how she picked Bennett when a scholarship from her dream school, Howard University, didn't come through; how the college let her sell in the campus bookstore the Bennett T-shirts, sweatshirts and other apparel she designed; how Bennett's faculty and staff went out of their way to help students during an unprecedented school year; how she'll get a second bachelor's degree (in chemical engineering through a dual-degree program) at N.C. A&T a year from now; how Bennett helped her blossom into the accomplished woman she is today.
"From what President Walsh said, it made her cry," Houston said of her video. "I think it's a pretty good one."
Houston said parents and others watching commencement will shed plenty of what she called "happy tears."
"I promise they're going to want to listen to us talk," she added. "This will be unique and special for each person."
Want to watch?
Bennett College's 2021 commencement can be viewed online at 10 a.m. Saturday. Watch it on the college's website at www.bennett.edu, on the school's social media channels or on Bennett's YouTube channel.
Upcoming commencements
Most of the area's colleges and universities held commencement this past weekend. But Bennett and three other schools have commencement ceremonies coming up. Here's the schedule:
GTCC: Two ceremonies will be held Thursday at the Greensboro Coliseum. 11 a.m.: Aviation, health sciences, human services and public safety and engineering. 3 p.m.: Business, creative and performing arts, associate in arts, and industrial, construction and transportation systems technologies.
Guilford College: In-person ceremonies were held last weekend but Guilford still has two virtual events scheduled: an online baccalaureate service at 7 p.m. Friday, and an online commencement to honor 2020 and 2021 graduates at 9 a.m. Saturday. Jocelyn Bell Burnell, a British and Quaker astrophysicist who discovered pulsars, will speak at Saturday's graduation.
Elon University: 2021 undergraduates will get their degrees in three ceremonies May 21 at Schar Center on campus. 9 a.m.: Business. 1 p.m.: Education, communications and Arts & Sciences (humanities). 5 p.m.: Arts & Sciences (engineering, math, natural and social sciences, computer science). Broadway actor and Elon alum Daniel J. Watts will speak. Master's degrees will be awarded Tuesday. Class of 2020 celebration will be Sept. 4-5.
Contact John Newsom at (336) 73-7312 and follow @JohnNewsomNR on Twitter.​