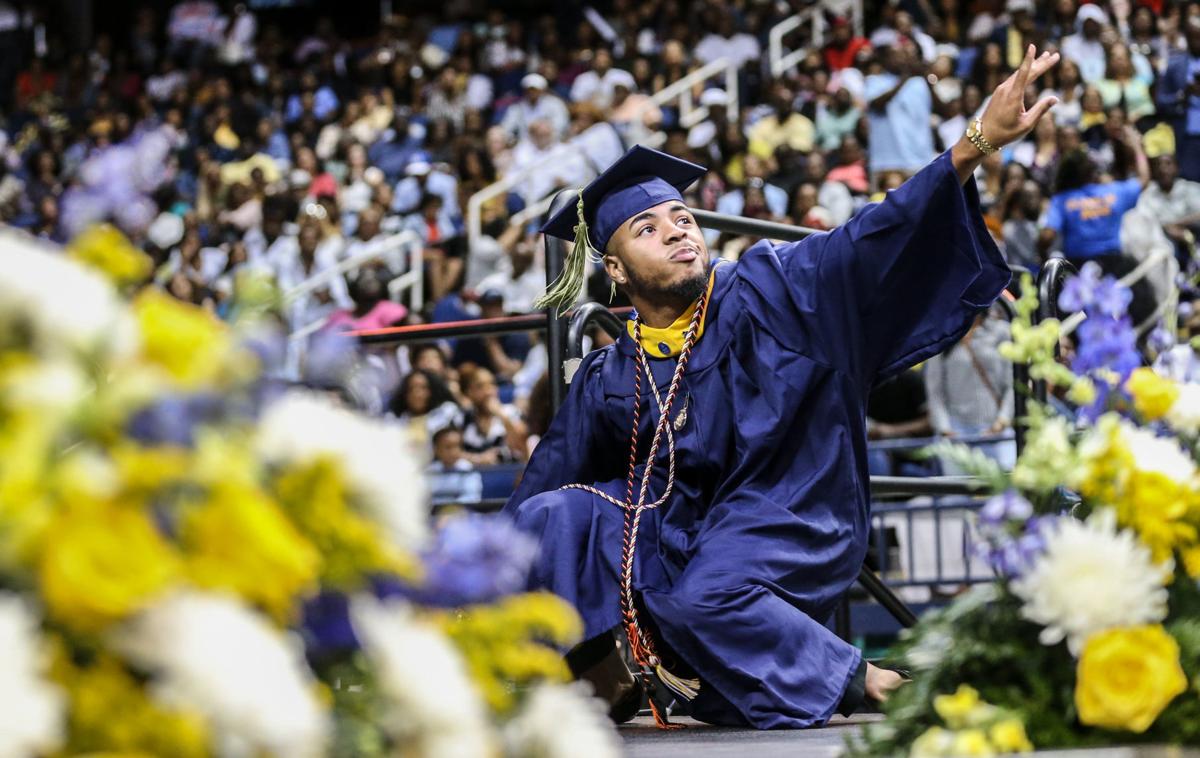 The state's public historically Black colleges and universities want permission to bring in more students from outside North Carolina.
The request — from N.C. A&T, Winston-Salem State University and the three other HBCUs in the UNC System — passed a key hurdle Wednesday and could become system policy in a couple of months.
Proponents, including the chancellors of the five schools and UNC System President Peter Hans, said the move will let these campuses grow, ensure their financial stability and help them lure a more talented and more diverse group of students to North Carolina.
"The bottom line is that North Carolina has an extraordinary strategic advantage in its HBCUs," Hans told a UNC System Board of Governors committee Wednesday. "We need to make the most of it."
UNC System policy caps annual enrollment of new freshmen from outside North Carolina to 18% at each campus. The policy was put in place in 1986 to ensure that the state's public universities set aside plenty of seats for North Carolina residents. Schools that exceed this cap can be fined.
Undergraduates who transfer in after their first year don't count against a university's cap, and neither do students in master's, doctoral and other graduate programs. There are some exceptions. UNC School of the Arts, the system's specialized arts campus, is exempt from the cap. Undergraduates enrolled in A&T's engineering college don't count toward A&T's cap.
The Board of Governors has granted some exemptions over the years. A&T got a temporary cap increase for four years starting in 2014 as part of a pilot project to study the effect of admitting more out-of-state freshman. Elizabeth City State University got waivers in the early 2000s and again in 2019 for two years.
Three of the state's HBCUs, meanwhile, have exceeded the 18% cap in each of the past two years. Nearly 28% of the new freshmen this fall at N.C. Central University in Durham were from out of state. N.C. A&T and Elizabeth City State were right around 25% this fall. Winston-Salem State (17.5%) bumped up against the cap, while Fayetteville State University (10.6%), is well below.
These five universities want the out-of-state cap raised at their campuses starting this fall to 25%, which is the cap number A&T had during its pilot program.
In a Feb. 3 letter to the UNC System office, the chancellors of the state's five HBCUs said the brief cap flexibility were boons to both A&T and Elizabeth City State. Enrollment went up. Stronger students were admitted. And no qualified N.C. students, they said, were displaced by these extra out-of-state students.
UNC System officials said raising the out-of-state cap is a way to recruit more residents and more talent to North Carolina. According to its data, more than a third of out-of-state students stay in North Carolina after they graduate.
A&T Chancellor Harold Martin told board members Wednesday that the temporary higher cap was a key factor in A&T becoming the largest four-year historically Black university in the nation, a distinction it has held since 2014. Admitting more out-of-state students with high grades and test scores also helped A&T retain more students from year to year, improve its graduation rate and produce more qualified graduates for careers in business, engineering, science and other fields.
"There are a multitude of reasons why the (higher) out-of-state cap has been important to us," Martin said.
North Carolina, with five, has more public historically Black colleges than any other state. And many of them have relatively high profiles.
All five rank among the top 25 HBCUs in the nation in the latest U.S. News & World Report college rankings. A&T has won football's Celebration Bowl — the de facto Black national championship — four times in five years. N.C. Central has made the men's NCAA basketball tournament four times since 2014. And Winston-Salem State has received national recognition for its success in improving the social and economic mobility of its graduates.
"The brand of HBCUs are national in scope," Winston-Salem State Chancellor Elwood Robinson said. "We have to address ... this growing need and interest in our universities."
Some Board of Governors members seemed reluctant to raise the cap on all the state's HBCUs and worried that other state universities might press for a higher out-of-state cap. But Hans promised he won't consider raising the cap at any other UNC System school and said his office will monitor these five campuses carefully to keep them from going over the proposed 25% cap.
The board's educational planning committee approved this plan Wednesday. It goes to the full Board of Governors in April.
Contact John Newsom at (336) 373-7312 and follow @JohnNewsomNR on Twitter.​