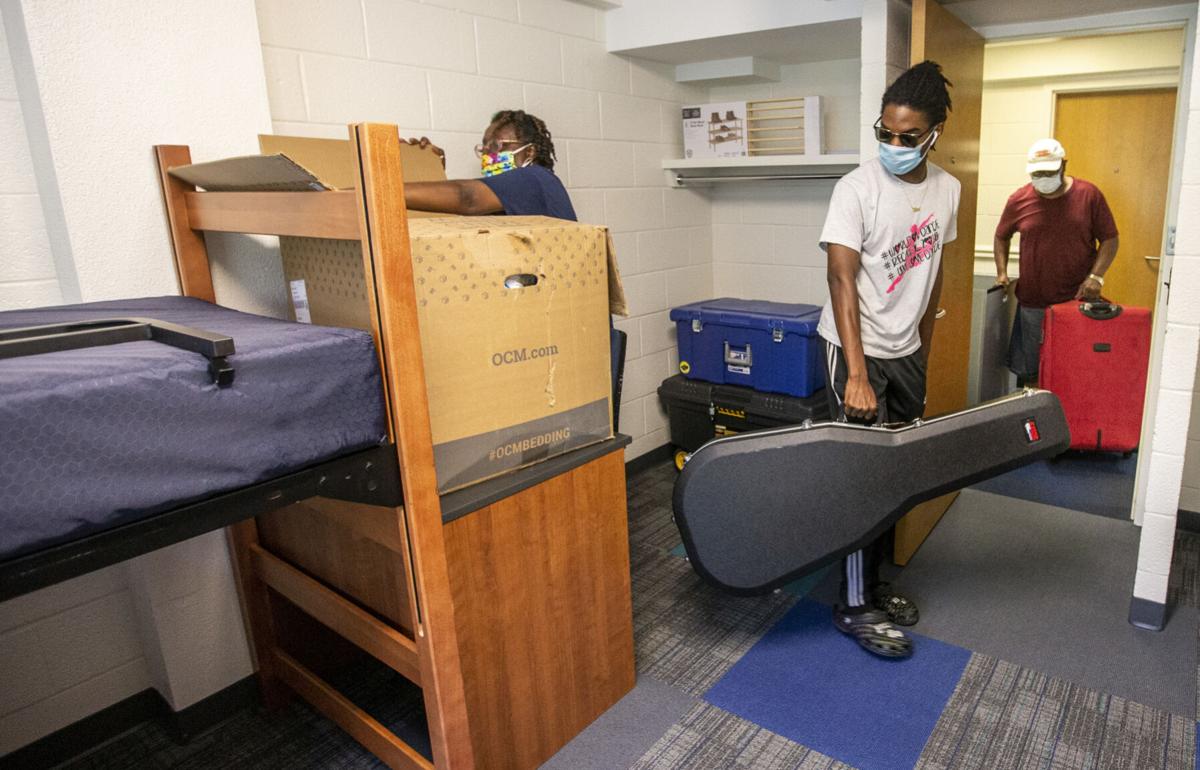 GREENSBORO — The dorms are normally full at UNCG, but a lot of students opted not to live in campus housing this year because of the COVID-19 pandemic.
To get students back in the dorms this fall, UNCG has come up with a plan: pay them.
UNCG is offering students $1,500 if they sign up by May 1 to live on campus during the upcoming semester that starts in August. This one-time grant will be applied toward students' housing bills for the fall 2021 semester.
New and returning undergraduate and graduate students are eligible for the grant, which covers slightly more than half of the semester charge for a standard double room and between 30 and 40 percent of the price of a suite or apartment.
This grant will do two key things, said Tina McEntire, UNCG's vice chancellor for enrollment management.
It will help students and families struggling with their finances because of the pandemic. About half of UNCG's undergraduates get federal Pell Grants, which go to the financially neediest college students.
It also will encourage students to return to the dorms. UNCG is planning for a more-or-less-normal fall semester as more people get COVID-19 vaccines and the number of COVID-19 cases continue to fall.
UNCG's on-campus occupancy fell in the fall semester to 70 percent, then dropped another six points in the spring. Some of that was intentional. The university converted some double rooms to singles and set aside other rooms to be used as student quarantine spaces.
But a higher-than-usual number of students opted to live at home or in off-campus apartments where they would have less contact with other people had they stayed in a dorm.
UNCG, like many other colleges and universities, prefers that students live on campus. Research has suggested that students who live on campus, especially in their first year, have a better college experience than students who don't. That can translate into better grades and higher graduation rates.
"We felt that offering housing grants could give our families a break they needed financially," McEntire said in an interview Monday. "We see this as being a win-win for all of our families and students and a win-win for student life."
UNCG will use a second round of federal funding for U.S. colleges and universities to pay for these grants.
UNCG got about $31 million from the Coronavirus Response and Relief Supplemental Appropriations Act, which became law in December. Of that amount, $9.3 million was earmarked as direct financial assistance for students. UNCG will use the rest of the money to help cover institutional expenses and revenue losses stemming from the pandemic. The university expects to spend roughly $7 million on these housing grants.
UNCG's housing grants don't appear to be unique. The University of Akron in Ohio announced last month that it would cut on-campus room rates by 30 percent next year. But McEntire said UNCG didn't base its plan on what any other university is doing. She also said curious representatives from three other UNC System schools quizzed her last week about UNCG's plans.
The housing grants could do one more thing for UNCG: boost enrollment, which fell by 2 percent last fall to below 20,000 students.
High school seniors who are headed to four-year universities in the fall have until May 1 to decide on a school. McEntire said UNCG saw a surge in students picking UNCG last week after it announced the housing grants. Though price often plays a major role in a student's college choice, McEntire said, she added that it's too soon to tell if the housing grants played a role in these decisions.
"We've tried so hard to be strategic how we appropriate our federal stimulus money," McEntire said. "This is such a gift to the students and the university to have this federal stimulus money to spend."
Contact John Newsom at (336) 373-7312 and follow @JohnNewsomNR on Twitter.