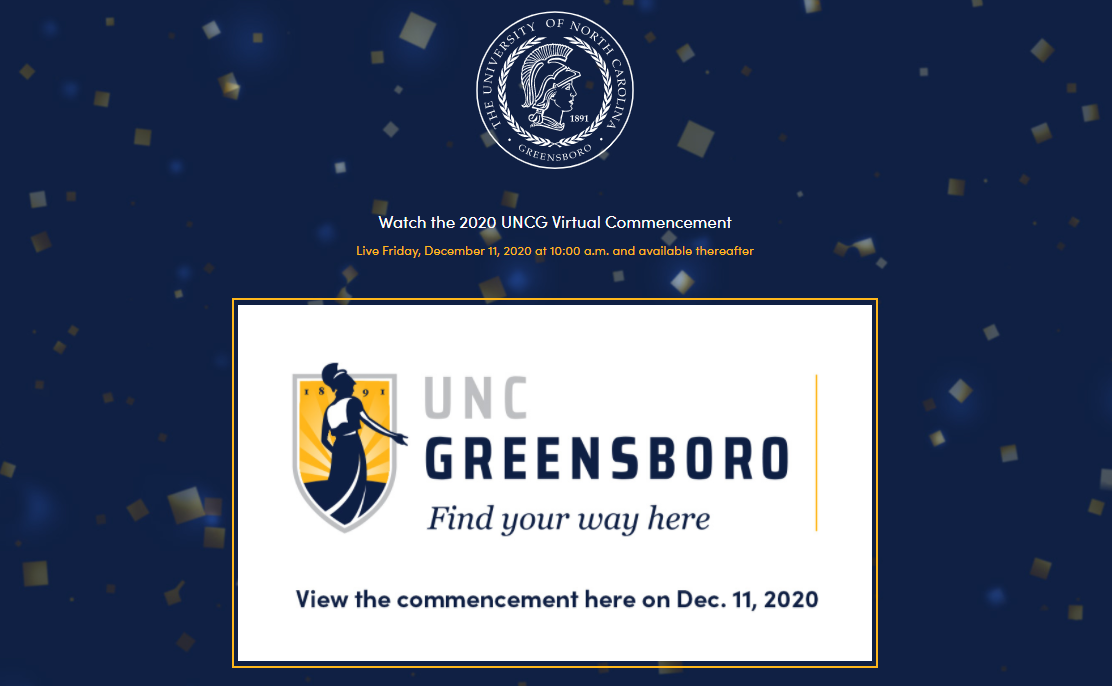 GREENSBORO — For the second time this year, UNCG will recognize its graduates with a virtual ceremony.
But unlike UNCG's celebration in May, the online event scheduled for December will have much of the pomp and circumstance of the university's traditional in-person commencements.
Greensboro's largest university has announced that it will hold a virtual commencement ceremony Dec. 11 to honor nearly 5,000 students who earned their bachelor's or master's degrees in May, August and December. Those who earned their doctoral degrees in 2020 will be honored at a virtual hooding ceremony in January.
This is the first time that UNCG has essentially merged the two commencement ceremonies, usually held in May and December at the Greensboro Coliseum. (Students who earn their degrees in August can take part in either ceremony.) University leaders opted for a commencement ceremony for the entire class of 2020 because of their shared experience of finishing their studies during the COVID-19 pandemic.
Chancellor Frank Gilliam in online remarks called the class of 2020 "second to none" because they overcame multiple obstacles — a sudden switch to online-only instruction in the spring, a sharp increase in online classes in the fall, numerous campus rules to safeguard the health and safety of students and employees, plus other personal challenges — on the way to earning their degrees.
"You, this class from May, August and December 2020, have demonstrated a kind of determination and persistence that will get you through life's biggest challenges," Gilliam said. "You have shown tremendous resilience and the kind of compassion and sense of community that speaks well to our collective character — the character of the UNC Greensboro family."
UNCG canceled its in-person commencement ceremony in the spring because of the pandemic and instead held a week-long series of online and public events in May. Graduates were recognized on UNCG's website and social media channels. Downtown Greensboro was lit up in blue and gold, UNCG's colors, for a night. Graduates' names were published in the newspapers of North Carolina's three largest cities that many UNCG students call home. UNCG even hired a plane to fly from Greensboro to Raleigh with a banner that read "CONGRATS TO UNC GREENSBORO'S NEWEST ALUMNI! #UNCGGRAD."
As UNCG leaders set up the May celebration, they thought they would be able to hold an in-person ceremony for May graduates sometime in the fall, possibly during homecoming in October. But when the pandemic persisted, the university scrapped those tentative plans and decided to hold a virtual commencement in December for all 2020 graduates.
"We heard a lot of student feedback," Jeff Shafer, UNCG's vice chancellor for strategic communications, said in a recent interview. "They said, we want something as close as possible to the commencement ceremonies we've all come to expect. They really wanted it to be a ceremony they can share with their loved ones."
UNCG's upcoming virtual ceremony will include many of the elements of its traditional commencement exercises.
There will be speakers, including the chancellor and two graduating students. UNCG will present honorary degrees to singer-songwriters and UNCG alumnae Rhiannon Giddens and Emmylou Harris, both of whom were to have been honored in May. Degrees will be conferred. Tassels will be turned. And the University Bell will ring to close out the ceremony.
UNCG even plans to print and mail out commencement programs, with the names of all graduates and other information about the ceremony, to each member of the class of 2020.
Because the event will be online — the pre-recorded event will run for more than an hour — UNCG plans to add numerous virtual features. The ceremony will start with a video appearance by Lauren Holt, the UNCG graduate who joined the cast of TV's "Saturday Night Live" this fall. Shafer said several other celebrities will appear virtually as well.
In addition, UNCG's colleges and schools will recognize their graduates virtually. And each UNCG graduate will get a personalized web page on UNCG's website that lists their name, degree and academic honors and contains a personalized message from their dean, said Kimberly Osborne, UNCG's senior director of integrated marketing communications.